Sex and the City creator gives 'biggest leak' yet as he confirms 'I would not make Carrie a homewrecker'
And Just Like That season 2 is coming to our screens soon, and fans have been wondering what will be in store for Carrie's love life...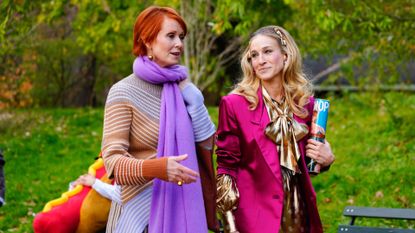 (Image credit: Gotham/GC Images/Getty Images)
Sex and the City creator Michael Patrick King just gave a pretty big insight about what's to come for season 2 of And Just Like That... - here's what we know about Carrie and Aidan's relationship.
After the unexpected death of Carrie's husband, Mr. Big, in season 1 of the Sex and the City reboot And Just Like That..., there was a lot of conversation and curiosity about what was to come in the future of Carrie's love life. The only other major ex-boyfriend she had was the fan-favorite Aidan - a humble man who Carrie cheated on in the third season of the original show. The pair reconnected in the franchise's second movie but to no avail.
While season 2 has been filming for the past few months (so far we've spotted Sarah Jessica Parker in a cute hot pink look), fans were shocked when they saw pictures of Carrie (Sarah Jessica Parker) and Aidan (John Corbett) together walking the streets of New York. It made people question: Are Carrie and Aidan getting back together?
In the second Sex and the City movie, Carrie and Aidan met on a happenstance occasion while both vacationing in Morocco - and while they definitely reconnected on a romantic level, Carrie still returned to Big.
Now that Big is no longer in the picture, however, creator of the show Michael Patrick King said that it's time for Carrie and Aidan to reignite their fire.
"I personally knew I was killing Big in season one. I knew that when I started and I felt very strongly about that," Michael told Entertainment Weekly's Nick Romano in a recent interview.
"I started season two knowing I was bringing Aidan back, and I felt very strongly about that," he continued. "How, when he shows up, what happens is all part of the great fun and puzzle of writing a series, to somehow give people what they're expecting and yet find ways to have people grow and still be that person."
The only explicit detail that Michael has awarded us so far is that when Carrie and Aidan find their way to each other in season 2, both of them will be single. He emphasized that he chose this path for them because he didn't want Carrie to be a "homewrecker."
"I would not make Carrie Bradshaw a homewrecker. That's the biggest leak I can give you... They're both single. You know how she's single. You don't know how Aidan's single," he said.
So far, we also know that, as of May 9, Entertainment Weekly confirmed that Candice Bergen's character Enid Frick, Carrie's intimidating Vogue Editor, will join the cast of season 2, joining Carrie and her friends. Sam Smith is also set to make an appearance on the show, starring as themselves.
Madeline Merinuk is woman&home's US lifestyle news writer. She covers celebrity, entertainment, fashion, and beauty news but is also obsessed with internet trends - you can find her reciting trending TikTok sounds out loud at any given time.
After winning multiple student journalism awards for her investigative work, she graduated from Hofstra University in 2021 with a B.A. in Journalism. After graduating, she worked at today.com, the digital site for the Today Show, where she wrote pop culture news and interviewed big-name personalities like Emily Ratajkowski, Haley Lu Richardson, Emma Corrin, and more.
Her personal interests, in no particular order, are: cheese, Joni Mitchell, reading, hot yoga, traveling, having multiple chapsticks in every handbag at all times, and dancing to ABBA songs as if she were in the Mamma Mia movies.