The Reunion That Lead Eamon To Confess He Couldn't 'Stop Crying'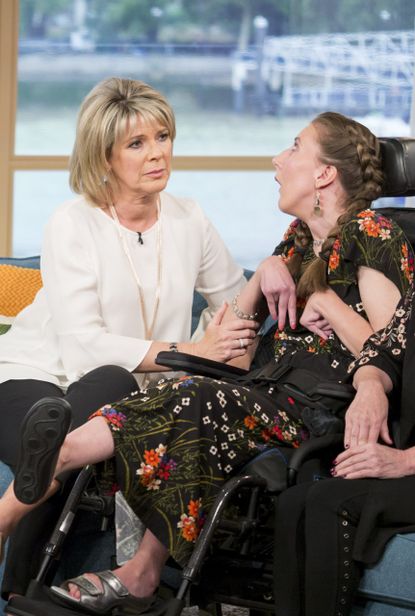 (Image credit: Rex Features (Shutterstock))
Ruth Langsford and Eamonn Holmes were reunited with a former ITV producer who had suffered a severe anaphylactic shock during an incredibly difficult segment on 'This Morning' yesterday.
29-year-old Amy Shead had worked alongside the likes of Ruth and Eamonn, and Holly Willoughby and Philip Schofield as an Online Producer at ITV in her early twenties.
However, aged just 26-years-old, the talented ITV producer suffered a severe anaphylactic shock because of her nut allergies whilst on holiday in Budapest that left her brain damaged.
Anaphylaxis is an acute allergic reaction to an antigen (e.g. nuts) to which the body has become hypersensitive. The whole body is affected and the results are severe - and can be life threatening.
Explaining to viewers at home Ruth said, "At 26, Amy was a bright and beautiful young woman with a zest for life.
"But in 2014 on holiday she suffered a catastrophic anaphylactic shock after just one bite of food. She was left in a coma and fighting for her life. Starved of oxygen for nearly six minutes, Amy has been left severely brain injured."
Amy's mum Sue explained in more detail what happened to Amy while she was aborad, "The restaurant informed the chef of her allergy after she was asked what she would like to eat."
"She chose a chicken dish with rice, they brought it out and she had just one mouthful and immediately felt her throat tighten and went into major anaphylactic shock.
"She administered two epipens and they didn't contain it because it was so severe."
"They didn't think she would survive the week, they gave her a 30 per cent chance of survival."
(Ruth and Eamonn discuss the consequences of severe anaphylactic shock on This Morning with Amy Shead and her parents)
The reunion left both Eamonn and Ruth visibly moved, and viewers flooded Twitter with their reactions to the emotional segment and praise for the bravery of Amy and her family.
"Eamonn & Ruth handled such a touching and sensitive subject with absolute class" wrote one viewer on twitter. "Well done for spreading awareness on how severe allergic reactions can be. My heart is breaking for Amy May and her parents" wrote another.
Amy appeared on the show with her parents, Sue and Roger. They are sharing Amy's story to highlight and educate on the severity of nut allergies and the potential consequence of severe anaphylactic shock.
Her parents have also created TheAmyMay Trustto support the continual rehabilitation and necessary medical needs of their daughter. You can find out more or donate here (opens in new tab).
Roger and Sue Shead are also backing a campaign for nut-based snacks to be banned on planes after a three-year-old boy recently suffered a severe allergic on board a plane. In a new analysis of private insurance claims published by the Wall Street Journal, it was revealed that there has been a dramatic rise in serious allergy cases over the last decade.
It was reported that insurance claims for dangerous reactions to foods like peanuts, eggs and dairy have multiplied by nearly five times over the last ten years.
The report was conducted by FAIR Health, a New York City-based, independent nonprofit that has a database of 24 billion medical and dental claims from 150 million privately insured people.
The increase in not only allergic reactions but in the number of people who have food allergies is baffling medical experts. Studies have found that as many as 8% of children have a food allergy - 40% of which have a history of severe reactions.
The number of people with allergies to peanuts and tree nuts specifically has also doubled over the last two decades.
The FAIR Health analysis found that peanuts were the most common cause of anaphylaxis, making up 26% of claims.
For more information on allergies, visit nhs.uk/conditions/Allergies or acaai.org/allergies