'As if!' Viewers respond as Ruth and Eamonn joke about divorce on This Morning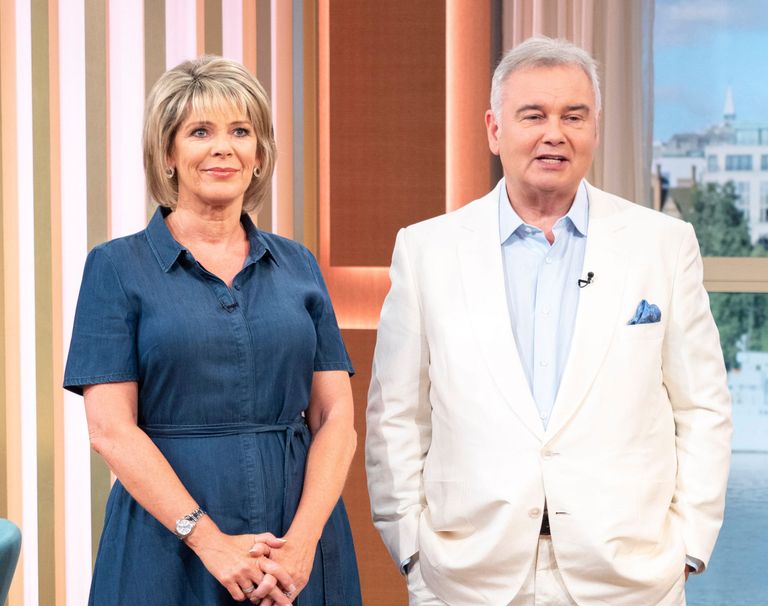 By Amy Hunt
They're one of TV's most popular couples, but Ruth and Eamonn sparked a big reaction from viewers yesterday as they shared a few jokes about divorce.
Ruth and Eamonn spoke to family lawyer Amanda Mcalister on the topic of divorce during Thursday's episode.
The pair then took calls from viewers on the subject, who were given valuable advice from Amanda.
And while they spoke with a range of people, it was Ruth and Eamonn's comments that sparked the most interest with fans.
Before they started the discussion, Eamonn joked, "There could be a divorce happening in the studio."
And, later on, the 58-year-old asked Amanda, tounge-in-cheek, "Very interesting stuff. Not that I'm thinking of doing it myself or anything..but do you have a card?"
The question understandably left wife Ruth shocked - but luckily, she saw the funny side, giggling over her husband's joke with the lawyer.
Eamonn Holmes' joke went on to spark comments from fans on social media - many of whom suggested that Ruth should have been the one getting divorce advice after his cheeky comments!
One fan joked on Twitter, "Don't get divorced Eamonn! You can't afford to. Ruth will get most of your money. You are safer married."
While another commented, "As if Eamonn! Shouldn't Ruth be the one inquiring about divorce?"
Another viewer went on, "I think Ruth is getting her number afterwards just in case.", while a fourth wrote, "Ruth asking about mediation, do her and Eamonn need it?"
Contrary to the tounge-in-cheek conversation however, it's clear that Ruth and Eamonn enjoy a pretty happy marriage together.
Speaking to Woman magazine, Ruth recently said, "We like each other's company. We genuinely like spending time together,"
To which Eamonn responded, "I don't want to watch movies or visit places on my own. But I tend to get lonely when I'm not with Ruth. Maybe I miss the arguments!"
In an interview with Woman & Home magazine in 2016, Ruth also agreed that part of their marriage is accepting the little things that annoy them about each other.
She confessed, "We know each other much more now than we did so we have both become more accepting of things that will never change.
"I've accepted that he will always be late and make me late for things, and he's accepted that I will always be bossy.'
But she admitted that despite the bickering, her love for Eamonn is as strong as ever after 20 years.
Ruth admitted, "If I haven't seen him for a while, my heart still skips a beat. I'll get a flutter when he walks into the room."