'Rude' Hugh Grant slammed for 'painful' Oscars red carpet interview with Ashley Graham as viewers brand it 'most uncomfortable thing ever'
Fans aren't happy with how Hugh Grant handled the red carpet interview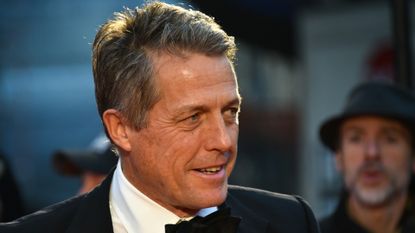 (Image credit: Getty)
Hugh Grant has come under fire for coming across as difficult during what fans have described as a 'painful' red carpet interview with Ashley Graham at the 2023 Oscars.
Model Ashley hosted the champagne-coloured carpet - which wasn't red for the first time in over six decades - ahead of the 95th annual Academy Awards, where many stars wore blue ribbons for a very special reason.
But when Hugh Grant stopped for an interview, it was obvious he didn't want to be there and gave Ashley short, blunt responses to her questions.
Ashley began by asking him what his favorite thing about the Oscars was. After a long pause, actor Hugh replied, "Well... it's fascinating. The whole of humanity is here - it's vanity fair."
She then asked him what he was most excited to see at the ceremony, such as a particular film or star winning an award. He responded that he wasn't looking forward to anything in particular.
The interview got even more painful when Ashley asked him what he was wearing, to which he bluntly replied, "Just my suit."
And when Ashley moved the subject onto his latest film, Glass Onion: A Knives Out Mystery, asking, "What does it feel like to be in Glass Onion? It was such an amazing film, I really loved it - I love a thriller. How fun is it to shoot something like that?" Hugh replied, "Well I'm barely in it, I'm in it for about three seconds."
Remaining upbeat, Ashley responded, "Yeah but still, you showed up and you had fun right?" to which he replied, "Erm... almost." And after Ashley thanked him and told him it was nice to chat to him, Hugh was seen looking around and raising his eyebrows as he began to walk away.
Fans are clearly unhappy with how Hugh behaved on the red carpet towards Ashley, branding him 'rude.' One took to twitter to question, "Was that Hugh Grant interview the most uncomfortable thing ever?!?"
Another added, "Hugh Grant was rude period. He should have just declined the interview if he was going to be like that." A third commented, "Name something more painful than the Ashley Graham/Hugh Grant interview."
Others praised Ashley for how she handled the interview. One said, "Ashley Graham NAILED this interview when Hugh Grant gave her literally nothing. If you don't want to do press or interviews, then just go to the ceremony or stay home."
While another added, "Her grace was admirable. She didn't give up on being civil in the face of his rudeness."
The Oscars 2023 was action-packed as always, with Hollywood's biggest A-listers looking super glamorous for the event and post-Oscars vanity fair party. But Lady Gaga ditched the glam for no makeup and ripped jeans later in the evening, when she performed a raw and emotional rendition of her oscar-nominated track, Hold My Hand.
Robyn is a celebrity and entertainment journalist and editor with over eight years experience in the industry. As well as contributing regular to woman&home, she also often writes for Woman, Woman's Own, Woman's Weekly and The Sun.