Renée Zellweger reveals why she couldn't wait to turn 50 and has no interest in being young
Iconic actor Renée Zellweger gets candid about "shifting the paradigm" related to aging and says she has "no interest in being 23."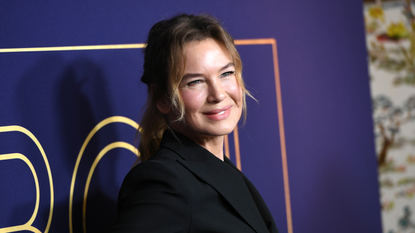 (Image credit: JC Olivera / Stringer)
It's refreshing to hear a celebrity get excited about the notion of aging, especially a star as grand and iconic as actor Renée Zellweger.
In a new interview with The Sunday Times (opens in new tab), Renée, who recently said that being "unrecognizable" is a "compliment," opened up about embracing her 50s. Now 53-years-old, the Academy Award-winning actor went as far as to state that she wouldn't turn back the clock even if she could.
"I couldn't wait to turn 50! I loved it! It made me realize I have no interest in being 23," she said to the outlet. "Turning 50 felt like a whole new beginning without the nonsense, the point where you can stop listening to all those voices in your head and all those expectations and projections people have of you and become more authentically yourself. Good luck all you suckers out there because you've got to survive a lot to get to my age... and I've earned my power and voice."
In addition to discussing her feelings towards her own age, Renée, who will be back as Bridget Jones as a fourth movie is reportedly in the works, commented on the way Hollywood treats older women and how actors should learn to cope with the high-stress environment that working within the movie industry comes along with it.
"[There's] all those ads telling us we don't need to look our real age if we just buy all their creams and their fixes and all that garbage they want to sell us," the actor said. "I'm like, what, you're saying I'm not valuable anymore because I'm 53? Is that what you're saying? There is a big difference between being your absolute best, most vibrant self and wanting to be what you're not. To be vibrant and beautiful you must embrace your age, otherwise you are living apologetically and to me that's not beautiful at all."
Renée specifically went into detail about how social media plays a significant role in the conversation, compelling users to change who they really are to pursue an obsession with youth.
"You want to look good? Go get your hair done or your skin fixed or have that day at the spa or whatever it is that makes you feel great," she said. "But let who you are and what you contribute and how you represent yourself at that age lead."
This isn't the first time that the actor has opened up about dealing with society's age- and emotional-related issues. Back in 2019, she discussed her experience with Hollywood burnout and depression, just in time for the release of Judy, the Judy Garland biopic that she starred in as the main character and even won a Best Actress Oscar for.
"I wasn't healthy. I wasn't taking care of myself. I was the last thing on my list of priorities," Renee said to Vulture (opens in new tab) back then.
Fast-forward a few years and the star has clearly figured out how to put her best foot forward.
"I have this conversation with my girlfriends all the time. Like, who's doin' it? Who's redefining 50 or 60 without having to say, 'Hey, look at me with my clothes off and I still look almost as good as I did back then?'," she said to The Sunday Times. "I don't want to be 'almost what I was.' I want to be a thousand times better! We have to shift the paradigm. You really can't do anything meaningful when you are worrying about whether you still look like you're in your twenties. You just can't."
Thank you, Renée, for speaking the truth!
Anna Rahmanan is a New York-based writer and editor who covers culture, entertainment, food, fashion and travel news. Anna's words have appeared on Time Out New York, the Huffington Post, Fortune, Forbes, Us Weekly, Bon Appetit and Brooklyn Magazine, among other outlets.