Renée Zellweger transforms into Judy Garland for new movie role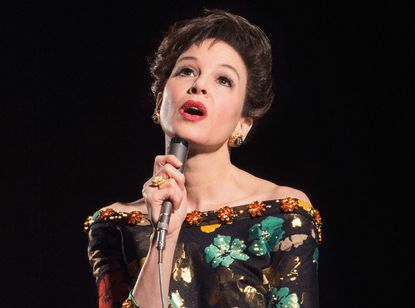 She's known for her blonde locks and sweet smile, but Renée Zellweger looks completely different for her new latest film role, which sees her playing Hollywood icon Judy Garland.
The first picture ofRenée's starring role inJudywere released this week, and show the actress sporting a black wig and red lips.
The shot sees her clutching a microphone, mimicking an iconic shot of Judy - who was also a singer - from the 1960s.
Renée, who is best known for her role in Bridget Jones's Diary, is currently filming the biopic in London.
It covers the story of Judy's time in the capital in 1968, during her final dates of her Talk of the Town tour.
The film will show Judy's battle with her life in the limelight and how she fought with her management over spending time on the road over time with her children.
It will also focus on her relationship with musician Mickey Deans, who she married just before her death.
Above: Judy Garland performing in 1961
Judy Garland had a career which spanned over 30 years, with her most famous role being Dorothy inThe Wizard of Oz in 1939, when she was just 16.
She went on to star in many other films throughout the 40s and 50s, and recorded songs includingSomewhere Over the Rainbow and Puttin' on the Ritz.
The actress and singer was found dead in her apartment from a reported accidental overdose in 1969, just a year after the film is set.
Of course,Renée is no stranger to singing roles,having played Roxie Hart in the film adaptation of Chicago in 2002, alongside Richard Gere and Catherine Zeta-Jones.
She also underwent a dramatic transformation for her role in theBridget Jonesfilms, putting on two stone in weight to play the much-loved British character.
Judyalso stars Michael Gambon (Harry Potter), Jessie Buckley (War and Peace) and Finn Wittrock (American Horror Story), along with Rufus Sewell as Judy's ex-husband, Sidney Luft.
The film's release date is yet to be confirmed.
Words: Sarah Finley