Renee Zellweger back as Bridget Jones as a fourth movie is reportedly in the works
Renee Zellweger is set to reprise her iconic role as the lovable Bridget Jones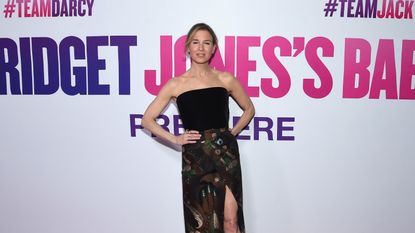 (Image credit: Jamie McCarthy/Getty Images)
Big news for fans of big knickers - Renee Zellweger is reportedly making a comeback as Bridget Jones.
It was reported on Friday by British tabloid, The Sun, that producers have been secretly working on the franchise's fourth film which will see Bridget swapping her usual dating disasters and awkward gaffes for motherhood and all its complexities.
To date, there have been three Bridget Jones movies, inspired by the best-selling novels by Helen Fielding.
Renee Zellweger, who first appeared as the hapless Bridget - voted by Brits as their favorite heroine - in 2002's Bridget Jones' Diary, was nominated for an Academy Award for the role. She last played the character six years ago, with Bridget Jones' Baby.
So, where did we last leave Bridget Jones and what have sources said a fourth movie could be about?
What happened in Bridget Jones' Baby?
The franchise last saw Bridget, now in her 40s, settling into life with a bit more ease.
Now a successful news producer with a newfound confidence, Bridget goes on a wild birthday adventure with her friend, where they attend a festival.
Bridget ends up sleeping with a hunky American entrepreneur, Jack (Patrick Dempsey). She later attends the christening of a friend's child where she reconnects with her ex, Mark Darcy (Colin Firth).
Once Bridget realizes she is pregnant and it could be either Jack or Mark's, Bridget decides to keep the baby and tells both men.
In the end, it's revealed that Mark was the father and he and Bridget (finally) get married, wrapping the love story of Bridget Jones and Mark Darcy with a neat bow.
The film was both a critical and commercial success, earning over $212 million at the box office, against a budget of $35 million.
What could a fourth Bridget Jones be about?
According to Daily Mail, the "loveable bachelorette" will reportedly appear with a "grown-up son in tow" swapping dating woes for motherhood troubles.
There isn't any news on whether Mark Darcy will be returning. The character was famously killed off in Helen Fielding's novels, but the movies have often deviated from the books.
Speaking about the rumored sequel, a source close to movie producers revealed, "The producers always knew there was a huge market for another sequel when the right story was available, and this feels like the right time to tell it."
"It will be seven or eight years since the last movie by the time this one hits the big screen, and fans will be desperate to find out what happened. It's a British classic."
While nothing has been confirmed yet, it's thought that Helen Fielding will co-write the new movie, and Renee Zellweger has been very vocal about wanting to return to the character in the past.
When asked about starring as Bridget again on The Jess Cagle Show on SiriusXM, Renée said, "I hope so. I hope so… she's so much fun."
She added, "I love being in her shoes I mean, it makes me giggle, you know, every day on set the choices that we get to make about just how awkward we can make her circumstances."
When explaining why Bridget is so popular with audiences, the Oscar winning actress said, "I find her so endearing … her self-deprecating sort of determination. I love her."
Giving fans hope that the rumors are inded true, Renee added, "I think it's really rare to get to follow a character through different stages in her life. I mean, Helen did write another book, so there's that..."
Jack Slater is not the Last Action Hero, but that's what comes up first when you Google him. Preferring a much more sedentary life, Jack gets his thrills by covering news, entertainment, celebrity, film and culture for woman&home, and other digital publications.
Having written for various print and online publications—ranging from national syndicates to niche magazines—Jack has written about nearly everything there is to write about, covering LGBTQ+ news, celebrity features, TV and film scoops, reviewing the latest theatre shows lighting up London's West End and the most pressing of SEO based stories.