As Princess Charlotte turns 3, we celebrate her most adorable moments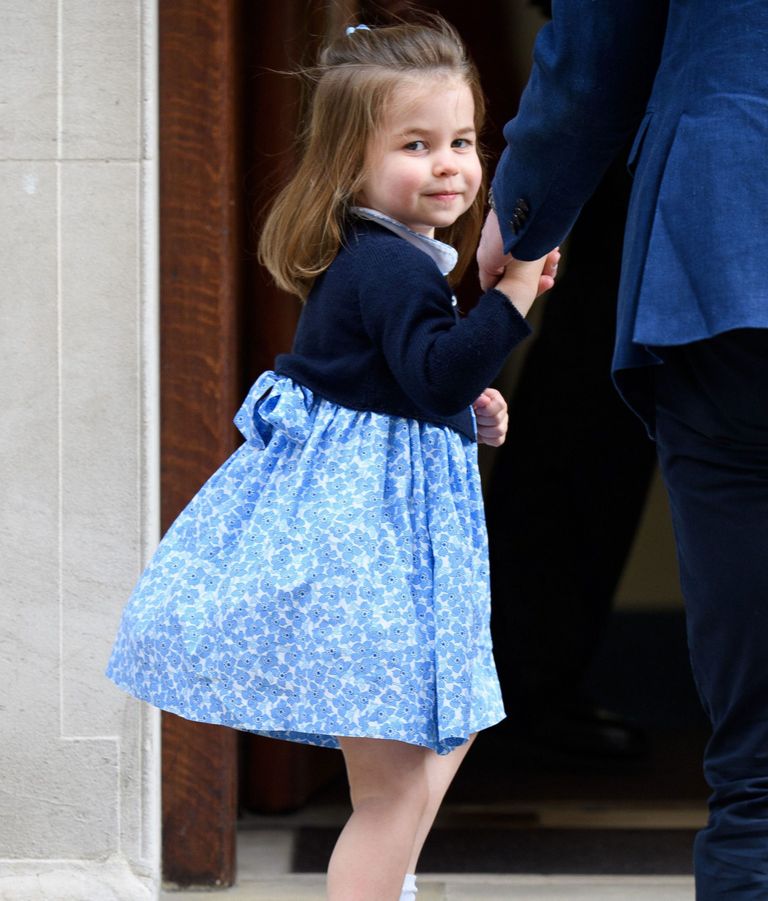 By Amy Hunt
Happy Birthday Princess Charlotte! The royal will today (2nd May) be celebrating her third birthday, alongside all her family.
So can you believe it's been three whole years since we welcomed the youngest little Princess in the British royal family into the world?
On 2nd May 2015, at 8.34am, at St Mary's Hospital, Princess Charlotte - officially Charlotte Elizabeth Diana - was born to the Duke and Duchess of Cambridge, joining her older brother Prince George.
And now, she's even got herself a little brother - the newest Cambridge baby, Prince Louis.
On her birthday, it's expected that Catherine and William will throw an at-home celebration for Charlotte, much like they did for Prince George's recent birthday. She may also be spending part of the day at nursery, where she'll likely celebrate with a cake from her fellow pupils.
The couple may also invite a few youngsters over for a low-key family celebration, and will also likely bring most of the Duchess' family round, including her mother Carole, father Michael and sister Pippa. Prince Charles, Prince Harry and Meghan Markle may also pop in.
MORE: The adorable George and Charlotte moment you may have missed at the hospital
It'll be the young royal's first birthday since moving to the capital from Norfolk in September 2017 - and, since joining nursery. So while there's sure to be a celebration, it'll likely be business as usual for the toddler!
In recent years, the Duke and Duchess of Cambridge have usually always shared a new photo of their daughter on her birthday. However, this year, the couple have decided to break from the tradition, choosing instead to protect the privacy of their daughter at the moment.
It's thought that the decision has been made in order to keep the Princess out of the spotlight for a while. Of course, we all caught a glimpse of Charlotte when she visited her new brother recently, and it's expected that she'll also attend Uncle Harry's wedding on 19th May. So it's been reported that, with a busy time ahead, the parents are keen to keep their daughter's life as private as possible.
However, Kensington Palace did wish Princess Charlotte a happy birthday on their social media. They also thanked fans for their well-wishes, whilst posting a sweet picture of Charlotte on her first day of nursery, back in January.
But although there's no official new photo of the Princess, plenty of adorable photographs of her have been shared whenever possible during her early years.
So, as the adorable Princess celebrates her birthday, we take a look at some of her most heartwarming moments so far...
Visiting her new baby brother in the hospital, April 2018
Nearly three Charlotte won over the hearts of the nation in April when she headed with dad William and brother George to visit her new sibling at St. Mary's Hospital. The adorable toddler proved she had the royal wave down pat, warming the hearts of the nations press by treating them to a sweet hello.
On her first day of nursery, January 2018
The Duke and Duchess released adorable portraits of their young daughter, to mark her first day of nursery school. The little Princess is currently at Willcocks Nursery school just a short walk away from her Kensington Palace home, for a few days a week.
On her way to a Christmas lunch, December 2017
Charlotte joined her mum, dad, brother, and the family nanny at a Buckingham Palace Christmas lunch in December. The adorable toddler was dressed in a lovely simple dress, with a festive red bow in her hair.
Christmas, December 2017
In this rare Cambridge family portrait, Charlotte and her brother, mum and dad, adorable match in a pastel blue colour. How cute!
On her second royal tour, July 2017
Prince Charlotte and the rest of the family headed off on international royal dutes abroad in the summer, venturing to Germany and Poland. There, royal fans caught a rare glimpse of the Cambridge children, as they embarked and disembarked from planes as they travelled during the five-day visit.
At the Trooping the Colour ceremony, 2017
The adorable little royal once again joined the rest of the royal family for her second appearance on the Buckingham Palace balcony, for the Trooping the Colour ceremony.
At Auntie Pippa's wedding, May 2017
Charlotte and big brother George got all dressed up to act as page boy and bridesmaid for their Auntie Pippa's wedding to James Matthews last year. The sweet siblings looked adorable in their formal-wear, with Charlotte clinging tightly to mum Catherine's hand after leaving the church.
2nd birthday, May 2017
The Duke and Duchess of Cambridge released an adorable photo of the princess to celebrate her birthday - taken by her mother Catherine herself. And we can't quite believe how quickly Charlotte is growing up!
In the caption of the photograph, the royals revealed that the cute snap was taken at their current home of Anmer Hall, Norfolk, and thanked well-wishers for their birthday messages. And the little princess is proving to be as good as her mother at selling out clothes - the yellow John Lewis cardigan she's donning in the picture is already sold out.
Christmas, 2016
Whilst leaving a Christmas church service with her family in 2016, the cutie grasped on to a candy cane stick, and looked like she was enjoying it - before trailing it along in the dirt... Mum Catherine looked on and laughed, and she soon got bored!
Queen's Birthday, 2016
George and Charlotte admired the red arrows from the balcony of Buckingham Palace on the Trooping the Colour parade last year. However, after being up there a while, the little ones inevitably got a bit bored... But never fear, because Catherine gave her daughter a reassuring kiss on the head to help calm her down.
Canada trip, 2016
Charlotte waved to crowds adorably when the entire family arrived in Canada for their official trip back in July. She seemed fascinated by the crowds, and happy to flash a winning smile!
And, cue a collective 'aww' around the world, as the Princess was spotted smelling some flowers her mother was holding.
At a tea party in Canada, 2016
The adorable princess proved she's pretty much just like every other one-year-old when on an official royal trip to Canada in late 2016. The family held a tea party for families of the military, and Princess Charlotte couldn't resist the magic tricks and balloons on offer. She was also spotted on her very first pony ride at the event - and looked as though she couldn't contain her excitement!
Celebrating her first birthday, 2016
The very first photograph of the young princess walking, Catherine again pictures her daughter in order to celebrate her birthday, with photos taken in the grounds of Anmer Hall.
First birthday photographs released by Catherine, 2016
Catherine took some more gorgeous photos of her youngest child in order to mark her daughter's first birthday in 2015.
On her first holiday with the family, 2015
The family took a trip to the snow late in 2015, and it was Charlotte's very first holiday abroad. Kensington Palace released a statement saying "This was their first holiday as a family of four and the first time either of the children had played in the snow."
First official photographs, released by Catherine, 2015
In some heart-breakingly cute snaps released by the Duke and Duchess to thank people for their kind messages about Princess Charlotte, it's the first time we get to see a slightly older princess. And again, these photo's were taken by Catherine herself.
Official photograph celebrating Christmas and George's new school
The couple released a photograph in the gardens of Kensington Palace, in order to celebrate Charlotte's very first Christmas, and to announce that her brother George would be attending the Westacre Montessori School in Norfolk.
Her Christening, 2015
The Cambridge's gathered at St Mary Magdalene Church for Charlotte's christening, and were joined by many other members of the royal family, and Catherine's family, the Middletons.
First official photographs with brother George, 2015
Catherine snapped the very first official photograph of her two children together in this adorable snap of brother and sister.
The day she was born, 2015
The Duke and Duchess of Cambridge proudly showed off their newest addition to the family at St Mary's Hospital in London on 2nd May, 2015 - the same hospital George was born in. The princess was named Charlotte Elizabeth Diana, paying homage to William's mother and grandmother.