The best Prime Day pan deals are incredible —and I write about cookware for a living!
These Prime Day pan deals will have even the most reluctant of chefs racing to the kitchen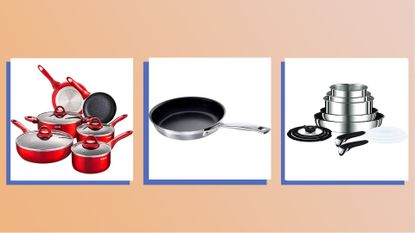 (Image credit: Future/Amazon)
When Amazon Prime Day rolled around yesterday, the Prime Day pan deals were my first port of call. As Lifestyle Editor at woman&home, my working week is spent researching kitchenware articles, editing those articles, and generally finding the very best cookware and kitchen appliances for our lovely readers. So I was keen to investigate how good the discounted Prime Day deals for the home really were.
And after much investigation, it turns out that many of the Prime Day pan deals really are as good as they seem. In fact, they might be amongst the best Prime Day deals in 2021.
So whether you're looking to add to your pan stash, are planning on replacing some pans, or need to begin your cookware collection from scratch, these are the best Prime Day pan deals that are actually worth spending your money on. And if you're still weighing up whether you prefer an induction hob vs electric hob, never fear, as we've included a variety of pans that will work with both.
The best Prime Day pan deals: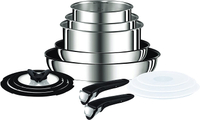 Tefal Ingenio Pots and Pans Set: £270 £159.99 (save £110.01/41%) | Amazon
A set of Tefal pans is almost a kitchen essential at this point—the brand generally offer great, long-lasting items of cookware. Which is why we simply had to include this Prime Day pan deal in our round-up. Offering a whopping £110 off, this is one of the best deals with the most money to be saved we've seen all day. The set includes 22cm and 26cm frying pans, 16cm, 18cm & 20cm saucepans, 16cm, 18cm & 20cm Glass Lids, 16cm, 18cm & 20cm plastics lids and 2 removable bakelite handles.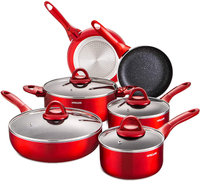 HITECLIFE Induction Pots and Pans Sets: £148.88 £101.96 (save £46.92/32%) | Amazon
If you're wondering where to start with building up your collection of pans and pots, this HITECLIFE set is a great starter kit—and they're now almost £50 off. For the reduced price of around £100, you get 10 (yes, 10!), pieces of cookware. That comes out at around £10 each, which we'd call fabulous value-for-money. Plus, they'll work on all induction cookers too.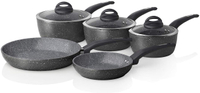 Tower Cerastone T81276 Forged 5 Piece Pan Set: £89.99 £51.99 (save £38/42%) | Amazon
Depending on the types of pans you prefer, you might want to opt for these forged pans with a non-stick coating, as opposed to the stainless steel Le Creuset pan below. And if so, you'd be in luck, because there's an enormous £38 off of this 5-pan set for Amazon Prime Day only. That's over 40% off the original price. And it's a steal for this quality set, which includes two frying pans and three saucepans.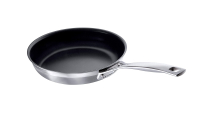 Le Creuset 962002241 3-Ply Stainless Steel Non-Stick Frying Pan: £130 £124.41 (save £5.69/4%) | Amazon
This Le Creuset frying pan made it onto our guide of the best induction pans, and for good reason. Our food writer loves the wide base for even cooking, and explains that the non-stick is amongst the best out there. The quality and lifetime guarantee also means it's a product you'll have in your home forever—which is why now is a great time to snap it up while it's enjoying a very rare discount! Plus, if you're planning a staycation this year, it's also a great pan to match up with a portable induction hob.
As well as a whole host of exciting Prime Day pan deals, there are also some fantastic deals to be had on cookware generally during the two day shopping event (which ends tonight!). So we felt it was only fair to round-up the best deals in rest of kitchenware too, incase you're keen to organize your kitchen and generally overhaul your cookware products too.
The best Prime Day cookware deals: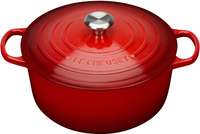 Le Creuset 20cm casserole dish £200 £153 (save £47) | Amazon
For Amazon Prime Day only, there's a huge 24% off this Le Creuset casserole dish—that's $65 off of the original $278 price-tag. Le Creuset is one of the more higher-end kitchenware brands, meaning their products can be expensive. So when you spot a rarely discounted product, it's a wise idea to snap it up as quickly as you can. This deal will only be available over Amazon Prime Day (ending on 22nd June), so we'd recommend grabbing it before it goes...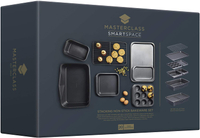 MasterClass Smart Space Non-Stick Carbon Steel Stackable Bakeware Set: £54.99 £21.99 (save £33/60%) | Amazon
If baking is your thing, and you've already got ahold of one of the best food processors or stand mixers, this bakeware set might be the ideal Prime Day purchase for you. It comes complete with a roasting pan, a square cake tin, a loaf pan, a muffin tin, a cooling rack, and a small and large baking tray—basically, everything you'd ever need whipping up a storm in the kitchen. And there's a whopping 60% off of it for Amazon Prime Day only, bringing the price down from over £50 to almost £20!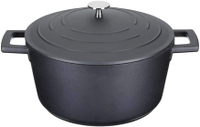 MasterClass MCMCRD24 Lightweight Casserole Dish: £49.49 £27.99 (save £21.50/43%) | Amazon
Every home needs a reliable casserole dish, and they don't come much more affordable than this Masterclass option, which has a 43% discount for Prime Day. Customers have already raved about it, with one saying 'This is superb, it looks like a heavy casserole but is really light weight', and another writing, 'These pans are awesome and I liked them so much that I bought two (so far)'.