Piers Morgan says Meghan and Harry told 'so many ridiculous whoppers'
In his first interview since his GMB exit, Piers Morgan continues to accuse Meghan and Harry of lying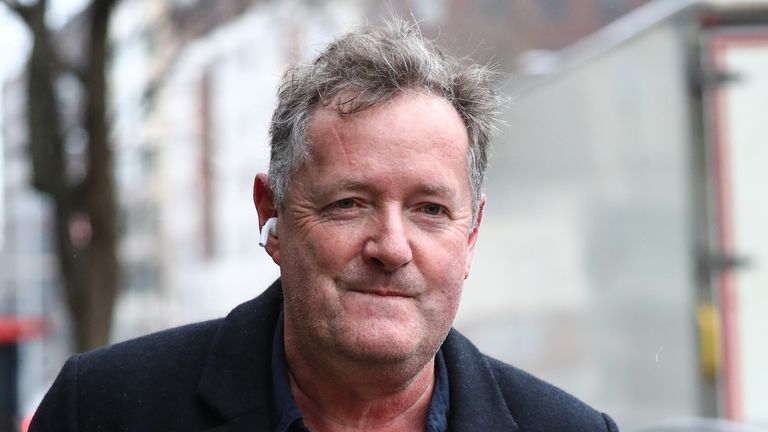 (Image credit: MWE/GC Images/Getty )
Piers Morgan took part in his first interview – since leaving GMB – with American talk show host Tucker Carlson as he doubled down on his criticism of Meghan Markle.
Piers joined Tucker for a tell-all interview that aired on Fox to reiterate his opinion that Meghan Markle and Prince Harry told "so many ridiculous whoppers" and were "lying on a global scale" in their "tacky, tasteless," and "disingenuous" interview with Oprah.
"I still don't believe what they were saying, and in particular, I don't believe what Meghan Markle was saying. Seventeen different claims by the pair of them have now been proven to be either completely untrue, or massively exaggerated, or unprovable." Piers said.
Read more from woman&home:
• Best travel pillows for every kind of trip and sleeper
• Best scented candles for a gorgeous-smelling home
• Best Kindles for digital book lovers – we help you decide which one to buy
Tucker Carlson Today's full Piers Morgan interview drops at 4pm ET on @foxnation pic.twitter.com/eohtmBEI4uApril 5, 2021
See more
He continued, "I didn't believe Meghan Markle. A huge furore erupted through the day. I was in outrage. I wasn't allowed to have an opinion that I didn't believe what she was saying, even though it was clear to me in real-time as I was watching the interview that there were a number of things which just couldn't be true."
Piers then insisted that if Meghan wanted people to take her claims seriously, she should name and shame the members of the Royal family that she accused in her interview. Piers said, "You're accusing… people in the palace of being unspeakably cruel simply to protect the brand of the Royal family. If that is true, let's have the names of these people, and let's go to them and ask them is this true."
He then specifically recalled the Duchess of Sussex's remark that questions of Archie's skin tone were raised within the Royal family. Piers stated, "So for Meghan Markle to try and create a story that says that the decision to not make Archie the title of prince was based on his skin color, is a lie."
"There's the position of Prince Harry in all this. He is attached to many of the biggest mental health charities in Britain," said Piers, as he turned his critique to Prince Harry.
"He makes no secret of his desire that everyone who feels depressed or anxious or has suicidal thoughts to get immediate help, and yet here was his wife who says she was feeling constantly suicidal, and Prince Harry never sought to get her help. And I find that very hard to believe, frankly," said Piers.
Piers also addressed the public reaction to his unfiltered options about the Royal couple. The broadcaster said that he found it "terrifying" that "people feel so cowed by the fear of the woke mob that they can't express an honestly held opinion without being immediately branded a racist."
Interviewer Tucker Carlson then agreed, "The only reason we are having this conversation is because the Murdoch family, which controls Fox, is standing up in the face of the mob, and they haven't bowed, I mean that's literally the only reason that I still have my job, and we're having this conversation."
Later, Piers said on Twitter, "Yep, and that was my experience of working for Rupert Murdoch too... he never bowed to the mob."
Yep, and that was my experience of working for Rupert Murdoch too... he never bowed to the mob. https://t.co/3y2jotdknjApril 5, 2021
See more