Piers Morgan blames the 'Woke Mob' for his firing and takes no responsibility for his controversial comments about Meghan Markle
Piers Morgan is defending his comments in a new interview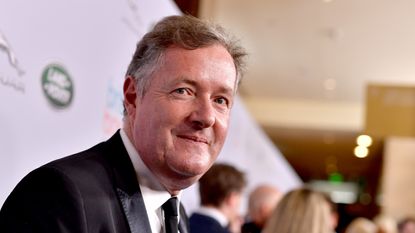 (Image credit: Emma McIntyre/BAFTA LA/Getty Images for BAFTA LA)
Piers Morgan will not be silenced. In a new interview with Tucker Carlson on the host's show for the Fox News streaming app Fox Nation, Piers revealed his true opinion over his firing from Good Morning Britain during an hour-long interview with Tucker.
It was clear right from the start of the interview that Piers held no remorse over his past racist comments and unhealthy obsession with tearing Meghan Markle down.
"Now, is she deliberately lying? Is she completely delusional? I don't know, but frankly, I don't care," Piers said of Meghan.
Read more from woman&home:
• Best hair dryers for fine hair - our top picks for volume and hold
• Best pillow for a comfortable, pain-free night's sleep whether you're a back, side or stomach snoozer
• Best bras to support, lift and shape your bust
He then went on to blame the "woke mob" (referring to social media, specifically Twitter) as the cause for his firing from the show.
"Well, I'll tell you, it's very interesting, because if you believe Twitter," Piers continued, "I got my comeuppance rightly and deservedly. You know, the woke mob, their court had met. I'd been convicted summarily. Meghan Markle had complained to my boss, complained to the government regulator, and I was gone for not apologizing for disbelieving her."
Piers is also seen repeatedly accusing Meghan of implying that Queen Elizabeth is racist. During Meghan's tell-all interview with Oprah, though, we never see her directly accuse the Queen of being a racist, and Harry even confirms that Queen Elizabeth is not the "unnamed member of the royal family" who had concerns over their son Archie's skin color. Piers still took it as an opportunity to the couple's remarks as an "appalling smearing of the Queen."
Since his firing, Piers has been heard describing himself as a "victim" who has had his freedom of speech impinged upon. Rather than own up to his actions, he instead feels it's "terrifying" that "people feel so cowed by the fear of the woke mob that they can't express an honestly held opinion without being immediately branded a racist."
If you're wondering how Tucker was reacting during this, he actually agreed with Piers and supported his statements saying Piers was the victim of a "scam concocted by those in power to silence dissenting opinions."
The one thing Piers does regret, though, is walking off the set of Good Morning Britain, telling the host, "I shouldn't have walked off. You know, you should always be able to have a debate. I was angry in the moment that he was trying to personalize this, make it some personal vendetta I have with Meghan Markle, which I don't."
Though the ex-host makes claims that he has no personal vendetta against Meghan, it should be noted that throughout his interview with Tucker, he continued to reiterate his past criticism of her.
Rylee is a U.S. news writer who previously worked for woman&home and My Imperfect Life covering lifestyle, celebrity, and fashion news. Before joining woman&home and My Imperfect Life, Rylee studied journalism at Hofstra University where she explored her interests in world politics and magazine writing. From there, she dabbled in freelance writing covering fashion and beauty e-commerce for outlets such as the TODAY show, American Spa Magazine, First for Women, and Woman's World.