Paulina Porizkova claps back at the trolls who criticized her lingerie photos
57-year-old model Paulina Porizkova urges women to embrace their beauty at every age in new Instagram post following comment by haters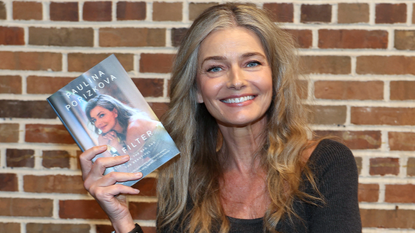 (Image credit: Kevin Kane / Contributor)
Supermodel Paulina Porizkova won't let online trolls get her down.
Earlier this week, Paulina, who recently revealed how aging helped her body image, posted a photo of herself in lingerie in front of a fireplace. Needles to say, the 57-year-old supermodel looked absolutely fabulous in her black coordinated set, boots of the same color by Tamara Mellon, a red sweater and her hair worn down.
"Almost 58? Grandma, knitting, fireplace? Check, check, check, check!," Paulina wrote in the caption to the post. "I'm the proud step grandma of five. I've knitted the sweater I'm wearing- and yes, I'm standing by a fireplace. So this is what almost 58 looks like for me today."
Plenty of the celebrity's fans took to the comments section of the post to praise her look and join the chorus of celebrations. Others, however, seemed to have resented Paulina for making public "unrealistic" body standards for the average 50-something woman.
"I'm a bit conflicted by these images," someone noted. "You are so physically gorgeous, (not representative of the majority of older women) and on one hand I subscribe to 'if you've got it flaunt it' and the power this evokes from a demographic that often becomes invisible. On the other hand, I am stuck on the way women's bodies, especially well-honed and preserved ones, are tools of objectification in our twisted culture. I can't seem to settle on whether these images, as lovely as they are, perpetuates or defies that cultural norm."
Other comments were far more harsh, denouncing the supermodel's actions throughout the years and accusing her on focusing way too much on age.
"Why are you so hung up on age?," a platform user wrote. "You're hot... probably bc you always have been, so you have that confidence. And yet, you seem so directly obligated to show your age? You act as if it is your martyrdom."
No stranger to the harsh realities of social media and obviously used to speaking up for herself, Paulina then uploaded a second post to Instagram, this time highlighting a number of the negative comments that she received following her lingerie photo.
Paulina then expressed her opinion about the situation in the caption to the post.
"Most of you are wonderfully supportive and understand what I'm trying to do in representing an older woman as still sexy and viable, and certainly not invisible," she wrote. "Then there are the naysayers. Many of the unkind comments seem to focus on me needing validation - which is true in part, I do need to be noticed in order not to be invisible. You also call me out for promoting the objectification of women. This is also partly true, I am working within set constraints thousands of years old."
In her long writeup, Paulina went on to describe the most hurtful comments, basically claiming that she does not have a right to represent women her age "because I don't like like a typical [one]."
Her response to the retort was a simple one. "I'm not trying to represent all women of my age," she noted. "How could I? How could anyone? Don't we all look different and isn't that where our beauty lies? In our uniqueness?"
In conclusion, Paulina called out the women who "cannot find space to love themselves for who they are" and instead compare themselves to others "and turn around to shame those who made them feel this way."
Talk about a proper clap back.
Paulina is no stranger to online abuse and she's clearly mastered the art of responding to the haters.
Back in May, the supermodel kicked off a body positivity movement as women began to share their "old and ugly" selfies in response to yet-another Instagram-related happening.
The trend started when Paulina posted a photo of herself in a bikini looking healthy and relaxed. Under the image, someone wrote, "You must be in so much pain to keep posting bikini pictures at your age. I've always thought that getting old and ugly is hardest on the pretty people.. The fall from grace is so much farther when you were beautiful… I pray you can come to terms with your mortality. We all get old and ugly."
At first, the Czech model reposted the comment on her own profile, calling it out as "ageist shaming that sets my teeth on edge. Older men are distinguished, older women are ugly." Her fans rallied behind her and started sharing their "old and ugly" photos using the hashtag #oldandugly.
As helpful as the episode was in showcasing the nasty attitude of some social media users, Paulina is clearly still dealing with similar scenarios today. Will women ever feel free to post whatever they want on social media?
Anna Rahmanan is a New York-based writer and editor who covers culture, entertainment, food, fashion and travel news. Anna's words have appeared on Time Out New York, the Huffington Post, Fortune, Forbes, Us Weekly, Bon Appetit and Brooklyn Magazine, among other outlets.