Nadia Sawalha shares adorable wedding throwback photo with sweet tribute to husband Mark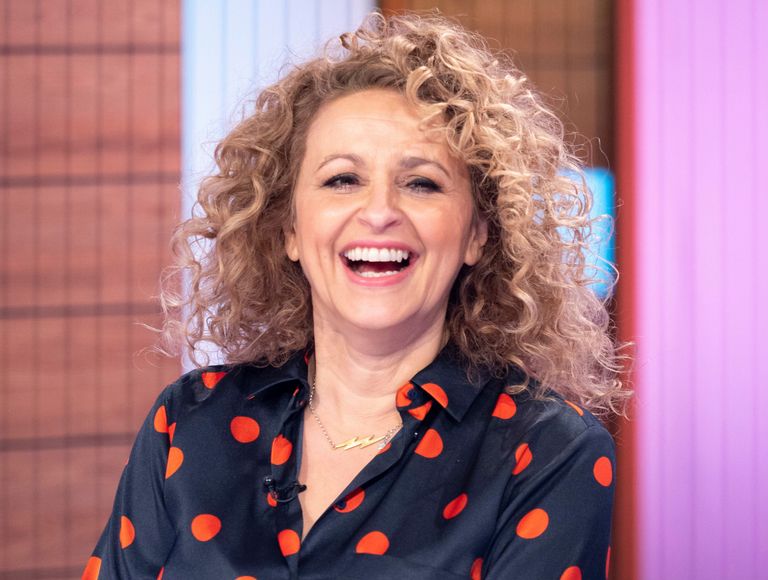 By Amy Hunt
Nadia Sawalha and her husband Mark Adderley have been married for nearly 17 years, and its seems the pair are just as in love as ever.
In a recent Instagram post, Nadia reflected on their wedding day ahead of their anniversary on 6th June, with an adorable picture and message.
The snap, taken on their wedding day, showed the newlyweds in fits of giggles after tying the knot.
In a caption accompanying the photo, Nadia revealed that she loved the image, because of how happy Mark looked in it.
She wrote, 'As @maddiemaddieee recently said in of our VLOGS ... "you two needed to get know each other a bit more before getting hitched" ... she may be right!
'But when I came across this photo from our wedding day I was reminded how RIGHT it was that we impulsively ties the knot!!! I LOOVVVVVEEEE this image of @mark_adderley and me on our wedding day!
'I only wish I could remember the joke ... Being pregnant ... I wasn't drinking on the day ... and I had just eaten an entire Lemon Meringue Pie ... but for me ... this is one of those very rare photos of Mark where he looks so happy DESPITE himself. #memories #weddingday #husband #husbandandwife #nostalgia #wedding #married #marriedatfirstsight #marriedlife #happy #happymemories'.
And Nadia's 94,000 followers seemed to love the photo as much as the Loose Women star herself.
One fan said, 'This is just so beautiful', while a second fan agreed, 'What a precious moment to capture. Shout out to the photographer 🙌🏻'
Another also commented, 'This is a stunning photo Nadia...really beautiful moment and after all your years together weren't you right to make that decision...'
While a fourth follower said, 'Great photo n it show's the love between you💖'.
On a 2016 episode of Loose Women, Nadia revealed that her wedding day was rather eventful though, confessing, "When I got to the end of the aisle I turned around and announced to everyone that I was pregnant!
"You could hear a pin drop and Mark was sweating, it was great.
"Then, to teach him a lesson, as we turned around to walk back, I had them play Dancing Queen, because he hates ABBA. I turned to him and said, 'I'm always going to be boss!'"
What a day!