5 things you didn't know about Nadia Sawalha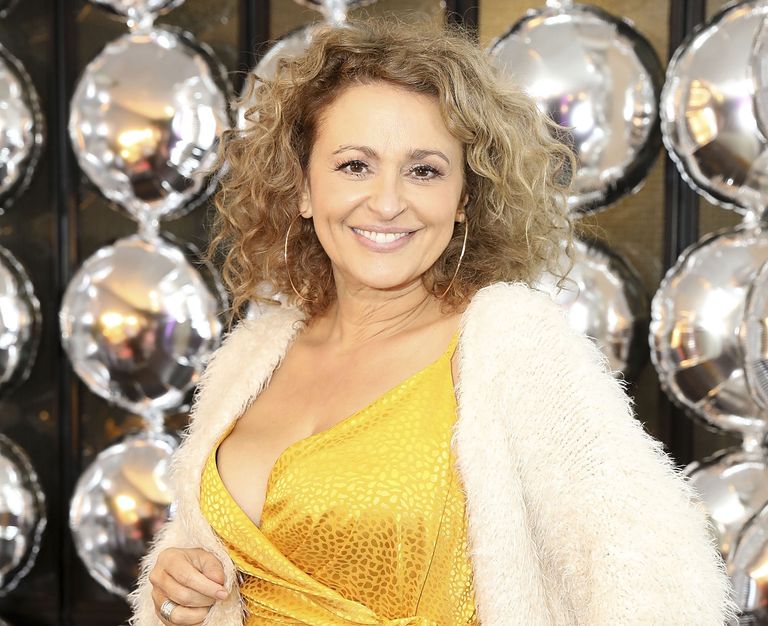 (Image credit: Dave Benett/Getty Images for Pri)
By Amy Hunt
Loose Women's Nadia Sawalha is perhaps one of the most open books in show business.
The 53-year-old mum of two has always been brutally honest with her fans about everything from her family life, menopause, body image, and her marriage.
She's discussed her difficult struggle with losing her hair, her battle with incontinence, and even her heartbreaking experience of miscarriage.
But of course, there's always something new to find out. So what didn't you know about one of the UK's best-loved TV personalities?
1. Nadia's first husband sadly committed suicide
Before settling down with her husband of 15 years, Mark Adderley, Nadia was married to Justin Mildwater. The pair wed in 1992 and stayed that way for five years, before Nadia ended the relationship in 1997.
Some months later, Justin took his own life.
Nadia spoke about the tragedy on today's episode of Loose Women, explaining that it happened while she was starring on EastEnders.
MORE:See inside Nadia Sawalha's lovely London home
She told the audience, "I had a real tragedy while I was there, my first husbanddied and it was a truly, truly awful time for everybody. I had to carry on working, I was in the middle of a very big storyline.
"That was really hard because when somebody dies, so many people have an idea of how you should behave and how you should be. Iremember just saying, 'Can someone give me the book on what I'm supposed to be doing?'"
And in 2000, the presenter also said, "My husband committed suicide after I'd left him and it's been hard. I loved Justin very much. I just wasn't in love with him any more.
"My real agony is his family, who haven't spoken to me since. They were very angry with me. It causes me terrible grief and it always will."
2.She home-schools her children
Nadia recently shared in an interview that she and husband Mark have opted to home-school their two daughters, Maddie, 15, and Kiki, 10.
Speaking to the Metro, she opened up on their education from the family's Crystal Palace home, admitting that the set-up can be tough.
"My job makes it a lot easier because I am doing a live show so I know exactly what time I will get home. I set up study groups so they learn with other children.
"It's really tough and it's a constant worry but it was a constant worry when they were at school. We are not anti-school — we are just anti-bad school. Stacey Solomon home-educates her kids too."
Previously, on Loose Women, the mum-of-two explained why she opted to take the unconventional decision with her children's education.
She told Hello! magazine,"They struggled in class and really thought they wouldn't excel in anything. But ever since I took them out of school two years ago, they've become more confident and passionate and are brimming with enthusiasm to learn.
"We only have to look at our girls' progress to know we made the right decision."
3. Nadia attended Overeaters Anonymous
Nadia has openly admitted to struggling with her weight in the past. But did you know she's taken huge steps to tackle her self-confessed 'food addiction'? The presenter made a candid confession in a column for The Sun previously, saying, "I didn't get a grip on my bad eating patterns until I was in my late 30s.
"I saw an ad for Overeaters Anonymous. I didn't even know that kind of thing existed, but they're all around the world. I went to my first meeting and just sat there listening in awe to people talk openly about all the things that I had been through."
She continued, "It was incredibly powerful. After that I went every single day for a month, then weekly and now I pop in and out when I need."
She's since been candid about the way the group changed her life, and her perspective on food.
Nadia confessed, "It completely changed the way I thought about food. It gave me tools for life. These days, when I look in the mirror I can actually find nice things to say about myself."
4. She lives next door to her parents
In an interview with Metro, the 53-year-old revealed that she lives with her family in the first house she ever bought, in Crystal Palace - next door to her mum and dad.
She revealed that she bought the property for £220,000 at the beginning of her TV career, after her dad encouraged her to purchase it off their neighbours.
Nadia revealed that it's lovely being so close to her parents - and convenient too, if she or they should ever need help. She confessed, "Not only is it lovely that my children have grown up close to their grandparents but also, my husband and I are both freelancers, not knowing where we'd be working, so my parents would help with childcare. And as they get older, we're here to help them out."
5. She's an accomplished food writer
While she's perhaps most well-known for her presenting and acting career, Nadia has also released a string of popular cookery book. In 2010, she released Stuffed Vine Leaves Saved My Life, feating a range of recipes inspired by her family and her heritage.
She also went on to release a series of Greedy Girl's books, and a diet food book after losing three and a half stone. Most recently, Nadia teamed up with her close friend and Loose Women co-star Kaye Adams to launch a cookbook full of a series of easy recipes called Nadia and Kaye: Disaster Chef.
6. Nadia and her sister's acting career was inspired by their father
Nadia Sawalha of course starred in Eastenders, from 1997-1999. Her sister Julia, is also a well-known actress. And it seems that their father Nadim was integral in influencing their career decision, showing them many of the sets he worked on.
In an interview with the Guardian, she said, "My dad's acting career was hugely influential in making Julia and me follow in his footsteps. We spent most of our school summer holidays on film sets.
"For example, we spent several weeks in Malta when Dad was acting in Sinbad and the Eye of the Tiger and some time in Spain when he was filming The Wind and the Lion. Everyone assumed I was going to be an actress, however I really wanted to be a nurse. The acting eventually won and I'm really pleased it did."
Nadia Sawalha: essential info
Who is Nadia Sawalha's husband?
Nadia Sawalha's husband is TV producer Mark Adderley, and the couple have been together for over 15 years. The pair married in June 2002, and have since welcomed two daughters.
And who is Nadia Sawalha's sister?
Julia Sawalha is Nadia's younger sister, and has enjoyed an extensive acting career. The 49-year-old is perhaps most well-known for her role as Saffy in Absolutely Fabulous, which she reprised in the film version last year. The siblings also have an older sister, Dina.
What about Nadia Sawalha's hair loss?
The star hit headines across the internet recently after sharing a poignant video about her menopausal hair-loss. The candid clip showed Nadia in her bathroom, tearing up over her hair falling out since she started going through the change.
Becoming emotional discussing the strain losing her hair has had, Nadia said, "It just makes me feel old. I can't help it, it does. I know I should feel grateful that I have got any hair. And I do try to, I do say I am grateful.
"But it doesn't mean that I don't miss my hair terribly."
And what is there to know about Nadia Sawalha's weight loss?
In 2010, Nadia embarked on a weight loss mission, signing up to do a DVD, 'From Fat to Fab'. She managed to lose an impressive four stone, but has since admitted that the gruelling diet and exercise regime took its toll on her emotional health.
In a recent video, she confessed, "I did it the right way. I went on a diet. "I did loads of exercise but oh my goodness, you have to eat very, very little, really.
"And you have to work very, very hard to get the kind of results I did, I lost like four stone. But I was miserable. I was actually miserable while I was doing it."