Nadia Sawalha on overcoming the loss of her first husband and why her marriage to Mark Adderley is a 'beautiful disaster'
We delve a little deeper into Nadia Sawalha's life off-screen, from overcoming grief to family life...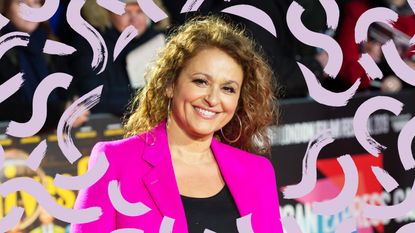 (Image credit: Getty Images/Future)
We shine a spotlight on powerful and inspiring women like Nadia Sawalha to tell you more about their daily lives and most relatable moments. Our in-depth profiles cover everything from how these women juggle work and play, to their most important relationships, and the pearls of wisdom they have to offer other women—with no detail spared.
---
Loose Women's Nadia Sawalha is perhaps one of the most open books in show business. The mum of two has always been brutally honest with her fans about everything from her family life, menopause, body image, and her marriage.
The TV star isn't afraid to disclose her deepest secrets to the public, speaking openly about losing her hair when going through menopause and her battle with incontinence. Nadia Sawalha also revealed her heartbreaking experience of miscarriage several times while speaking on the Loose Women panel—it's safe to say that the presenter isn't afraid to tackle big issues head-on. Let's delve a little deeper into one of the UK's best-loved TV personalities...
Who is Nadia Sawalha's husband?
Nadia Sawalha is married to TV producer Mark Adderley, and the couple has been married for 19 years. The pair married in June 2002, and have since welcomed two daughters—Maddy, 18, and Kiki, 14.
Although Nadia and Mark have been married for nearly 20 years, their marriage has been far from plain-sailing after Mark's alcoholism nearly broke them. And it's a topic they're incredibly open about on their YouTube channel, The Sawalha-Adderleys. (opens in new tab)
Mark went to rehab when their eldest daughter Maddie was just a baby. after Nadia realized he was a "high-functioning alcoholic" and gave him an ultimatum to change. He has been sober ever since. Recalling the moment she first realized, Nadia told OK! magazine (opens in new tab), "I realized around Maddie's first birthday that Mark was an alcoholic. None of his friends or family realized. It was a shock when he went to rehab. He was a high-functioning alcoholic. People would go home and he would carry on drinking. I'd go to sleep and he'd still be going."
Nadia went on to say that her pregnancy was a turning point for the couple. Chatting on their podcast, How to Stay Married (So Far), Nadia said, "There was a lot of drink and a lot of late nights. Getting together with you [Mark] and getting pregnant made me go, 'Jesus Christ, all that's gone before has to go'.
"I was such a different person since being pregnant with Maddie. And I think that was the beginning of us saving our lives. We probably would have died. We would have gone crazy on the alcohol."
In a wedding throwback post celebrating their 19th anniversary, Nadia described their marriage as a "beautiful disaster" and wrote, "Nineteen years married today... We almost didn't make it."
She went on to explain, "The first few years of our marriage were really really tough. If I'm honest we were [expletive] miserable a lot of the time. Eventually, after a whole heap of hell, we came to the realization that we were going to have to get on with the graft of making it work because actually we loved each other and would have been as miserable as sin if we'd broken up.
"I don't care what anyone says, a lasting relationship takes conscious effort. And we have actually worked our arses off to keep this relationship alive and fizzing. Couples counseling, staying when we've wanted to leave, listening when we've not wanted to, compromising when we'd rather have died!
"Our marriage in some ways is a beautiful disaster and I wouldn't have had it any other way. My gorgeous man. A fabulous father to our beautiful girls. The most supportive loving husband. So smart, talented, and bonkers.
"My life would have been a car crash without you. Everyone thinks I saved you, but we saved each other my darling. Love you till the day I die. Thank you..for being exactly the way you are."
What is Nadia Sawalha's YouTube channel?
Nadia and Mark's YouTube channel is called The Sawalha-Adderleys (opens in new tab) and offers a whole variety of content. Whether it's Popcorn Junkies, where the family reviews the latest film releases, or The Box Set Bingers, in which they rate TV sets, there is something for everybody. On a more serious note, the couple also hosts How To Stay Married (So Far) and How Are You Feeling?—a mental health and personal development series).
Their YouTube channel launched back in 2014 and regularly features their two children as well as their extended family. With two new videos launching daily, the channel now has over 123K subscribers as well as an area where fans can pay monthly to access bonus content.
How many children does Nadia Sawalha have?
As well as navigating married life Mark and Nadia have also had to navigate parenting two girls—Maddy, 18 and Kiki, 14—and made the decision to homeschool their two children, before the UK lockdown forced many other families into the same situation. Opening up to Hello! (opens in new tab) on why they opted to take the unconventional route with their children's education, Nadia said, "They struggled in class and really thought they wouldn't excel in anything. But ever since I took them out of school two years ago, they've become more confident and passionate and are brimming with enthusiasm to learn. We only have to look at our girls' progress to know we made the right decision."
While some families would struggle to adjust to homeschooling, it fits in well around Nadia's TV jobs. "My job makes it a lot easier because I am doing a live show so I know exactly what time I will get home. I set up study groups so they learn with other children," she confessed. "It's really tough and it's a constant worry but it was a constant worry when they were at school. We are not anti-school — we are just anti-bad-school."
Having both struggled with their mental health over the years, Nadia and Mark make the conversation around mental health a priority in their house and recently revealed their children have been seeing a counselor throughout lockdown. Nadia told the Express, (opens in new tab) "You know I've joked in the past about how my family was almost training for lockdown for years.
"Our girls have been homeschooled for six years, my husband and I work from home and have run a business together from home for years. Also in our house, we're quite unusual, we're more American leaning than British, I think. We talk about our mental health on a daily basis. My husband and I from day one were very aware that this was something that was gonna creep up on people with their kid's mental health. And I'm really sad to say that I think that it really has. It's been a huge impact."
As well as the two daughters they share, Mark has two daughters from a previous relationship. And having a blended family took some getting used to in the early days. Speaking on their podcast, Nadia said, "The horror of the negotiations bled into our relationship. I never got to know Izzy's mum. You were both still at loggerheads with each other.
"I just thought, these two have to stop this anger. It was very wearing. I felt all we were doing was talking about access. It really affects your relationship. Somebody else's storm comes into your storm. A lot of people find that too much." Thankfully, she now shares a close relationship with the girls.
When was Nadia Sawalha married to Justin Mildwater?
Before settling down with her husband, Mark Adderley, Nadia was married to Justin Mildwater—a record producer. The pair tied the knot in 1992 in a traditional Bedouin-style ceremony in Madaba, Jordan in a nod to her father's heritage.
Revealing further details about the ceremony, Nadia previously said, "My father comes from a family there, so we had the Bedouin tent outside and all the village came. We had the drums and the kebabs. My family came from London. It was just family there. It was so much cheaper to have it there too."
But traditions were a little different over there. "It was really funny because over there they throw rice instead of confetti. My husband's a great dancer…and a great sweater! They threw all this rice at you and when we got back to the hotel, we found boiled rice in his pockets, down his shirt. It was so hot. It was a freak August. It was absolutely boiling. We thought maybe that might be a good sign for the future—that he could boil rice just with his body."
Nadia and Justin met through Dexter Fletcher, an actor that Nadia's sister Julia was in a relationship with. Nadia has since revealed there was an instant attraction. "As soon as I saw him I thought, 'Yes please'," she said in one interview. "He was so beautiful."
The pair were married for five years before Nadia ended the relationship in 1997.
How did Nadia Sawalha's first husband die?
Some months later, Justin took his own life at the age of just 31. Nadia spoke about the tragedy on an episode of Loose Women, explaining that it happened while she was starring on EastEnders. She told the audience, "I had a real tragedy while I was there, my first husband died and it was a truly, truly awful time for everybody. I had to carry on working, I was in the middle of a very big storyline.
"That was really hard because when somebody dies, so many people have an idea of how you should behave and how you should be. I remember just saying, 'Can someone give me the book on what I'm supposed to be doing?'"
Although the pair weren't together at the time, that didn't make things any easier for Nadia. "My husband committed suicide after I'd left him and it's been hard. I loved Justin very much. I just wasn't in love with him anymore," she admitted back in 2000. "My real agony is his family, who haven't spoken to me since. They were very angry with me. It causes me terrible grief and it always will."
---
More from woman&home:
---
Where does Nadia Sawalha live?
Nadia lives in Croydon with her husband and their two daughters—right next door to her parents. Nadia bought her lovely London home for £220,000 at the beginning of her TV career, after her dad encouraged her to purchase it from their neighbours.
While some people would dread being that close to their family, Nadia loves it and admits it's convenient if they ever need help. She confessed, "Not only is it lovely that my children have grown up close to their grandparents but also, my husband and I are both freelancers, not knowing where we'd be working, so my parents would help with childcare. And as they get older, we're here to help them out."
How much does Nadia Sawalha weigh?
In 2010, Nadia embarked on a weight-loss mission, signing up to do a DVD, 'From Fat to Fab'. She managed to lose an impressive four stone but has since admitted that the grueling diet and exercise regime took its toll on her emotional health.
In a recent video, she confessed, "I did it the right way. I went on a diet. I did loads of exercise but oh my goodness, you have to eat very, very little, really. And you have to work very, very hard to get the kind of results I did, I lost like four stone. But I was miserable. I was actually miserable while I was doing it."
After years of self-loathing, the presenter has taken huge steps towards self-acceptance when it comes to her body and Nadia has previously posted naked photos on Instagram to celebrate it.
"I try to be grateful for all that it's done for me," she explained in an interview with Health & Wellbeing. (opens in new tab) "After years of self-loathing, I'm now in a better place, even though my body probably looks the worst it's ever looked, thanks to cellulite, menopause, aging, and sagging. But, in a way, I think I love it more."
Though she's not constantly battling with herself anymore, Nadia does want to keep up with exercise in a bid to be the healthiest version of herself. "I'm constantly making myself promises that I'm going to do all sorts of weird and wonderful exercise routines so that I can get back what I had before, but the problem is that they are just promises," she added.
"I'm definitely not as strong as I was. That's why I'm so desperate to start weight training—it's one of the things you should do as you get older, especially after menopause, because your muscles deteriorate very quickly and a lot of people become infirm simply because they don't look after their major muscle groups."
Nadia has openly admitted to struggling with her weight in the past. But did you know she previously took huge steps to tackle her self-confessed "food addiction"?
The presenter made a candid confession in a column for The Sun (opens in new tab) previously, saying, "I didn't get a grip on my bad eating patterns until I was in my late 30s. I saw an ad for Overeaters Anonymous. I didn't even know that kind of thing existed, but they're all around the world. I went to my first meeting and just sat there listening in awe to people talk openly about all the things that I had been through."
She continued, "It was incredibly powerful. After that, I went every single day for a month, then weekly, and now I pop in and out when I need."
Attending the group gave her a whole new perspective on food. Nadia confessed, "It completely changed the way I thought about food. It gave me tools for life. These days, when I look in the mirror I can actually find nice things to say about myself."
When was Nadia Sawalha in EastEnders?

Nadia Sawalha starred in EastEnders as Annie Palmer from 1997-1999, right up until her character left Walford to go and live with her father in New Zealand. And it seems acting runs in the family as Nadia's sister Julia is a well-known actor after both the girls followed in their father's footsteps. In an interview with the Guardian, Nadia said, "My dad's acting career was hugely influential in making Julia and me follow in his footsteps. We spent most of our school summer holidays on film sets.
"For example, we spent several weeks in Malta when Dad was acting in Sinbad and the Eye of the Tiger and some time in Spain when he was filming The Wind and the Lion. Everyone assumed I was going to be an actress, however, I really wanted to be a nurse. The acting eventually won and I'm really pleased it did."
While she's perhaps most well-known for her presenting and acting career, Nadia is also an accomplished food writer and has released a string of popular cookery books. In 2010, she released Stuffed Vine Leaves Saved My Life, featuring a range of recipes inspired by her family and her heritage.
She also went on to release a series of Greedy Girl's books, and a diet food book after losing three and a half stone. More recently, Nadia teamed up with her close friend and Loose Women co-star Kaye Adams to launch a cookbook full of easy recipes called Nadia and Kaye: Disaster Chef.
She's always been a huge foodie, but Nadia previously confessed her cooking skills are from the Arab side of the family. On her heritage, Nadia told the Guardian (opens in new tab), "We used to fly to Jordan to see Dad's relatives. He comes from a large family and was one of nine brothers. "We lived next door to my aunt Jamalieh and a lot of my dad's relatives came over to the UK and bought houses near us. Most weekends, our house would be filled with the Arab side of the family, which is where I acquired my cooking skills."
How old is Nadia Sawalha?
Nadia Sawalha was born on November 18, 1964, making her 56 years old. She was raised and still lives in Croydon, South London but is of Jordanian descent. Nadia's Jordan-born father, Nadim Sawalha, arrived in the UK at the age of 21, while her mother, Roberta Sawalha, was born in England. Nadia's father was an actor and played an influential role in Nadia and her sister, Julia, going on to become actors themselves.
In just four years Nadia will turn 60—a milestone most women dread. But Nadia has a surprisingly positive outlook on aging. In an interview with Health & Wellbeing (opens in new tab), she confessed, "I definitely take better care of my health now. I'm 54, which means that next year, I'll be five years off 60! And while it's hard to get fit now, it's going to be so much worse in another five years, so I'm trying to be more disciplined. "That's my biggest problem—I'm a great starter but a lousy finisher," she joked.
Georgia writes across Woman & Home and Good to Know and specialises in all things royal. Previously labelled the "Queen of the royals," Georgia knows the whose who and what's what when it comes to the monarchy. When she's not eagerly following the royal family, Georgia enjoys shopping and self-care. She lives with this motto in mind; "if your dreams don't scare you, they aren't big enough."