Meghan Markle and Prince Harry's lavish mansion under threat after Santa Barbara issues drought warning
In response to a scorching drought, residents of the area will have to limit their use of water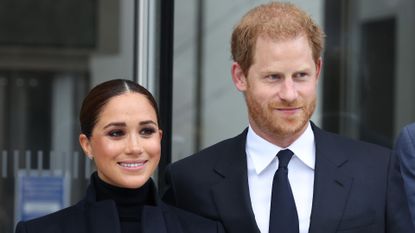 (Image credit: Photo by Taylor Hill/WireImage via Getty)
In response to a scorching drought in the area, officials have imposed a hosepipe ban in Montecito, where Meghan Markle and Prince Harry reside in a $14 million mansion.
In an effort to preserve water as a result of a drought that could potentially lead to extremely dangerous wildfires, authorities in Montecito—an exclusive community east of Santa Barbara—have instituted new rules that prohibit filling decorative fountains, watering properties within 48 hours of rainfall and even washing cars without a hose that features a shut-off nozzle. The new guidelines will almost surely affect the lifestyle of Prince Harry and Meghan Markle, who moved into their $15 million estate in the area back in August 2020.
According to some reports, the couple spends upwards of tens of thousands of dollars each month on gardening needs (can you blame them? The five-acre Santa Barbara mansion's grounds is filled with olive trees and it boasts a vegetable garden, a tennis court, a pool, a playground and even a slew of rose gardens, among other features).
Folks who don't abide by the new guidelines, which will last one full year and do not make exceptions for recreational facilities in the area, can face fines of up to $500 and monthly bills in higher price tiers.
This isn't a new situation in Montecito. Back in 2014, while the area was recovering from extreme drought, famous resident Oprah Winfrey had to truck thousands of gallons of water to use on her 40-acre estate. Clearly, there's precedent.
Whether connected to the recently announced guidelines or not, new reports have also surfaced about the Duke and Duchess of Sussex actually considering moving out of their current home.
An anonymous source told the Daily Mail that the couple wants to "stay in the neighborhood or nearby but they aren't over the moon about the house or the location" they currently reside in.
Whether that's true or not is yet to be seen but, just in case you've got a few million dollars lying around, you should know that the couple's lavish home features 16 bathrooms, a children's cottage, a spa with a separate dry and wet sauna, a game room, a theater, a wine cellar, a gym, and a five-car garage, among plenty of other memorable characteristics. Who knows—it might be your next home.
Anna Rahmanan is a New York-based writer and editor who covers culture, entertainment, food, fashion and travel news. Anna's words have appeared on Time Out New York, the Huffington Post, Fortune, Forbes, Us Weekly, Bon Appetit and Brooklyn Magazine, among other outlets.