Martha Stewart's tulip planting hack you need to know about
Martha Stewart's tulips are giving us life!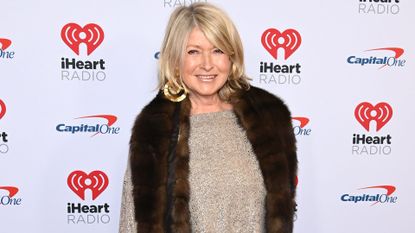 (Image credit: Getty Images)
Not only is Martha Stewart good in the kitchen, but she also has a green thumb - and we're obsessed with her hack for planting tulips.
Gardening is a quintessential part of spring and summer. Your garden might consist of some herbs and veggies, or perhaps an array of stunning flowers and greenery. Regardless, it can be a difficult and time-consuming feat, especially for gardening beginners - which is why Martha Stewart's newest gardening hack has been on our radar ever since we heard about it.
On Martha's Instagram, she's known for posting recipes, views of her home, and the occasional sexy selfie to show off her unreal skin - but she recently posted a gardening hack specifically for tulips that we've found to be helpful.
"This year I planted only a few types of tulips and only in rows for cutting. First blooms this spring. These luscious pink parrots!!!!!" she captioned the post.
The photo features some cut pink parrot tulips arranged perfectly in a vase with water, adding a colorful accent to one of the tables in her home.
Well-known interior decorator Jeffrey Bilhuber commented on Martha's post, agreeing that her tulip planting method is the only way to go. "Rows for cutting is exactly how to plant them!" he said.
Martha is definitely right in her tulip planting advice. Planting tulips in rows makes it easier to cut them for display.
When planting tulips, The Spruce suggests planting them in sunlight, or even beneath trees or any areas that will become shady. For the actual planting process, it is recommended to plant the bulbs 4 to 8 inches deep in the fall (a depth about three times the size of the bulbs) in a sunny location.
Then, space the bulbs 2 to 5 inches apart in rows (depending on their size) a la Martha Stewart, with the pointy end facing up.
Keep in mind that unless the bulbs are labeled as "perennialized" or "naturalizing," they rarely re-bloom the following year, so you'll have to plant them every fall.
It is also suggested to plant your tulips in an area with well-draining soil. "Ensure they have well-draining soil that will not be waterlogged or get too much moisture or humidity; only water when dry and only give supplemental water if it hasn't rained in one to two weeks," says Marie Ianotti, lifelong gardener.
Also, to help the growing process, feed your tulips and the soil with compost, bone meal, or granular fertilizer straight into the planting hole - this will ensure the tulips grow strong and colorful when spring rolls around.
Madeline Merinuk is woman&home's US lifestyle news writer. She covers celebrity, entertainment, fashion, and beauty news but is also obsessed with internet trends - you can find her reciting trending TikTok sounds out loud at any given time.
After winning multiple student journalism awards for her investigative work, she graduated from Hofstra University in 2021 with a B.A. in Journalism. After graduating, she worked at today.com, the digital site for the Today Show, where she wrote pop culture news and interviewed big-name personalities like Emily Ratajkowski, Haley Lu Richardson, Emma Corrin, and more.
Her personal interests, in no particular order, are: cheese, Joni Mitchell, reading, hot yoga, traveling, having multiple chapsticks in every handbag at all times, and dancing to ABBA songs as if she were in the Mamma Mia movies.