Lorraine Kelly suffers embarrassingly awkward blunder during interview with Bonnie Langford
Cringe!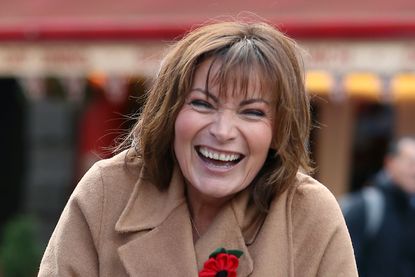 (Image credit: Getty)
Lorraine Kelly left viewers cringing during today's instalment of her ITV chat show when she slated the Cats movie in front of Bonnie Langford – whose niece starred in the film.
The former EastEnders star chatted to the iconic Scottish telly host via video link today and the pair began chatting about the the Andre Lloyd Webber musical that was adapted for the big screen last year.
Despite the film's star-studded cast of celebs like Taylor Swift, James Cordon and Dame Judi Dench (opens in new tab), the cinematic release was detested by many critics and fans.
And it seems Lorraine was one of the many cinema goers who didn't have a good word to say about the movie and she made sure to air her opinion when she referenced Bonnie's part in the original stage show.
READ MORE:Lorraine Kelly left blushing after comment from fellow Good Morning Britain presenter (opens in new tab)
"I have to say, watching that tiny little clip of your production of Cats… Heck of a lot better than the film," she told the red head actress.
"Crikey, wasn't that a bad one!"
An air of awkwardness fell across the studio as Bonnie explained that her niece, Zizi Strallen, starred in the film.
"Well I have to be…. I have to be positive because my niece was in it."
Attempting to come back from the cringeworthy blunder, Lorraine chipped in, "Can I say, she was brilliant but the rest of it was not so good…"
Of course, the uncomfortable moment didn't go unnoticed by viewers, who rushed to social media to point it out and have a good laugh.
'Lorraine walked right into that one didn't she? 🤣 Slating the film Cats and then Bonnie saying her niece was in it! 😳 #lorraine,' one wrote on Twitter.
'Oops Lorraine, Bonnie's niece 😹 #lorraine,' added another, while a third chipped in, 'That moment when you slag off the film #Cats to Bonnie Langford, only to be told that her niece was in it. "She was brilliant in it though!" Keep digging Lorraine! #FAKE #Lorraine #awkward.'
Whoops!