Joni Mitchell surprised fans while playing a set at a music festival after decades away from a stage: "I didn't sound too bad"
Folk icon Joni Mitchell led a surprise performance of Both Sides Now at a music festival in Newport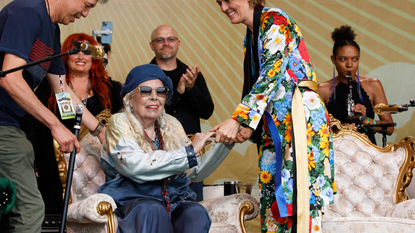 (Image credit: Boston Globe / Contributor)
It's been five years since the now 78-year-old Joni Mitchell suffered a brain aneurysm that prevented her from headlining tours and performances as often as she once did.
It should come as no shock, then, that Joni's surprise performance at the Newport Folk Festival this past Sunday left fans in tears of joy. The appearance was actually Joni's first full set in two decades and her very debut on the specific Newport stage in 53 years.
---
The appearance was special in more ways than one. The stage was set up as Joni's own living room in California, where she has been hosting a series dubbed "Joni Jams." During each segment, musicians would make appearances and sing along with Joni, who is still recovering from her the near-fatal aneurysm she suffered in 2015. This was also the first time that the singer was able to play the guitar in public since the accident.
Among the 13 songs performed by Joni on the Newport stage was a rendition of "Both Sides Now," which she sang while sitting on a throne-like lounge chair to the delight of a rapt audience.
The momentousness of the event wasn't lost on Joni herself, who discussed the happening on CBS Mornings the next day. "I've never been nervous about being in front of an audience but I want it to be good," she said then. "And I wasn't sure I could be. But I didn't sound too bad!"
The star also discussed her ability to play the guitar. "I'm learning," she said. "I'm looking at videos that are on the net to see where I put my fingers. It's amazing what an aneurysm knocks out: how to get out of chair! You don't know how to get out of a bed. You have to learn all these things by rote again. I was into water ballet as a kid, and I forgot how to do the breaststroke. Every time I tried it, I just about drowned, you know? So, a lot of going back to infancy almost. You have to relearn everything."
Joni was joined by a slew of other artists at the musical, including Brandi Carlile, Wynonna Judd and Marcus Mumford. Brandi was actually the mastermind behind Joni's appearance.
"The first time she opened her mouth and sang 'Summertime' and I saw Herbie Hancock burst into tears and everybody in the room catch their breath because she had decided to sing, really decided to sing, you know, I knew," the American singer-songwriter said on the record. "I knew she'' do it at Newport. I can't really say how I knew it. I just pictured her out there. I pictured the water and the fort and the boats."
Brandi and Joni sang a few songs together, including Carey and Both Sides Now.
"No one brings folk singers together like the humility of trying out a new song in front of Joni fucking Mitchell," Brandi said while introducing Joni to the Newport audience.
Here's to hoping we will be seeing much more of Joni moving forward.
Anna Rahmanan is a New York-based writer and editor who covers culture, entertainment, food, fashion and travel news. Anna's words have appeared on Time Out New York, the Huffington Post, Fortune, Forbes, Us Weekly, Bon Appetit and Brooklyn Magazine, among other outlets.