Jennifer Lopez disappeared from social media but there's a reason fans are SO excited!
Beyonce once deleted most of her social media posts too, leaving fans comparing the two icons for a special reason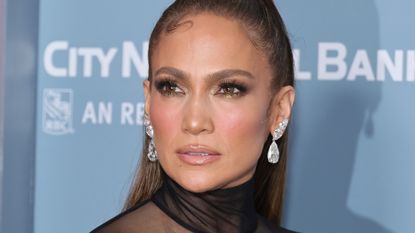 (Image credit: Getty Images)
Earlier this week, Jennifer Lopez pretty mysteriously deleted all of her photos from her Instagram account - even her profile picture was wiped!
Jennifer, who recently revealed the real reason she changed her iconic name after getting married to Ben Affleck, also made similar changes to her Twitter account and other social media profiles.
Although her followers immediately noticed and panicked, some tried to get to the bottom of the mystery and actually came up with a pretty awesome theory that got all fans excited about her at-first-glance odd decision.
In fact, in the past, artists like Beyoncé and Taylor Swift pulled similar moves as ways to announce the arrival of a new music album. Many also noted that JLo's hit album This is Me... Then was first released back on November 25 of 2022 - so the work's 20th anniversary is just a few days away. That's the album that featured some of Jennifer's most iconic songs, including I'm Glad and Jenny from the Block.
This is all to say that JLo's decision to virtually disappear from social media might actually mean that the award-winning artist will very soon drop an entirely new album. Rejoice!
We wouldn't expect any less from Jennifer, who clearly knows how to keep fans entertained at all times. Back in June, she posed nude for her 53rd birthday and felt 'amazing' and made headlines wearing wedding jewelry worth $2 million.
Speaking of wedding: perhaps the biggest news of the year has been her August marriage to actor Ben Affleck, whom she had first dated back in 2002.
In November 2002, the couple first got engaged, with Ben proposing to Jennifer with a $2.5 million Harry Winston 6.1-carat pink diamond ring. In an interview with Diane Sawyer, Jennifer was quoted saying about her ring, "It's the most magnificent thing I've ever seen."
Just a year later, the two decided to postpone their wedding date in reaction to the media attention they were receiving.
The couple released a statement at the time that read, "Due to the excessive media attention surrounding our wedding, we have decided to postpone the date. When we found ourselves seriously contemplating hiring three separate 'decoy brides' at three different locations, we realized that something was awry. We began to feel that the spirit of what should have been the happiest day of our lives could be compromised. We felt what should have been a joyful and sacred day could be spoiled for us, our families and our friends."
In 2004, the split was official. Bennifer was no longer.
But never give up hope, they say. Later in 2004, Jennifer married fellow musician Marc Anthony and the couple had two children together, twins Emme and Maximilian, who are now 14 years old. Jennifer and Marc divorced in 2014.
Ben went on to marry fellow actor Jennifer Garner in 2005, with whom he had three kids: Violet, now 16 years old, Seraphina, now 13 years old, and Samuel, who is now 10 years old. The couple announced their divorce in 2018.
Despite being linked to other people after their respective divorces, rumors about Bennifer getting back together started circulating in April of 2021. The couple confirmed that they were in a romantic relationship on July 24, 2021 and, as they say, the rest is history: Bennifer officially tied the knot in July of 2022.
And, now, we expect all eyes to turn to JLo once more with the (hopefully!) arrival of her brand-new album. Fingers crossed!
Anna Rahmanan is a New York-based writer and editor who covers culture, entertainment, food, fashion and travel news. Anna's words have appeared on Time Out New York, the Huffington Post, Fortune, Forbes, Us Weekly, Bon Appetit and Brooklyn Magazine, among other outlets.