Is Kevin Costner leaving Yellowstone? Star's shooting schedule may be an issue
Citing scheduling conflicts, some reports are suggestions Kevin Costner might be leaving Yellowstone - here is the truth behind the rumors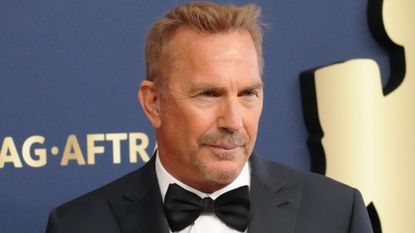 (Image credit: Photo by Jeff Kravitz/FilmMagic via Getty)
Despite having recently won the Golden Globe for best actor in a drama TV series for playing John Dutton on the western drama, Kevin Costner might be leaving Yellowstone after five successful seasons this summer.
Folks have a lot of questions about the Paramount+ series - from what year is Yellowstone set in? to is Yellowstone based on a true story? and how to watch Yellowstone from the beginning - but one query currently reigns supreme: is Kevin Costner leaving Yellowstone?
This week, Variety (opens in new tab) reported that, according to sources, the 68-year-old actor is dealing with some scheduling conflicts that might make it impossible for him to shoot the second portion of Yellowstone season 5. As fans know, the first half of the season, which consists of eight episodes, aired back in November, and the remaining eight episodes are scheduled to be released some time later this year.
For what it's worth, a Paramount Network spokesperson released an official statement explaining that, at the moment, Kevin has not announced his departure. "We have no news to report. Kevin Costner is a big part of Yellowstone and we hope that's the case for a long time to come," reads the statement.
The spokesperson also revealed that showrunners are currently working on a potential Yellowstone expansion, hoping to launch a new show that features several characters from the original franchise - with actor Matthew McConaughey starring as the protagonist.
"Thanks to the brilliant mind of Taylor Sheridan, we are always working on franchise expansions of this incredible world he has built," reads the statement. "Matthew McConaughey is a phenomenal talent with whom we'd love to partner."
Given the success of Yellowstone throughout the past few years, we'd honestly be surprised to see Kevin leave but we're dealing with Hollywood, after all, and scheduling conflicts seem to be an issue de rigeur.
WHAT IS YELLOWSTONE ABOUT?
Yellowstone centers around the Dutton family, owners of the largest ranch in Montana, aptly dubbed Yellowstone Dutton Ranch.
Kevin plays the family's patriarch, John Dutton III, a widower who, throughout all seasons, is challenged by other characters who want to take over ownership of the ranch.
Although the show is not based on a true story, the creator did explain that the issues explored on the series are inspired by problems that actually exist in western mountain states in the United States.
"These issues of land development, resource mismanagement, oppression and extreme poverty and inequity in government they exist here," Taylor said to the Los Angeles Times (opens in new tab) in 2018. "But when it happens in a small area, in a rural area … and because there's fewer people, the consequences seem much more acute."
The creator reiterated this sentiment in an interview with Deadline (opens in new tab)(opens in new tab) in 2018 as he said that the show was based on the 'gentrification' he's watched take place in the Western states.
"I placed the white rancher in the position that the Native Americans were in 100-plus years ago because that is accurate to what's taking place in what you can call the gentrification of the West right now," said Taylor.
"It is the most American of us, the West, and land developers sell that fantasy. And people who can afford the fantasy are very, very wealthy people from LA to New York, Dallas, and Florida. They buy their slice of it and use it for a weekend getaway. In the process, those land values and inheritance taxes are killing a way of life," he said.
Anna Rahmanan is a New York-based writer and editor who covers culture, entertainment, food, fashion and travel news. Anna's words have appeared on Time Out New York, the Huffington Post, Fortune, Forbes, Us Weekly, Bon Appetit and Brooklyn Magazine, among other outlets.