Does Rip die in Yellowstone? As part 2 of season 5 gears up, fans wonder what will happen to the character
Although no official air date for part 2 of season 5 of Yellowstone has yet been announced, fans are wondering if Rip is a goner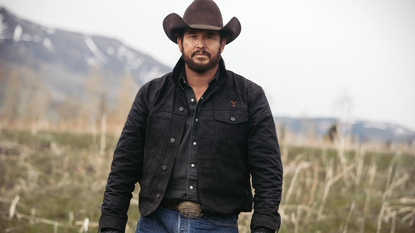 (Image credit: Paramount)
The mid-season finale of Yellowstone season 5 aired on January 1 and, although no official announcement has yet been made, rumors are swirling regarding part 2 of the season.
Questions like is Kevin Costner leaving Yellowstone and does Rip die in Yellowstone seem to be keeping folks up at night, especially given the Yellowstone season 5 recaps and the part 2 trailer that fans have access to.
Paramount Network did announce that the Duttons, the family that the show centers around, will be back for six more episodes to finish off the fifth season some time this summer.
WHO IS RIP ON YELLOWSTONE?
On Yellowstone, Rip Wheeler, played by Cole Hauser during present-day scenes and Kyle Red Silverstein in flashbacks as a younger version of himself, is a ranch hand on the big Yellowstone Dutton Ranch.
Rip has been on the show from the very first episode of the very first season, an adopted sort of figure by John Dutton, Kevin's character.
Throughout the show, fans got to see Rip develop a relationship with John's daughter, Beth Dutton. After tons of ups and downs, Rip and Beth finally got engaged in episode 7 of season 3 of the show - with Beth actually proposing to Rip with a ring.
"The only thing I ask is you outlive me, so I never have to live another day without you," she says to Rip. He, in turn, replies, "I can try and do that."
The couple finally gets married at the ranch during the season four finale of the show, with John present.
DOES RIP DIE IN YELLOWSTONE?
On September 28, 2022 the official Yellowstone Instagram account posted a video celebrating Rip's birthday. Fans quickly joined the chorus of praises for the character in the comments section but the caption to the post had many wondering whether Rip will die on Yellowstone.
"Celebrating Rip Wheeler today and always," read the caption. "PS: Get ready, #YellowstoneTV fans. Something big is coming. 👀"
Yellowstone watchers immediately went into a panic, assuming a big death was coming. However, Rip was part and parcel of part one of season 5 of Yellowstone and, as of now, we have no reason to believe that he won't show up in the upcoming six episodes that will wrap up the season.
Cole, the actor who portrays the character the majority of the time, has not said anything about a possible kill-off. "I think we're okay," he said on the Today (opens in new tab) show ahead of the season 5 premiere a while back, to the delight of his legions of fans. "For now." Phew.
All in all, you never know what's going to happen on Yellowstone but here's to hoping that Rip will be spared an ugly fate given how many series watchers absolutely adore the character!
Anna Rahmanan is a New York-based writer and editor who covers culture, entertainment, food, fashion and travel news. Anna's words have appeared on Time Out New York, the Huffington Post, Fortune, Forbes, Us Weekly, Bon Appetit and Brooklyn Magazine, among other outlets.