How is Kevin Costner's Yellowstone character linked to 1923 and could we have just had confirmation of John Dutton's grandmother?
Kevin Costner's Yellowstone character is a descendent of the 1883 and 1923 prequel Duttons but how are they related? All we know so far…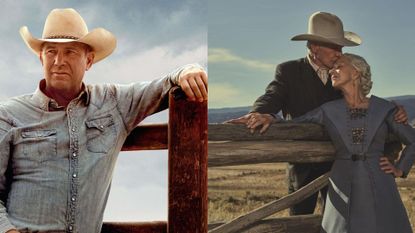 (Image credit: Future// Image 1:LINSON ENTERTAINMENT / Album/ Alamy Stock Photo //Image 2: James Minchin III/Paramount+)
Kevin Costner's character in Yellowstone is the modern day Dutton family patriarch and his relatives have taken center stage in hit prequel 1923.
Yellowstone has never shied away from serious drama and sparking burning questions, from why Beth hates Jamie in Yellowstone to whether lead star Kevin Costner is leaving Yellowstone as John Dutton III. One mystery to be unraveled revolved around John Dutton III's grandparents. We might know he's a descendant of the characters in the Yellowstone prequels 1883 and 1923 but exactly how he's connected to the prequel characters hasn't been confirmed. Of course, that hasn't stopped theories from emerging. There are two primary ones circulating and a recent episode of 1923 could have hinted that one is more likely.
Here we reveal two big theories surrounding how Kevin Costner's Yellowstone character is related to the 1923 characters and what one star has said about it…
*Warning: Spoilers ahead!*
How is Kevin Costner's Yellowstone character John Dutton linked to 1923?
Going into the Yellowstone 1923 prequel we already knew that Kevin Costner's John Dutton III was a sixth generation Dutton Patriarch. Even so, it's still not confirmed how 1923's characters and those of Yellowstone would be connected. In 1923 we've seen Jacob and Cara Dutton (Harrison Ford and Dame Helen Mirren) running the Yellowstone Ranch in Montana with the help of their loyal family. They raised their nephews John and Spencer Dutton and John has a son of his own called Jack.
There seems to be two primary theories when it comes to John Dutton III's link to the 1923 characters - either that he's Spencer's grandson with his new wife Alexandra or he's Jack's grandson with his fiancée Elizabeth 'Liz' Strafford. And the latest episode of 1923 has got rumors circulating that we've finally seen the direct line of John Dutton III emerging - so much so that one of the 1923 stars has spoken out about the possibility.
Throughout the episodes so far love has blossomed between Jack and Liz in the face of severe adversity including her getting shot. Now the couple have tied the knot and are expecting a baby - unlike Spencer and Alexandra who are currently childless. As a result speculation has arisen once again that Liz could be the grandmother of Kevin Costner's Yellowstone character.
However, Liz's actor Michelle Randolph has revealed that she still doesn't know herself how John Dutton III is connected to the 1923 prequel Duttons.
Asked by The Hollywood Reporter (opens in new tab) about whether she knows the truth, she responded, "No, unfortunately. We all go back and forth on what we think is going to happen, but Taylor [Sheridan, the creator] likes to keep us on our toes. So we're just as confused as everyone else."
She also revealed that amongst the 1923 cast there is just as much debate about which theory is going to turn out to be correct. Told a theory by her interviewer Brian Davids that involves Liz's recent scar following her gunshot wound making her pregnancy more miraculous and perhaps would show how John's birth almost didn't happen, Michelle seemed to suggest that she has bet Liz is his grandmother.
"I would love for this theory to be correct," she said. "Then I could win the fun, joking argument that we all have with each other. We like to debate what we think."
This theory that Jack is the grandfather might also turn out to be correct as with Jack's father John massacred by Banner Creighton's men in 1923, Jack might want to call a baby in memory of him if it's a boy. It's understood that Kevin Costner's character John Dutton III is himself the son of a John Dutton.
John was also Spencer's older brother and so depending on what choice Jacob and Cara might want to make regarding the future of the ranch they might want to honor the late John Dutton's family line and leave the ranch to Jack and his family someday.
Whatever direction 1923 takes when it comes to John Dutton III's links to the prequel characters, fans will no doubt be eager to receive confirmation. Until then, viewers will simply have to decide which theory they believe is more likely.
How are the characters in 1923 related to 1883?
Unlike Succession season 4 and seasons of Outlander which focus on only a few generations at a time, anyone who's been drawn into the entire Yellowstone franchise have to keep up with the ever-evolving Dutton family tree spanning hundreds of years. For anyone wondering how the characters in 1923 are related to those in the 1883 prequel, the answer is that the main characters are siblings and siblings-in-law.
The main characters in 1883 were James and Margaret Dutton played by Tim McGraw and Faith Hill and the principal characters leading 1923 are Harrison Ford's Jacob Dutton and Dame Helen Mirren's Cara Dutton. Jacob and James are brothers and in 1923 Jacob is raising James' sons.
James and Margaret's two sons John and Spencer are in 1923, but only the oldest, John, appeared as a child in 1883. He has a son of his own - Jack Dutton - who it seems could either turn out to be John Dutton III's father or his cousin depending on how 1923 goes on to confirm the lineage of the Dutton family leading up to present day when Yellowstone is set.
Emma is a Senior Lifestyle Writer with six years of experience working in digital publishing. Her specialist areas including literature, the British Royal Family and knowing all there is to know about the latest TV shows on the BBC, ITV, Channel 4 and every streaming service out there. When she's not writing about the next unmissable show to add to your to-watch list or delving into royal protocol, you can find Emma cooking and watching yet more crime dramas.