Inside Man BBC plot explained - what are the two central storylines and are they linked in this disturbing drama?
The Inside Man BBC plot contains two 'distinct storylines' and some people might be wondering what these are and how they might be linked…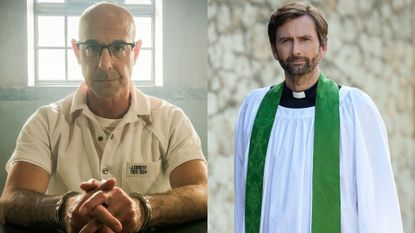 (Image credit: Future// Image 1:BBC/Hartswood/Kevin Baker // Image 2: BBC/Hartswood/Kevin Baker)
The Inside Man BBC plot focuses on two stories set on either side of the Atlantic and some fans might be hoping for more detail on what these are.
From the first Inside Man episodes to the Inside Man ending that resolved so many questions - not to mention posed a fair few more, this BBC drama starring David Tennant, Stanley Tucci and Lydia West and written by Sherlock's Steven Moffat is not one to miss. Though given the complexities of the very distinct storylines some people might be wanting a little more clarification on what exactly the details of the Inside Man plot are. Others who don't mind spoilers might rather know more about what lies in store before delving in.
David Tennant has described the show as having "two very distinct storylines" that are "running side by side". He told RadioTimes.com (opens in new tab) that "it's very difficult" to imagine at first how the stories will come together as his and Stanley's characters live an "entirely separate existence".
Here we explain the starting point for the Inside Man BBC plot including where episode 1 begins and leaves the two main characters and their storylines and whether they're linked...
*Warning: Major spoilers for Inside Man episode 1 ahead!*
Inside Man BBC plot explained
Anyone who's yet to dive into the dark depths of this gripping drama might well be wondering what lies in store if they've heard friends or family discussing it or simply seen promotional images of David Tennant in character as village vicar Harry Watling. Combined with the knowledge that his fellow lead actor is Hollywood star Stanley Tucci and the intrigue deepens.
Unlike fellow thrillers Bloodlands season 2 and Crossfire, The Inside Man BBC plot consists of two individual storylines that are loosely linked by a key character from the first episode. One is set in the UK and one in a US prison and ultimately it's a story of what people are truly capable of when they find themselves facing impossible situations.
The first focus of the Inside Man BBC plot revolves around the initially quaint village life of vicar Harry, his wife Mary and their son Ben. In episode 1 we see Harry arrive at the station to pick up Ben's maths tutor Janice and from there things quickly spiral beyond the realms of reason and control for the devoted husband and father. Noticing that vulnerable verger Edgar was harming himself, Harry sought to help him and took a USB for him believing it contained pornography that he didn't want his mother to catch him with.
It was only later that Harry learned that the memory stick's contents featured children after his son Ben had ended up implicated as the owner. Janice confronts the vicar at his home, furiously telling him they need to go to the police as Harry desperately tries to explain that it's not Ben's without implicating Edgar as he's seriously concerned about him.
"I truly respect how much you love Ben and how far you'd go to protect him, but protecting him is not helping him," Janice tells Harry, refusing to believe his claims that the memory stick belongs to an unnamed vulnerable member of the Vicar's church.
In a moment of panic as Janice attempts to leave, Harry falls on his sword for his son and declares that the USB is his. From this moment Harry's perfect village life begins to fall down around him and after the confrontation continues, he pushes Janice down the stairs of the Watlings' cellar. There she remains, determined to outsmart her captors, escape and go to the police whilst Harry and his wife Mary find themselves trapped in a living nightmare.
The second aspect of the Inside Man BBC plot revolves around prisoner Jefferson Grieff played by Stanley Tucci. He is awaiting execution for the murder of his wife and in episode 1 seems pretty resigned to his fate.
Grieff takes on "cases" from people who visit him using his expertise as a criminal psychologist. At first it isn't clear how this US-based criminal's story will overlap with Harry and Janice's and this doesn't truly become apparent until further into the series.
But the character of journalist Beth does come in as a common link between Grieff and Janice. Played by It's A Sin star Lydia West, Beth meets Janice in the opening scenes when the tutor pretends she's filming a man who's harassing women on the train.
Later on in Inside Man episode 1 we see Beth in the US visiting Grieff for an interview and leaving him intrigued. She also receives a blurry picture message from Janice's phone taken and sent accidentally during her and Harry's confrontation.
So by the end of the episode the Inside Man BBC plot has formed into a high-stakes mystery as Harry has effectively kidnapped Janice, who is connected to Beth who has in turn made contact with Grieff. This episode is the starting point for a central theme of Inside Man as a series - the question of what horrific things people could find themselves considering when under pressure.
Reflecting on how the two stores of Inside Man collide, David Tennant previously told RadioTimes.com (opens in new tab), "[It's] very hard to sum up, because there are two separate worlds going side by side. Part of the joy of watching the show is wondering if these worlds are ever going to collide. But from my character's point of view, it's a story about a man who, in pursuit of doing the right thing, makes a series of catastrophically bad decisions."
So now you know the two main avenues that will go on to be explored in the Inside Man BBC plot, there's plenty of time to dive right into this chilling show and see exactly how these two worlds come together going forwards…
All episodes of Inside Man are available to watch on BBC iPlayer now.
Emma is a Senior Lifestyle Writer with six years of experience working in digital publishing. Her specialist areas including literature, the British Royal Family and knowing all there is to know about the latest TV shows on the BBC, ITV, Channel 4 and every streaming service out there. When she's not writing about the next unmissable show to add to your to-watch list or delving into royal protocol, you can find Emma cooking and watching yet more crime dramas.