Inside Man ending explained and could there be a season 2 of the David Tennant BBC drama after *that* chilling post-credits scene
The Inside Man ending left us hoping for a season 2 and the David Tennant and Stanley Tucci drama certainly left some plot-threads left unexplored...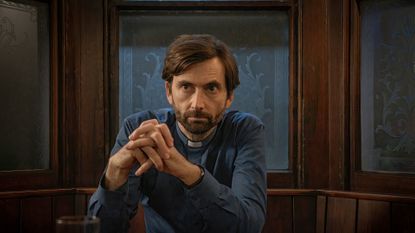 (Image credit: BBC/Hartswood/Paul Stephenson)
The Inside Man ending rounded off the BBC drama in style and now it's on Netflix even more of us are likely wondering what the finale and post-credits scene could suggest about whether there'll be a season 2.
Whether you watched the David Tennant and Stanley Tucci-led show on BBC or are new to this chilling drama since it landed on Netflix for US viewers, Inside Man has had plenty of fans eager for more. Throughout season 1 we've been left wondering things like what's the meaning behind 253.55 on Inside Man as well as what the separate threads of the Inside Man plot are and how they're connected. Not to mention speculating about why Grieff killed his wife in Inside Man. Now some of us are asking another question - will there be a season 2?
Aside from the brilliant acting, complex mystery and emotional impact, the Inside Man finale and it's surprise post-credits scene contributed to this. Here we explain the Inside Man ending in full, all we know about whether there could be an Inside Man season 2 and what we might expect from one…
*Warning: Spoilers ahead!*
Inside Man ending explained
How can a simple misunderstanding lead to murder and mayhem for so many people? Well, we saw how as the BBC drama built towards a complex and compelling Inside Man ending. Throughout the episodes viewers have seen local village vicar Harry (David Tennant) faced an impossible situation after maths tutor Janice made a mistake over child pornography found on a USB and a comment made by Harry's son Ben.
She wrongly concluded that the USB was Ben's when it had actually belonged to verger Edgar. Not knowing what was on it, Harry had taken the USB to help Edgar and after Ben ended up being implicated, Harry and his wife Mary desperately attempted to convince Janice of his innocence but failed.
One dark moment soon led to another with Janice locked up in the family's basement and Harry preparing to take the blame for the USB to protect Ben and to permanently silence Janice. Cue investigative journalist Beth who approached criminal psychologist Jefferson Grieff (Stanley Tucci) who is facing execution for the murder and brutal beheading of his wife Rachael and asked him to help her find out what happened to Janice.
In the Inside Man ending all these threads come together as Harry fills the basement with carbon monoxide, little knowing that Ben had become locked in there too. Although the vicar managed to save Ben, Janice looked to be dead after Ben attacked her, leaving Harry to prepare to take the blame for this too. Only she wasn't dead…
The unflinchingly devoted dad then decided he had to finish Janice once and for all, before Beth managed via her sizable journalistic skillset to track the tutor down and come across this horrific scene.
Having broken into Janice's house to put her laptop back and hide the evidence she'd ever visited their home, vicar's wife Mary had been caught by Beth who had also broken in. In a moment of pure panic, Mary cut Beth with a bread knife before promptly running for it, only to be hit by a truck and killed instantly after previously trying to call Harry to warn him Ben was in the basement.
It was using her phone that Beth had managed to track down Janice to Harry and Mary's house. That's when Grieff came into the Inside Man ending in terrifying style as associates of his arrived in the basement just as Harry had been found by Beth.
They'd been sent there by Grieff's father-in-law, who had been told by the master-manipulator Grieff that that's where his beloved daughter's head was buried. Of course, as viewers quickly learnt, Grieff had lied again and sent them there deliberately after he'd worked out that's where Janice was.
Even after being violently beaten in prison by his father-in-law, Grieff had refused to give up the location of his wife's head in yet another disturbing act of torment.
As the Inside Man ending drew to a close the two lead cast members' outstanding skills came to the fore as Grieff and Harry - both in prison - spoke to each other over the phone and the American admitted he'd "guessed" about Janice's location based on circumstantial evidence.
Grieff now has weeks to live and Harry is in jail for his crimes, leading the criminal psychologist to reflect, "Murderers interest me. Being one myself."
Clearly upset, Harry tried to protest that he wasn't a murderer only for Grieff to counter that he'd killed Janice and that if he hadn't acted the way he had, Mary might still be alive. It hit a nerve with the former vicar who asked about Rachel's murder and how could "anyone even do that".
Grieff mused, "That's a story for another day. Perhaps you'll be the one I tell it to."
"Why me?" Harry asked, stunned, and was told by his fellow killer, "Because I think you might understand. Because you and I are the same now."
"Everyone is," Grieff added. "There are moments that make murderers of us all. We're not freaks in cages to be stared at and judged and written about as if we're a breed apart. We're *anyone* on a bad day. Cracks can open in the most ordinary life and swallow anyone at all. No-one is safe from the worst that they can do."
If those final moments between Grieff and Harry didn't send a serious chill down your spine we don't know what will. Now with just weeks left to live Grieff is every bit as calculating and calm as ever whilst Harry looked utterly broken by the depths to which he had sunk.
Will there be an Inside Man season 2 or is it a limited series?
With the likes of David Tennant, Stanley Tucci and Lydia West bringing complex characters to life and some superb writing it's only natural to wonder if there will be more episodes, but currently the BBC haven't confirmed Inside Man season 2. Instead, Inside man has been variously described as a mini-series and a limited series, suggesting that the hit show was originally conceived of as-is.
The show's creator Stephen Moffat also told RadioTimes.com that the story is "done by the end" of the four episodes.
"The story will end in four episodes. It's done by the end of that. As to whether or not you could ever spin off anything or do any kind of sequel? I don't know at this moment. It's not really up to me, and it's not up to the broadcasters – it's up to the audience really, isn't it? And if anyone wanted it, you have to sit down and think, 'Is there anything to do?'" he explained.
Stephen added, "Television is littered with shows that had one season and pretended they could carry on – I would never want to be one of those, where you're so excited to get a phone call about doing another run that you do it and then realize, actually, the story is finished."
Despite this, he also said it was "up to the audience" and we've already heard this year that there'll be a The Tourist season 2 and that we'll be seeing The Responder cast back again, thanks to the demand from viewers so it's always possible the same could happen with an Inside Man season 2.
So unfortunately there's nothing official that's been announced yet. But the Inside Man ending and a post-credits scene also leave the possibility there for the story to be taken further as there are some plot-threads that haven't been resolved. Grieff might only have a few weeks left to live before his execution but the location of Rachel's head and the "moment" that made him a murderer has yet to be explored.
He even hinted to Harry that he might be prepared to tell him going forwards, leaving the door open for a potential Inside Man season 2 to delve into his backstory and the unraveling of this horrific mystery.
The post-credits scene which is set 1 week before Grieff's execution could also be seen to suggest potential for an Inside Man season 2. Just when fans thought the dark drama had reached its unmissable conclusion, they were treated to a shocking - final twist.
Math tutor Janice is seen making contact with Grieff and asking for his help with her husband, despite no-one being aware throughout Inside Man that Janice even had a husband. She tells the murderer that her husband "deserves" to be dead and asks Grieff whether he can "help with that", to which he cheerily responds, "How can I help?" and Janice smiles an unsettling smile.
What could happen in an Inside Man season 2
This unexpected scene that brought the Inside Man ending to a close could hint at what might lie in store if Inside Man was ever renewed for a season 2. It seems Grieff isn't done working with dangerous and deadly secrets quite yet and many viewers would likely be interested in knowing more about Janice, her backstory, who her husband is and why he apparently deserves to be dead. An Inside Man season 2 could possibly explore this and build from her and Grieff's conversation to show whether he managed to help her kill her husband.
Inevitably, just as we've seen in Inside Man season 1, many ordinary lives would be changed or destroyed in the process. Meanwhile, Grieff's execution is drawing nearer and a follow-up season could perhaps see the reason for him murdering his wife revealed, either to Harry or someone else. Her father would also no doubt be hoping to learn where Grieff put her head and this could finally end up being disclosed if the show is renewed.
With so many directions an Inside Man season 2 could take, many fans will be keeping their fingers crossed the show is renewed after all...
All episodes of Inside Man are available to watch on BBC iPlayer and Netflix now.
Sign up to our free daily email for the latest royal and entertainment news, interesting opinion, expert advice on styling and beauty trends, and no-nonsense guides to the health and wellness questions you want answered.
Emma is a Royal Editor with seven years of experience working in digital publishing. Her specialist areas including literature, the British Royal Family and knowing all there is to know about the latest TV shows on the BBC, ITV, Channel 4 and every streaming service out there. When she's not writing about the next unmissable show to add to your to-watch list or delving into royal protocol, you can find Emma cooking and watching yet more crime dramas.