How many female directors have won the Best Picture Oscar and are any women nominated this year?
The number of female directors who have won the Best Picture Oscar is surprisingly low....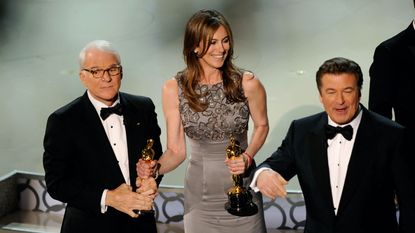 (Image credit: Getty Images)
As the Academy Awards approach (they will air on March 27), folks are keen to dissect the historical and cultural repercussions of the show. Given this year's slate of nominees, one specific category seems to have drawn a lot of attention, that of best director. And, as ever, people are wondering: how many female directors are nominated this year?
The Oscars 2022 are particularly interesting as Jane Campion has officially become the first woman ever to earn a second directing nomination in the history of the awards show, this one for her work on the critically acclaimed The Power of the Dog.
Campion was previously nominated in 1994 for directing The Piano. Although she lost in that particular category to Steven Spielberg—who was nominated for Schindler's List—the Australian director did win an Oscar that same year for her original screenplay of the movie.
What's even more striking than the fact that only one woman in history has been nominated for best director twice in the span of her career is the fact that so few females have actually ever won in the category.
ARE ANY FEMALE DIRECTORS NOMINATED FOR THE BEST AWARD AT THE OSCARS THIS YEAR?
Only one woman is nominated in the best director category at this year's Oscars: Jane Campion, for Power of the Dog. She is running against Kenneth Branagh (Belfast), Ryusuke Hamaguchi (Drive My Car), Paul Thomas Anderson (Licorice Pizza) and Steven Spielberg (West Side Story).
Given that Campion won in the same category at this year's British Academy Film Awards and the Critics Choice Awards, it's safe to say she might take the trophy home at the Academy Awards later this month as well.
HOW MANY FEMALE DIRECTORS HAVE WON AN OSCAR AWARD?
Only two women have ever won in the best director category at the Academy Awards. In 2009, Kathryn Bigelow took the coveted prize home for her work on The Hurt Locker. Fun fact: she was up against her ex-husband James Cameron, who directed Avatar that year (the best picture winner).
Over a decade later, Chloé Zhao, a Chinese-born actress that was nominated for her work as a director of Nomadland, a film she also wrote, became the first Asian woman to win the prize.
HOW MANY WOMEN HAVE BEEN NOMINATED FOR A BEST DIRECTOR OSCAR THROUGHOUT THE YEARS?
Only seven women have ever been nominated in the best director category at the Academy Awards—including Bigelow, Campion and Zhao.
The first-ever female to be considered was Italian director Lina Wertmuller in 1976. She directed Seven Beauties, a drama about an Italian soldier who deserts his army during World War II and is sent to a German prison camp. Lina lost to John G. Avildsen who won for his work on Rocky.
Sofia Coppola is also part of the very short list. Although praised for her directing chops on 2003's Lost in Translation by fans and critics alike, she eventually lost to Peter Jackson. That year, he was nominated for The Lord of the Rings: Return of the King.
Greta Gerwig was also nominated in 2017 for her coming-of-age film, Lady Bird, but lost out to Guillermo del Toro, director of The Shape of Water.
Lastly, Emerald Fennel, a British-born actress-turned-writer-director was nominated for Promising Young Woman last year. She lost against Zhao.
Anna Rahmanan is a New York-based writer and editor who covers culture, entertainment, food, fashion and travel news. Anna's words have appeared on Time Out New York, the Huffington Post, Fortune, Forbes, Us Weekly, Bon Appetit and Brooklyn Magazine, among other outlets.