Grace and Frankie final episodes get a release date—and you don't have long to wait
Netflix have announced the release date for Grace and Frankie's final episodes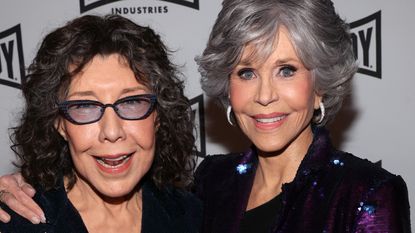 (Image credit: David Livingston/Getty Images)
Grace and Frankie has already made history—and not just because it's managed to reunite Dolly Parton with 9 to 5 co-stars Jane Fonda and Lily Tomlin.
The hit series, fronted by icons Jane Fonda and Lily Tomlin and starring the likes of Martin Sheen and Sam Waterson, is currently the longest-running Netflix original series to date, out of both comedy and drama series.
When the final Grace and Frankie episodes drop, the series would've run for a total of 94 episodes.
The official synopsis for the upcoming final season reads, "A history-making 94 episodes later, Grace and Frankie continue to show themselves, their families, and their fans what it means to live life to the fullest, fearlessly and unapologetically. Here's to seven seasons of laughs, tears, mood-enhancers, and good vibes. And, as Grace and Frankie would say, f*ck it. This may be their final chapter, but they're just getting started."
So, when should you be pencilling in the date to sit down and say goodbye to Grace and Frankie?
When are the new Grace and Frankie episodes released?
The last twelve episodes of Grace and Frankie will be available to stream on Netflix from April 29.
The first four episodes of the seventh, and final, season dropped as a surprise in August 2021.
What to expect from the Grace and Frankie finale season
Showrunner Marta Kauffman, who also wrote and ran Friends, revealed to Good Housekeeping that in season seven, "we're going to be dealing with Robert, Sol, Grace, and Frankie in a way in that we haven't seen before."
The series is known for its profound, emotional moments paired with riotous comedic scenes, so we are bound to get plenty more of that, too.
Not to mention the appearance of Dolly Parton, reuniting with her 9 to 5 co-stars in a confirmed cameo appearance.
It's finally happening: Dolly Parton will appear in the seventh and final season of Grace and Frankie!!! pic.twitter.com/JIZRVWqPGTNovember 5, 2021
See more
Why is Grace and Frankie ending?
Chatting about the show concluding following season seven, Marta told Los Angeles Times, "It was a combination of things. Netflix isn't doing long-term series anymore. And we are really lucky that we got the seventh season."
Jane and Lily released a joint statement following the news that season seven would the show's last back in 2020, writing: "We are both delighted and heartbroken that Grace & Frankie will be back for its seventh, though final, season.
"We're so grateful that our show has been able to deal with issues that have really connected to our grand generation. And their kids, and amazingly, their kids as well! We'll miss these two old gals, Grace and Frankie, as much as many of their fans will, but we'll still be around. We've outlasted so many things—just hope we don't outlast the planet."
Jack Slater is not the Last Action Hero, but that's what comes up first when you Google him. Preferring a much more sedentary life, Jack gets his thrills by covering news, entertainment, celebrity, film and culture for woman&home, and other digital publications.
Having written for various print and online publications—ranging from national syndicates to niche magazines—Jack has written about nearly everything there is to write about, covering LGBTQ+ news, celebrity features, TV and film scoops, reviewing the latest theatre shows lighting up London's West End and the most pressing of SEO based stories.