Full Moon January 2023 in Cancer is starting the new year with a major blast from the past
The Full Moon January 2023 is about to be wild. Texts from the ex? In the middle of Mercury retrograde season? Count on it!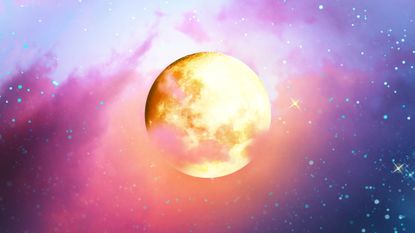 (Image credit: swkunst/Getty Images)
woman&home newsletter
Sign up to our free daily email for the latest royal and entertainment news, interesting opinion, expert advice on styling and beauty trends, and no-nonsense guides to the health and wellness questions you want answered.
Thank you for signing up to . You will receive a verification email shortly.
There was a problem. Please refresh the page and try again.
As the Full Moon January 2023 fills the sky, are you thinking, "New Year, New Me or New Year, Same Old Story"? That's the *major* question you will have to answer less than a week into the kickoff to 2023 thanks to an intense Full Moon in the nostalgia-loving sign of Cancer.
The first installment in the Moon calendar 2023 is taking place during the first Mercury retrograde 2023 no less, which means that our inner thoughts will be pulling us into the past while our outer drive is trying to propel us into the future. What to do?
Remember that Full Moons are always times where the stars are calling on you to balance and harmonize opposing energies that are often competing for your attention. There is an inherent push-and-pull dynamic to any Full Moon, and this one, taking place on January 6, 2023, at 6:07 PM EST, is a primetime example of receiving cosmic mixed messages. Just as the Sun and Moon perfect their opposition to each other, the Sun will be closely tied to the planetary mischief maker, Mercury, currently retrograde in the sign of Capricorn. Basically, prepare for some – temporary – setbacks.
That's why it's more important than ever to concentrate on your long-term goals and strategies – think about those 2023 resolutions – as staying grounded will be essential to helping you sort through the confusion. Even if you don't start off the year perfectly – and you shouldn't expect to during a Mercury retrograde – use this to reframe your past as motivation to power through and not get thrown off course by any setbacks – like a missed deadline, a major mix-up, or yes, the dreaded "hey stranger" text from the ex.
It's basically you lived, you learned, and instead of getting stuck in the past, now you're growing and glowing up from it. Full Moons tend to bring up intense feelings and dramatic revelations, and it's up to you to decide how you'll respond to what comes up for you during this time. Compassion for yourself and others is always key as are strong boundaries.
Here's how the Full Moon January 2023 will affect you depending on your star sign. For the most accurate reading, look at your sun or rising sign according to your astrology birth chart.
Aries
With this lunation lighting up your fourth house of home, you may have thought that with the holidays over that life would be returning to normal. However, the stars have a few surprises left up their sleeves for you as you may find yourself having to entertain lingering guests – or that you're continuing to deal with the aftermath of a brewing issue. This Full Moon may also be revealing ways in which you continue to act out your childhood and find yourself replicating patterns that your parents may have said or done to you. It's up to you to decide if this is a tradition to carry forward or a pattern you want to cut.
Taurus
This Full Moon could have you reminiscing over your childhood, especially with the holidays fully over. Life is now moving to more practical and mundane topics, but you're not quite ready to move on. So, who said you have to? During this Full Moon in your third house of communication, remember that every day can feel like a holiday if you can find at least one thing worth celebrating. It doesn't have to be big. But take a picture of your toast if you must. Reread texts that make you smile. Reach out to the ones you love. There is so much worth commemorating so allow yourself to be grateful for it.
Gemini
The holidays likely had you spending – possibly even overindulging – and now those bills are coming due. With this Full Moon in your second house of resources – and with Mars about to station direct in your sign – this is a time to increase your commitment to abundance and financial stability. Even if that does mean letting go of some of your recent spendthrift habits. It may not be the sexiest use of this fertile energy, but for you right now, it's a little less about frivolity and a little bit more about frugality – so you can get back to the frivolity. Cutting back now will pay off in rich rewards soon, Gemini.
Cancer
This Full Moon is going to be personal, Cancer – and that's a good thing. Taking place in your first house of self, it's about integration. Take some time to understand and accept all the parts of yourself, even and especially the parts you'd rather keep hidden from others. This lunation is about reminding yourself that you don't need to overexplain who you are, what you look like, or what you enjoy – and that you need to stop justifying those things or worse, apologizing for it. Everything you've experienced has created the unique, quirky, and wonderful person that is standing in front of you today. And it is a privilege for others to know and love you. Remember that.
Leo
This lunation will have you deeply in your Full Moon feels as it takes place in your twelfth house of rest. This is a time to be extra kind and gentle to yourself. You likely spent the holidays exerting a lot of energy on caretaking others, entertaining guests, attending parties, and showering loved ones with gifts and affection. Your social battery is likely depleted and you're going to need this time to power yourself back up. Even Leos need rest days, so you have the cosmic permission slip to slow down and get still. Reflect on what you truly enjoyed doing during the holidays – and what was more about performing. Recalibrate from there, Leo.
Virgo
This Capricorn season likely has had a few ghosts from the past resurfacing – perhaps old lovers, friends or colleagues have been reaching out to reconnect with you. With this Full Moon lighting up your eleventh house of groups, consider if the past is worth rekindling – or better left behind. It's easy to decide to never look back. But often we gain a lot of insight from our prior lessons and relationships. Because the real kicker of this transit is that the ghost from the past that visits you might be the old you – and how much you no longer recognize who that person was because of how much you've grown.
Libra
You're feeling a push and pull between your public and private life, Libra. With this Full Moon lighting up your tenth house of career, you're longing for a certain kind of notoriety and recognition, but the Sun and Mercury retrograde tugging at you to remember where you came from. Perhaps family drama was stirred up during the holidays when you were pushed to take a side. While the urgency of that situation is over, you still may feel called to act, which weighs on your trademark need to consider every decision very deliberately. Remember that this isn't about acting the way others expect you to or the way you always have. It's about seeking your own approval first.
Scorpio
Can you consider someone else's point of view, Scorpio – even if it directly contradicts your own or challenges what you've been raised to believe? You've likely heard the proverb about not judging others without walking a mile in their shoes. This Full Moon in your ninth house of higher learning is asking you to do that very thing. You have a profound ability to affect other people but change first starts on the inside. Let go of the need to be right and embrace the possibility of changing your mind – so you can open your heart to infinite possibilities of connecting more deeply. Because isn't that what we're ultimately here to do?
Sagittarius
The truth is, working on yourself isn't just about your relationship with your own self. It can transform your relationships with those around you, in subtle and even indirect ways. This Full Moon in your eighth house of intimacy is offering you the chance to transform the way you emotionally, physically, and psychically connect to the ones around you. As you work through this, remember that processing doesn't happen in a vacuum. Eventually, self-work becomes partner work. While deep emotions and past pain may arise, this is a time to recognize and then reach out to safe and trusted people that you can be vulnerable with. Healing is on the horizon.
Capricorn
Are you giving too much of yourself away to other people? With this Full Moon in your seventh house of partnerships, the role you play in your personal connections is in the spotlight. Remember thar just because a certain relationship has always been a certain way doesn't mean it has to continue like that for perpetuity. You can not only change your mind, but co-author what the future of your dynamic together will look like. It takes two, however. Are your needs being met? Are theirs? Would answering "no" to either question require more effort on of your parts to correct? Your answers can help reveal what needs to change – and what needs to heal.
Aquarius
It's been hard to shift back into work mode after a hustling and bustling holiday. You're currently on autopilot and wishing everyone would remember that merriment and good cheer they were wishing just a week ago. But with this Full Moon in your sixth house of daily routines, remember that you're the authority figure in your own life. And it's up to you to dictate what your terms are. What the stars are telling you is that if you need a slower pace, honor that. The work can wait, but what can't is your chance to communicate what your needs are. Because that's your path to a more aligned schedule and higher fulfillment.
Pisces
Texts from exes, notifications that they viewed your story, even long and confessional messages popping into your inbox. They're all distinctly possibly scenarios with this Full Moon activating your fifth house of romance. As a result, these situations could find you feeling wistful as you reflect on past relationships, former flames, and even prior friendships. As you ride these waves of nostalgia, you may yearn for the good parts those relationships provided you. There is a possibility of neglecting to remember why those dynamics ended and staring through your memory bank with rose-colored glasses. Remember not to count your future self out even while you honor your past. Sometimes things are best left behind.
Astrologer and tarot reader
Maria Sofia is a Greek-American writer, astrologer, Tarot reader, and intuitive. She is a lifelong lover and student of the stars, who has been practicing divination and magic for 20+ years.
Maria is Leo Sun, Cancer Moon, and Virgo Rising. Her favorite natal placement in her chart is her Virgo Mercury conjunct the ascendant that makes her a fast writer and talker and she smiles anytime she pulls the Queen of Wands or the Nine of Pentacles.