Fern Britton on self-care, being more outspoken with age, and the joys of single life
Fern Britton tells woman&home about her new life in Cornwall, cheeky margaritas with the girls, and life post her second divorce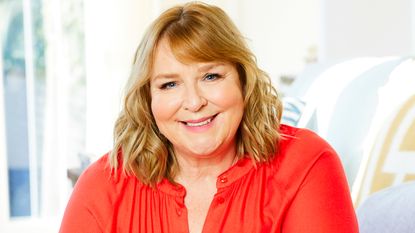 (Image credit: woman&home/Nicky Johnston)
Fern Britton's home, since the end of her second marriage, has been a sleepy Cornish village near Padstow. With a 42-year career in TV, and still a frequent fixture on our screens, Fern Britton has added successful author to her list of achievements – having just completed her 10th novel – and with the promise of more to come.
In an exclusive interview and shoot for woman&home, she reveals how she is reinventing her life after her divorce from TV chef Phil Vickery after 20 years. The star is prioritizing herself by taking to the best yoga mats as she's become a total yogi in the last year.
She admits, however, "People say they bounce back from a long relationship, but it takes a while. The rebound is difficult. You chuck the pebble in the pond, but the ripples go on for a very long time."
"It's been a long time getting to the dawn, but I'm in another brand-new chapter and do feel it will be all right. I have a lot of peace in my life. I'm doing more yoga, meditation and walking – a bit of self-care."
---
Fern's new life in Cornwall
I'm enjoying the home renovation process. It was very much a holiday home, so needed refining to actually live in. I went mad and had a new kitchen, and turned an absolute mess of a downstairs loo, full of boots and coats and sand, into a sleeker room with a washing machine. I'm still in chaos. When all my things came down from Buckinghamshire, it blew my mind.
In Cornwall, I feel part of the most wonderful community. The village is absolutely tiny and so quiet. People's chickens walk about and everybody knows everybody. I have four really close friends and we can say anything to each other. We're all of a similar vintage.
We laugh and we get smashed because one of them's very good at making Cosmopolitans! We have a lot of fun.
Fern's worries as a mum
I've always said to my children, 'When you're 35 and all in therapy, all I can say is, 'I'm so sorry.' Ten years after saying something in passing, which you don't even
remember, they'll say, 'Mummy, once you did say to me...' But I also think children have to build some immunity to criticism and mistakes.
These days, we pussyfoot around too much for fear of saying the wrong thing. Kids need to withstand life as well as understand what hurts them and others. As a parent, it's about getting them to think, 'Am I operating well with the people around me? Am I giving encouragement? Am I giving wise advice?' It's teaching them to be human.
Fern on romance
I've no time for romance. One of my boys said to me, 'In time, Mum, maybe you'll find a companion who'll go to the cinema with you,' and I replied, 'In time, maybe.' I'm really enjoying being in a big bed by myself, and I've moved the pillows to the middle. It's great being able to go to bed and, if you're snoring, it doesn't matter.
I wake up quite a lot in the night, but I'll read for an hour and then go back to sleep. I miss talking to somebody to run things past them, share trivia, but I've got the girls and the cats, and my boys are great.
Fern on pushing boundaries
Speaking my mind has come with age. It must be something to do with hormones! When you get to 40, you think, 'I'm not going to take any more s*** from anybody.' When you get to 50, you start saying 'F*** off!' to everybody. When you're 60, you think, 'Do you know what? I can't be a****. I'm allowed to say it.'
I'm comfortable knowing I might make a fool of myself. I'm quite confident with giving things a go because I'm not frightened of failing. I liked Strictly because it was fun and entertaining, and I thought, 'Why not give it a go?' But I learnt that really I'm not a performer! I never feared live telly. At one stage, I was in studios so much, I was actually nervous at home! The studio was where I felt completely calm.
Fern's new fitness obsession
I found yoga online about a year ago and it's wonderful. I do it for my mind and my body. I fall out of bed at 8am and just roll out the mat. I've got arthritis settling in everywhere. My knee is really bad and so is my shoulder. I'm waiting on a list for a surgeon to sort it out. It's very boring when your body starts to be in pain most of the time, but yoga helps.
---
---
The full interview with Fern is featured in the May issue of woman&home, on sale Thursday, April 7, 2022.
---
Gemma is a freelance celebrity interviewer, journalist, and showbiz expert. She's sat down with everyone from Kim Kardashian and Nicki Minaj to Ed Sheeran and Ant and Dec plus thousands of famous faces in between.
Since launching her freelance journalism business in January 2015, she's written for publications including The Sunday Times Magazine, Fabulous, Event (Mail on Sunday), HELLO!, OK!, Grazia, NOW, Closer, LOOK, New, Reveal, Essentials, Cosmopolitan, The Sun, Daily Mirror, and Daily Mail.