Eamonn's Admits Concerns Over The 'Strictly Curse' Following News That Ruth Will Be A Contestant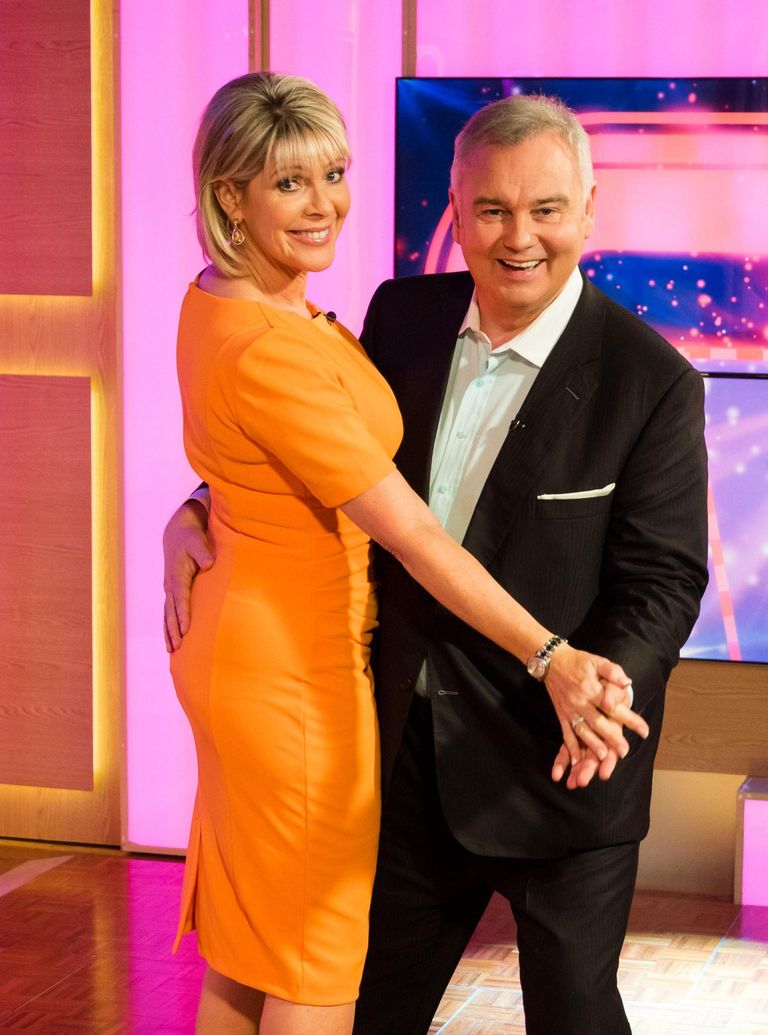 (Image credit: Rex Features (Shutterstock))
We couldn't be more excited to see Ruth Langsford showing off her moves on the Strictly Come Dancing dance-floor this Autumn, but it would appear that husband Eamonn isn't as excited. In fact, the This Morning presenter is feeling rather nervous about the whole thing.
Though he was quick to publicly congratulate his wife on social media, posting a heartfelt message on his Instagram page, Eamonn also admitted that he was worried about Ruth appearing on the show.
"My darling wife will be in The #Strictly line up. I'm so proud... and so worried," he wrote alongside a picture of Ruth. Could he be referring to the infamous 'Strictly curse?', which has seen many couples split after one has taken part on the show?
[instagram]
Now, the TV presenter has spoken up about his fears that Ruth will leave him due to the alleged curse, live on a recent episode of This Morning.
Ruth and Eamonn were chatting to Love Island star Marcel Somerville, who is bringing out a book about relationship advice.
Ruth turned to her husband and asked, "Do you need advice?". Initially, Eamonn responded, "No, no I don't need any advice."
But he jokily added, "Well, what happens if your wife runs off and leaves you with another dancer? That's a whole other story. That may not happen." Could Eamonn be seriously worried about the possibility?
** Dance Down the Danube with former Strictly judge Arlene Phillips and dancers James and Ola Jordan on Woman & Home'sballroom dancing themed river cruise! Includes a private dance performance, ballroom lesson and luxurious all-inclusive accommodation.See the details**
Previously, Eamonn jokingly whined about having to attend the Strictly live show every weekend now that his wife will have a starring role in the series. Live on air, he said, "Do I have to be in the audience every week?"
Ruth quickly put her husband in his place, retorting, "Yes! Stop asking that!"
Eamonn then mocked the alleged curse, speculating about how viewers might perceive his not turning up each week. He said, "If I don't turn up they'll all go, 'the curse of Strictly has struck!'"
Ruth also suggested that the pair should be sure not to add flame to the fire with rumours of a'Strictly curse', saying "Don't ever leave your wedding ring off either, like leave it on the side of the basin, because you'll be seen without your wedding ring."
Over the course of the 15 Strictly Come Dancing series, there have been countless affairs between dancers and the celebrities that appear on the show, resulting in the breakdowns of multiple marriages. Presenter Claudia Winkleman has previously voiced her theory on why so many partners stray after appearing on Strictly. She said, "It is very intimate to dance! The celebrity and pro develop a fascinating and incredibly close bond."
Louise and Jamie Redknapp are the most recent casualties of the so-called 'Strictly curse', with their marriage breaking down after Louise appeared on the show last year. While there has been no suggestion of an affair, Louise has admitted that the experience forced her to re-evaluate her relationship.
She said, "Something has to give somewhere, and I think it was me that gave. Going back and doing Strictly made me realise my desire is still the same. I just love being on the stage."
The 'curse' has struck repeated couples over the show's 11-year-run, including Rachel Riley, who split with her husband of two years after meeting professional dancer Pasha Kovalev. The pair are now a couple.
(Rachel Riley and Pasha, the professional dancer she was paired with on Strictly)
But while Eamonn may have his reservations about Strictly, it's clear that Ruth is excited for the challenge. Of her new appointment, she shared: "I have dreamt about doing Strictly for so long, I can't quite believe my dream has come true!
"The sum of my dance experience is throwing a few shapes at a party, I've never had a dance lesson in my life. Without doubt it will be the scariest yet most exciting thing I've ever done. It will be a welcome change worrying about my next hot move instead of my next hot flush!"
The Loose Women panellist was the third contestant to be announced as part of the Strictly line up. She was later joined by the likes of TV chef Simon Rimmer, former JLS star Aston Merrygold, and Alexandra Burke.
Strictly Come Dancing returns to screens in September on BBC One.