Dolly Parton wants this celeb to play her in a biopic - but they need to 'get bigger boobs'
Dolly Parton revealed exactly who she would love to play her in a biopic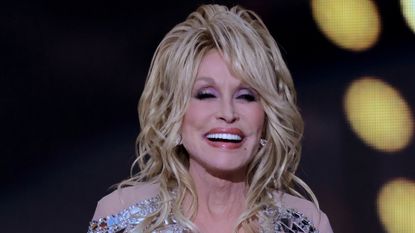 (Image credit: Kevin Winter/Getty Images for ACM)
The Queen of Country Music is all for a Dolly Parton biopic - and she has one particular actress in mind to play her.
Dolly, who recently turned 77, is pure sunshine, and spreads joy wherever she goes - so there's no denying her fans are yearning for a Dolly biopic, especially seeing as biopics seem to be all the rage right now. From Bohemian Rhapsody, to I Wanna Dance With Somebody, there are certainly no shortage of them, but a Dolly Parton one would truly be one for the ages.
One of the most challenging parts of biopics, however, is casting the perfect person to play your lead - in this case, Dolly Parton.
Dolly, however, did give her personal two-cents on who she thinks should play her if a biopic is ever to be made about her - and the answer isn't all the shocking. She suggests her rockstar goddaughter, Miley Cyrus - who recently revealed that she and Dolly often communicate over a fax machine rather than a phone because, well, Dolly's just old-fashioned that way.
"I think Miley would be great," Dolly told Insider (opens in new tab). "She's tall, but you can't really tell that in a movie."
Dolly also said that Miley probably would have to change some of her... features... to be able to play her in a biopic.
"She'd have to put on some weight, and get some bigger boobs," Dolly said of Miley. We can totally picture it!
One of Dolly's most signature parts of her persona is, of course, her voice - both singing and speaking. Her voice is rather high pitched and bubbly, especially compared to Miley's raspier tone - but Dolly doesn't foresee that being a problem for Miley to overcome.
"Miley would have the voice," she said. "She'd have to raise it up a few octaves though." Luckily, Miley would have the perfect vocal coach - Dolly Parton herself!
Dolly also hilariously revealed that, even though she loves her goddaughter, she does not love her cooking.
"Miley's trying to watch what she eats now — she's gone through a lot of phases of being vegetarian or being vegan or whatever," Dolly said. "But in the earlier days, or when her defenses are down, we still eat that good ol' food like meatloaf."
"Even if she cooked me something, I'm sure I'd have to doctor it up a little for myself," she added. "I would have to have some bacon grease."
As for who would play any other characters in the movie, like perhaps Dolly's husband Carl Thomas Dean, she didn't say - this is all, of course, hypothetical. However, if there's ever a need for someone to fill the role of "crazed Dolly fan," we're volunteering ourselves.
Madeline Merinuk is woman&home's US lifestyle news writer. She covers celebrity, entertainment, fashion, and beauty news but is also obsessed with internet trends - you can find her reciting trending TikTok sounds out loud at any given time.
After winning multiple student journalism awards for her investigative work, she graduated from Hofstra University in 2021 with a B.A. in Journalism. After graduating, she worked at today.com, the digital site for the Today Show, where she wrote pop culture news and interviewed big-name personalities like Emily Ratajkowski, Haley Lu Richardson, Emma Corrin, and more.
Her personal interests, in no particular order, are: cheese, Joni Mitchell, reading, hot yoga, traveling, having multiple chapsticks in every handbag at all times, and dancing to ABBA songs as if she were in the Mamma Mia movies.