Chris Rock live Netflix special 2023: When is it on and what is said about Will Smith?
Chris Rock's Netflix special will be the first time the streaming service has ever aired a live show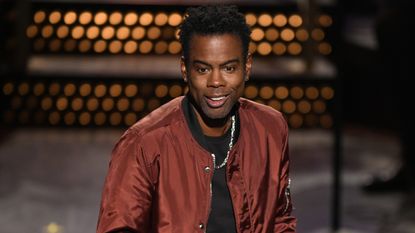 (Image credit: Getty Images)
Chris Rock is set to open up about that Will Smith Oscars slap in a Netflix special of his live comedy show Selective Outrage.
Chris Rock was part of the most-talked-about moment of 2022 when he was hit by Will Smith live on stage at the Oscars.
Almost a year on and the comedian will be hosting Netflix's first-ever live comedy special, Selective Outrage.
While it is the first time the streaming platform has ever produced a live show, this is the second time Chris has worked with Netflix after his 2018 tour Tamborine.
We've put together a list of everything you need to know about Chris Rock's Netflix special, including which of his celebrity friends will make an appearance and what time it is on.
WHAT IS THE NEW CHRIS ROCK MOVIE ON NETFLIX?

Selective Outrage is Chris' second Netflix comedy special and will see him take to the stage live on Saturday night at Baltimore's Hippodrome Theatre.
This will work by a 'Watch Live' red button popping up on your Netflix app allowing you to tune in as the show is happening.
There is also a pre-show airing live from The World Famous Comedy Store on the Sunset Strip in Los Angeles, which will see lots of special appearances from some of Rock's famous friends, as well as a post show.
Netflix has never attempted something like this before, so two weeks ago, the streamer did a run-through to make sure all the technology worked. But viewers will have to wait and see if things go to plan on the night…
WHO IS IN CHRIS ROCK'S LIVE NETFLIX SPECIAL?
During the pre-show - called The Show Before the Show which - Ronny Chieng is set to host along with Arsenio Hall, Deon Cole, and Leslie Jones.
There will also be special appearances from stars such as Amy Schumer, Cedric the Entertainer, George Lopez, Ice-T, Jerry Seinfeld, Jimmy Fallon, Kevin Hart, Matthew McConaughey, Sir Paul McCartney, Sarah Silverman, Tracy Morgan, Wanda Sykes, and Woody Harrelson.
Later that night, a live post-show - called The Show After the Show - will be hosted by comedians David Spade and Dana Carvey, along with guests JB Smoove and Kareem Abdul-Jabbar.
WHAT WILL CHRIS ROCK SAY ABOUT WILL SMITH?
While we don't know exactly what jokes Chris Rock will make, he has reportedly opened up for the first time about Will Smith's infamous Oscars slap while workshopping material.
According to The Wall Street Journal (opens in new tab), in January Chris was preparing for his Netflix special during a set in Charleston, South Carolina, and talked about the incident.
He said, "The thing people want to know . . . did it hurt? Yeah, it hurt."
Referencing their respective roles in the 2001 Smith film Ali and his 1991 movie New Jack City, he added: "He played Muhammad Ali! I played Pookie!"
It's also reported Chris said, "Even in animated movies, I'm a zebra, he's a shark."
The infamous slap exchange between Will and Chris happened after Chris made a joke about Jada Pinkett Smith's shaved head, following her alopecia diagnosis.
Will then walked onstage and smacked Rock, before shouting at him twice, "Keep my wife's name out of your mouth!"
Will has since apologized over the incident, and resigned from the Academy of Motion Picture Arts and Sciences ahead of being issued a 10-year ban from the Oscars.
24 hours until Chris Rock: Selective Outrage hits Netflix! #ChrisRockLive pic.twitter.com/2ruBZS5bI8March 4, 2023
See more
HOW TO WATCH CHRIS ROCK: SELECTIVE OUTRAGE ON NETFLIX

Chris Rock: Selective Outrage starts live-streaming on Saturday, March 4, at 10 pm ET/7 pm PT. If you're in the UK, this is Sunday, March 5, at 3 am.
Unfortunately, the pre and post-show won't be available to watch on Netflix after the live stream so make sure to tune in when it airs.
The pre-show starts 30 minutes before the live comedy special, while the post-show kicks off straight after.
Naomi is a news and lifestyle journalist and digital content creator with bylines in The Independent, The Sun, Cosmopolitan, and Fabulous. She covers a range of topics and currently works at Heart Radio in London.