Catherine Zeta-Jones' son Dylan graduates from college: fans say he's inherited 'best of both' from his movie star parents
In a new Instagram post, Catherine Zeta-Jones shares a rare photo of her and Michael Douglas' son Dylan as he graduates from college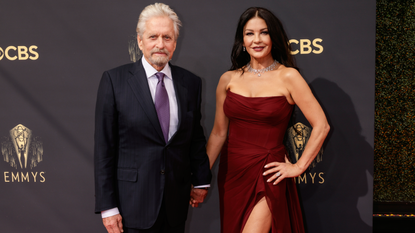 (Image credit: CBS Photo Archive / Contributor)
Congratulations are in order for superstar couple Catherine Zeta-Jones and Michael Douglas as their son Dylan just graduated from Brown University.
The 52-year-old Catherine Zeta-Jones, who launched a clothing line just last year, posted a rare photo of her 21-year-old son on Instagram to mark the occasion. She expressed her love and happiness in the caption to the image. "Graduation congratulations to my boy, my pride, my joy, Dylan," she wrote. "I am inexplicably proud of you and I love you beyond words."
Catherine's followers took to the social media platform to congratulate the star and her son, calling out his resemblance to his parents.
The two actors also share daughter Carys Zeta Douglas, who is currently 19-year-old. Michael, who is now 77 years old, is also father to 43-year-old Cameron Morrell Douglas, whose mom is film producer and Michael's ex-wife Diandra Luker.
Catherine also shared a video from Dylan's pre-graduation dinner, where he was surprised by his uncle that came all the way from Wales to celebrate him. "It was tough keeping this a secret but it was priceless. 🎓🎓🎓," Catherine wrote in the caption to the funny clip.
Michael himself took to the social media platform to mark the occasion. Under a photo of him and Dylan, the actor wrote, "One proud dad! Congratulations Dylan! Well done!"
Catherine Zeta-Jones, who recently celebrated her 21st wedding anniversary with Michael and shared the secret to a successful marriage, commented on the upload, "The best ever. Congratulations!! to you." And then again, "Love you."
Fans are surprised by the parents' public displays of love as, back in 2018, Catherine told Entertainment Tonight (opens in new tab) that they have always tried to keep their kids out of the spotlight. "They've kinda been removed from the crazy world of Hollywood or even the crazy world of Manhattan," she said then about her children. "The teenagers here in Manhattan, there's a maturity that comes too quick I think. We've kind of shielded them away but they're incredibly mature for their tender years. They get it and that's just a thing [...] that I got lucky [about]."
Despite what Catherine shared, things will likely change for Dylan soon. In fact, he has followed in his parents' footsteps and embraced a career in acting. Given his recent college graduation, we expect to see even more of him in the near future.
Anna Rahmanan is a New York-based writer and editor who covers culture, entertainment, food, fashion and travel news. Anna's words have appeared on Time Out New York, the Huffington Post, Fortune, Forbes, Us Weekly, Bon Appetit and Brooklyn Magazine, among other outlets.