Bethenny Frankel compares Meghan Markle to a Real Housewife - 'she can't stop talking about the very thing that she wants to be irrelevant'
Real Housewives of New York City star Bethenny Frankel is not shy about sharing her opinion regarding Meghan Markle's behavior.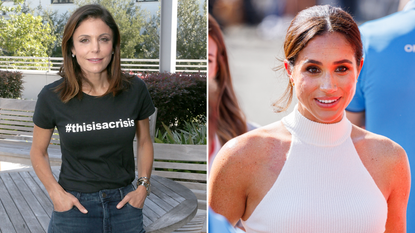 (Image credit: Gary Miller / Contributor and Patrick van Katwijk / Contributor)
Entrepreneur and Real Housewives of New York City star Bethenny Frankel isn't Meghan Markle's biggest fan.
Just a few days before Prince Harry and Meghan Markle came to the UK for a set of appearances, Bethenny made public her opinion about the Duchess of Sussex on the September 1 episode of her Just B with Bethenny Frankel podcast.
The reality TV personality went on the record to say that most folks likely feel unsympathetic to Meghan because of her attitude throughout the drama surrounding her and Prince Harry's decision to leave Canada to set up permanent home in California.
"She's very much like a Housewife in that she can't stop talking about the very thing that she wants to be irrelevant," Bethenny said. "[It's like] when you […] want to separate from the Housewives. 'It was toxic, I don't want to be part of the drama,' or whatever the housewife says. [But] then […] for the next five years, always talking about the very thing you're trying to extricate yourself from."
The 51-year-old former Skinnygirl owner went on seemingly directly addressing Meghan. "When you leave the royal family, leave the royal family," she said. "You learned something, you said it, we heard you […] and [still] in every single interview you do, you're talking about the royal family. Let it go Elsa. Move forward. Create change in the future."
Bethenny's comments follow a recent interview that Meghan gave to The Cut (opens in new tab), in which she discussed this exact topic and opened up about her relationship with the royal family and the issues she's been addressing since first marrying Prince Harry back in 2018.
In that same interview, Meghan, who is partly Black, also got candid about the racism that she claims permeates all aspects of culture in the U.K.
"There's literally a structure by which if you want to release photos of your child, as a member of the family, you first have to give them to the Royal Rota," she explained. "Why would I give the very people that are calling my children the N-word a photo of my child before I can share it with the people that love my child? You tell me how that makes sense and then I'll play that game."
That is one topic that Bethenny, known for speaking her mind on the hit Bravo TV show, agreed was worthy of discussion. "It is good for people to know that racism exists everywhere, but that's not something we're surprised by," the Real Housewife said on her podcast. "Like, if you tell me that racism exists in the royal family, I'm not bowled over with shock."
Whether Meghan's future appearances will be punctuated by discussions that Bethenny has deemed to be unnecessary is yet to be seen, but one thing is for sure: the Real Housewife star will likely have strong feelings about whatever it is that Meghan decides to talk about.
Anna Rahmanan is a New York-based writer and editor who covers culture, entertainment, food, fashion and travel news. Anna's words have appeared on Time Out New York, the Huffington Post, Fortune, Forbes, Us Weekly, Bon Appetit and Brooklyn Magazine, among other outlets.