A Modern Family spinoff is in the works and we're already excited!
Jesse Tyler Ferguson, who starred as Mitchell Pritchett on Modern Family, confirms that there is now a script for a potential spinoff series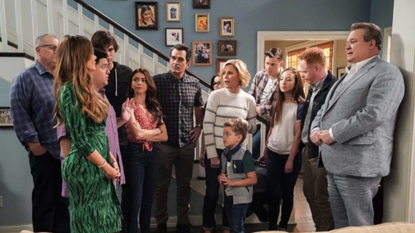 (Image credit: ABC)
We're delighted to inform you that a Modern Family spinoff series is currently being worked on.
The news comes courtesy of Jesse Tyler Ferguson, who recently joined TikTok and told Entertainment Tonight that a script for a new series does exist but it has not been picked up by a network yet.
"The script's out there and it's very good," the actor said to the outlet after winning his very first Tony Award for Take Me Out this past weekend. "So, you know, who knows? If someone wants to produce it, maybe."
This isn't the first time that Jesse, who starred in the ABC show as Mitchell Pritchett throughout its 2009-2020 run, has spoken publicly about the matter.
Back in May, he told Watch What Happens Live host Andy Cohen that, although "there were discussions," ABC ultimately decided not to move forward with the project. "We had been on for 11 years," noted Jesse. "I think they were ready to move in a different direction."
According to reports, the spinoff would focus on Jesse's character's life with on-screen husband Cameron Tucker, played by Eric Stonestreet, as they move away to Missouri with their two kids.
"I think they were just wondering if maybe this is the right family to still tell the story," the 46-year-old actor said about the proposed plot.
Although the fate of the would-be show is still up in the air, we can't help but think of the success of the original series as an indication that a spinoff might soon become a reality. Throughout its 11 seasons, the comedy won a Golden Globe and 22 Emmy Awards (not to mention earning a slew of nominations in a variety of categories across different award shows).
Modern Family was also ahead of its time. Although shows about diverse family setups are pretty common now, the television landscape looked different when the series first premiered in the late 2000s.
As a refresher, the production follows the lives of three family set-ups that live in suburban Los Angeles and are all connected by patriarch Jay Pritchett, played by the wonderful Ed O'Neill.
If there is one thing that audiences seem to love these days, it is revivals and spinoffs. Here is to hoping Modern Family will soon join the wonderful canon of TV shows that have gotten the remake treatment.
Anna Rahmanan is a New York-based writer and editor who covers culture, entertainment, food, fashion and travel news. Anna's words have appeared on Time Out New York, the Huffington Post, Fortune, Forbes, Us Weekly, Bon Appetit and Brooklyn Magazine, among other outlets.