AOC recounts her traumatizing experience hiding from Capitol rioters
Congresswoman Alexandria Ocasio-Cortez opens up about her horrifying experience during the Capitol Riot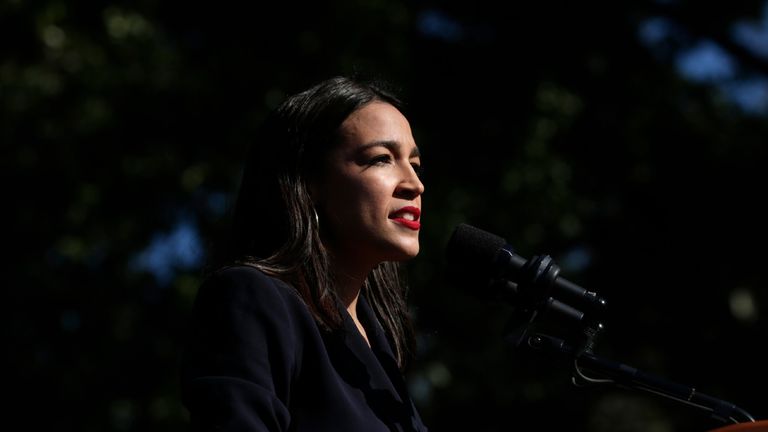 (Image credit: Kena Betancur / Getty Images)
AOC has shared her traumatic experience of barricading herself in an office during the Capitol riots. She linked her reaction that day to her experiences as a survivor of sexual assault. 
In a live video posted on Instagram, Rep. Alexandria Ocasio-Cortez (D-NY) said she thought insurrectionists would kill her during the Capitol riots in January.
In the video, which lasted nearly an hour and a half as was titled "What happened at the Capitol," AOC spoke about her experience during the riots and the violence that ensued, causing the deaths of five people so far. 
Read more from woman&home: 
• Best pillow for a comfortable, pain-free night's sleep
• Best scented candles for a warm and cozy home this winter
• Best eReaders for literary lovers to buy now - from Kindles to Kobo devices
Ocasio-Cortez revealed that she hid in a bathroom in her inner office and thought her life was over when she heard a man banging on the door shouting, "Where is she? Where is she?!" Ocasio-Cortez later found that this was not an insurrectionist but a Capitol police officer who did not identify himself. 
Ocasio-Cortez likened the event to a "zombie movie" or school shooting as she spoke about how she and her colleagues tried to protect themselves while they hid from the rioters. "It's like all of these drills that people have for school shootings, it was like, ok we're going to push the furniture against the door and barricade ourselves in," said Ocasio-Cortez.
Rep. Katie Porter (D-CA) hid with Ocasio-Cortez for several hours and spoke about their experience on MSNBC. Porter tried to reassure those trapped with her in her office by saying that she was a mom and therefore calm and prepared, with enough food in her office to last a month. Porter said that Ocasio-Cortez replied, "I hope I get to be a mom, I hope I don't die today."
Following this harrowing revelation, Porter recounted helping Ocasio-Cortez to find some sneakers to wear instead of her heels, "so that she could run if she literally needed to run for her life."
Ocasio-Cortez took to Twitter to comment on Porter's interview. She said, "Thank you @katieporteroc for holding it down that day you're a wonderful friend."
Thank you @katieporteroc for holding it down that day 💜 you're a wonderful friend https://t.co/UvvZKDYwErFebruary 2, 2021
See more
During her account of the riots, Ocasio-Cortez also revealed that she was a survivor of sexual assault. She did not detail her trauma but chose to discuss this abuse concerning a bigger issue.
"The reason I say this, and the reason I'm getting emotional in this moment, is because these folks who tell us to move on, that it's not a big deal, that we should forget what's happened, or even telling us to apologize. These are the same tactics of abusers. And I'm a survivor of sexual assault," said Ocasio-Cortez.
Since this video has been released, Ocasio-Cortez has spoken out about those who incited the violence being held responsible for their actions. She took to Twitter to discuss her recent video and told her followers that the Republican politicians who encouraged the insurrection should stop sweeping the issue under the rug.
"And to those who wish to paper over their misdeeds by rushing us to all 'move on'- we can move on when the individuals responsible are held to account," said Ocasio-Cortez. 
Thanks for making the space for me, and hope we can all make space for others to tell their stories in the weeks to come.And to those who wish to paper over their misdeeds by rushing us to all "move on" - we can move on when the individuals responsible are held to account.February 2, 2021
See more