Angelina Jolie twins with daughter Shiloh Jolie-Pitt at Rome concert and fans are shocked at their likeness
Brad Pitt and Angelina Jolie's middle child, Shiloh Jolie-Pitt, joined mom for a fun concert in the Italian capital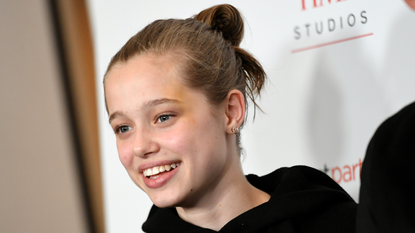 (Image credit: JC Olivera / Stringer)
Just a few weeks after impressing the world with her dance moves in a video posted by choreographer Hamilton Evans, Shiloh Nouvel Jolie-Pitt makes headlines again, this time for rocking out at a concert in Rome with her mom Angelina Jolie.
One of Angelina Jolie's six children, Shiloh looked like she was having a great time alongside her 47-year-old mom while listening to Italian glam rock band Måneskin at the show in Circo Massimo, an ancient chariot-racing stadium and entertainment venue in the Italian capital.
Although famously private about her personal life and the upbringing of her children, Angelina actually shared another bonding moment with her 16-year-old daughter back in February, when the two traveled to Cambodia together.
"A few days in Cambodia among the warm local people and I feel my soul is recovering. This has always been a special country for me and our family," Angelina said back then, likely referencing the fact that she adopted her first child Maddox Chivan from Cambodia back in 2022.
---
This is the second time that fans get to witness Shiloh's striking resemblance to her mom and her father, 58-year-old actor Brad Pitt, this summer. In June, choreographer Hamilton posted a 7-minute dance video to YouTube where a series of trios of young dancers are performing to Doja Cat's hit Vegas, the first single from the Elvis movie soundtrack, at Millennium Dance Complex in Los Angeles. In the clip, Shiloh fronts one of said trios while wearing a black Beatles T-shirt, similar pants and red sneakers while her hair is up in a bun.
HOW MANY KIDS DO ANGELINA JOLIE AND BRAD PITT HAVE TOGETHER?
Three years after starting to date Brad in 2005, Angelina adopted her son Maddox, now 20, from Cambodia. Later that year, Brad actually joined his then-girlfriend on a trip to Ethiopia to adopt Zahara Marley, now 17. Brad legally adopted both children in 2006.
Also in 2006, the couple gave birth to Shiloh. A year later, in 2007, the duo adopted their son Pax Thien, now 18, from Vietnam and, in 2008, gave birth to twins Knox Léon and Vivienne Marcheline, now 13.
Angelina and Brad dated for ten years before getting married in 2014. However, Angelina filed for divorce in 2016 and the split was made official in 2019.
The former couple has been coparenting their six children since calling it quits years ago.
"I have six very individual human beings in my home. I am so excited about all the different stages and feelings and curiosities that they go through," Angelina said to PEOPLE about her children back in October. "Why wouldn't you be? We're supposed to help them figure out who they are. And you can't figure out who they are if you don't enthusiastically develop with them."
WHO IS SHILOH JOLIE-PITT?
Shiloh is Brad and Angelina's first biological child and third overall kid. She was born in Namibia on May 27, 2006 to much fanfare and actually appeared on the cover of PEOPLE just a month after she was born.
While the now-teenager Shiloh has been seen rocking gowns on the red carpet in recent years, her parents have been open about her preference for wearing suits in the past.
"She wants to be a boy," Angelina said to Vanity Fair in 2010, when Shiloh was a few years old. "So we had to cut her hair. She likes to wear boys' everything. she thinks she's one of the brothers."
Anna Rahmanan is a New York-based writer and editor who covers culture, entertainment, food, fashion and travel news. Anna's words have appeared on Time Out New York, the Huffington Post, Fortune, Forbes, Us Weekly, Bon Appetit and Brooklyn Magazine, among other outlets.