Andrea McLean shows off her beautiful bedroom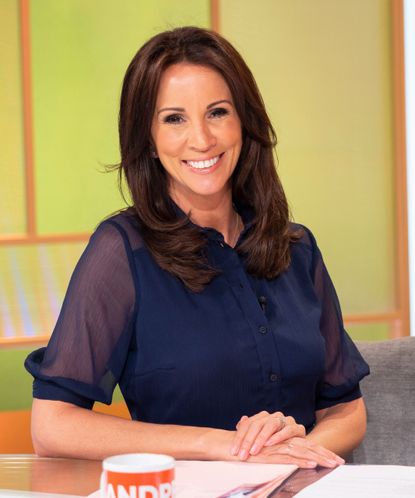 Loose Women star Andrea McLean has shown off her gorgeous bedroom to fans on Instagram.
After catching a glimpse of it on Instagram, fans have fallen in love with the star's amazing, luxury bedroom.
The Loose Women presenter, who lives in Surrey, was about to stretch into a morning yoga session to help her wake her up when we spied it - but with a room like that, we'd happily spend all day in bed!
So what's the decor? We're talking beautiful, soft, pale grey walls, a glamorous chandelier and minimal white furniture for a chic, pared-back feel - and of course a massive bed covered in plush grey cushions and pillows. The look is fresh, modern and clean and, combined with soft touches like candles and photo frames, the overall vibe is beautiful and relaxed.
Andrea and husband Nick Feeney live with her two children Finn, 16, and Amy, 11. The couple married last November, saying 'I do' in front of close family and friends, including - of course - the Loose Women panel.
The star recently gave us an insight into her lovely lounge when she uploaded a video onto Instagram about what happens when a mum plays the controversial video game, Fortnight. Playing with her two children, Andrea quipped 'I thought I would join in, because how hard can it be, right?' But her kids were left giggling and giving instructions as their mum gave it her best shot.
Meanwhile, viewers were treated to a shot of Andrea's luxe grey leather sofa and the art collection adorning her pale grey walls as she had fun with the family.
Fans of Andrea's gorgeous decor were also treated to another sneak-preview of her home on Instagram last week, when she showed pictures of her porch, describing it as her "favourite place in the world". The photo showed Andrea and Nick sipping champagne with their feet up as they looked out on their porch, with its wooden decking, comfy swinging seat, rocking chair and potted plants, with steps leading down to their colourful garden. It sounds like pure heaven at Andrea's place - we'd stay there anytime!