An alleged feud between Kevin Costner and Yellowstone Director Taylor Sheridan is brewing but what does it mean for the future of the show?
The Yellowstone director had some choice words for Kevin...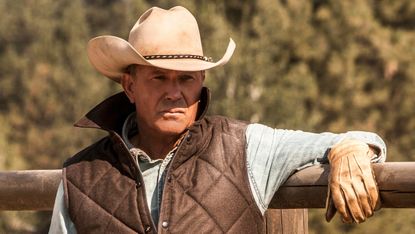 (Image credit: Viacom CBS)
Earlier this week, it was claimed that Yellowstone will end after the second half of the fifth season amid tension between Kevin Costner and the director of the show, Taylor Sheridan. Here's what we know about the alleged feud.
Since the early days of Yellowstone's debut, it has been one of the most popular shows on TV, having reached 12.1 million viewers per episode. However, it sounds like there could be some blood in the water that could halt production on the hit Paramount+ series altogether.
According to the Daily Mail, an insider from the show shared that there have been some tense conversations about the direction the show is heading in, specifically between Kevin and Taylor. This adds even more fuel to the fire about rumors regarding a potential departure of Kevin on Yellowstone.
Because of all of this, our favorite Western series could be coming to an end sooner than we imagined. Here's what we know so far...
Here's what Taylor Sheridan has said about Kevin Costner
According to the same source, "Certain people in charge of the production developed a God complex" - which allegedly left Kevin feeling frustrated about the direction the show was heading in on Taylor's accord.
They also allege that Taylor told Kevin, who also serves as an executive producer on the show, to "stick to acting" when he tried to raise concerns about the future of Yellowstone season 5.
This friction between Kevin and Taylor is what prompted Kevin to share that he was cutting down his workload for the second half of season five, which was still in production as of early 2023. "It's the same as with any showrunner and big star — there's respect, but there's friction," a source from inside the Yellowstone set said.
Sources also suggested that Taylor was rarely prepared on set, which made for a difficult filming process. Supposedly, there would be instances of Kevin showing up to set prepared to work - but there would be nothing prepared, as the creator's "overburdened" schedule, which includes working on spinoffs 1883 and 1923, got in the way.
"Kevin's been extremely cooperative with working with Taylor and his production company, 101 Studios. They were supposed to shoot the second chapter of Season five late last year, but they just didn't have the scripts," an inside source claims. "Kevin had already committed to making his other movies. He had given the producers his schedule... There was nothing to shoot."
So, is Yellowstone canceled for good?
It is speculated that Yellowstone will be ending with season 5, according to sources from the Post - and it also remains unclear whether the second half of season 5 will ever see airtime, seeing as it hasn't even finished production.
We still have so many unanswered questions from season 5 - did Rip die?! We still don't know.
If the second half of Yellowstone does (Lord willing) ever hit our screens, it's also unclear whether we'll see Kevin as John Dutton appear for the final go-around. Sources say that this is due to him currently writing and directing a four-film Western franchise titled Horizon, an American Saga. Paramount executives have said they were confident that Costner will come back to the series for the second half of season five - but we won't know until John Dutton himself addresses the situation publicly.
If you're looking for shows like Yellowstone to watch while in a period of mourning, join the club.
Madeline Merinuk is woman&home's US lifestyle news writer. She covers celebrity, entertainment, fashion, and beauty news but is also obsessed with internet trends - you can find her reciting trending TikTok sounds out loud at any given time.
After winning multiple student journalism awards for her investigative work, she graduated from Hofstra University in 2021 with a B.A. in Journalism. After graduating, she worked at today.com, the digital site for the Today Show, where she wrote pop culture news and interviewed big-name personalities like Emily Ratajkowski, Haley Lu Richardson, Emma Corrin, and more.
Her personal interests, in no particular order, are: cheese, Joni Mitchell, reading, hot yoga, traveling, having multiple chapsticks in every handbag at all times, and dancing to ABBA songs as if she were in the Mamma Mia movies.