American Crime Story: Impeachment—how Monica Lewinsky was involved in the making of the show
The new season focuses on the famous 1998 impeachment trial of Bill Clinton and aims to focus on the women who were overlooked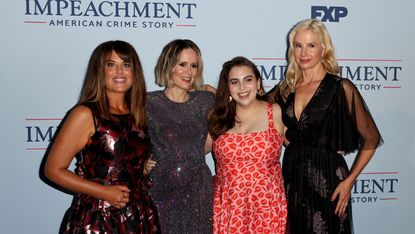 (Image credit: Kevin Winter/Getty Images)
All eyes will be on President Bill Clinton's impeachment trial—again. FX's American Crime Story: Impeachment has premiered to much excitement, but this time around, viewers will watch the story unfold from the perspective of those overlooked at the time.
One of those voices seemingly getting a spotlight in American Crime Story season 3 is Monica Lewinsky—the then-intern who was caught having an affair with the President. The scandal rocked American politics and captivated most of the country as the impeachment trials overwhelmed the media.
Talking about the show, FX CEO John Landgraf explained that the show would examine, "the overlooked dimensions of the women who found themselves caught up in the scandal and political war that cast a long shadow over the Clinton Presidency."
But how much of Monica's story will we see? If reports are correct, our current knowledge of what happened when she worked for Clinton could be reshaped entirely.
---
How much of Monica Lewinsky's story will be covered by American Crime Story: Impeachment?
The majority of the show will center on Monica's story. Creator Ryan Murphy even told The Hollywood Reporter that he originally pitched the idea to Monica insisting that her story should be told.
"I told her, 'nobody should tell your story but you, and it's kind of gross if they do,'" he said.
The first four episodes will focus on other main characters before, finally, delving into Monica's story. Since the trial focused on her affair with President Clinton though, the series will help provide a new perspective on the events.
In the past, Monica has been sneered at, heavily judged, and criticized for her involvement with the President. Today, American Crime Story: Impeachment helps to acknowledge that she was actually a victim of sexual harassment.
What part did Monica Lewinsky play in the making of American Crime Story: Impeachment
Monica played an integral role in the creation of the series, even signing on to be an executive producer for the show. When first asked to get involved she was hesitant but eventually signed on and has had the final say on scripts.
"She's involved with every script, gives a lot of insights and thoughts," the American Horror Story creator told Variety. "The great thing about the story that we're telling is it's Monica's story, which I think needs to be told. Just like [in 'The People v. O.J. Simpson'] we showed Marcia Clark in a different way, that's what we're doing with Monica."
Her involvement with the show means she has more control over her story. Ryan mentioned to Varitey that she's "earned the right" to tell her story.
"I think that she's earned the right to be able to tell her story, how she wants to tell it," he said. "And I think her version of what happened and the facts will be very startling to people, and I think it's important."
When the trials occurred back in 1998, Monica was 24-years-old at the time. The focus was mostly centered around then-President Clinton and his attempts at covering up his affair with her. He even tried to buy her silence during the ongoing investigations further denying Monica of a chance to speak her truth.
Now, she is given a chance to share her side of the story through the plot and characters of the show.
What has Monica Lewinsky said about American Crime Story covering the Clinton scandal?
The new season has helped her feel as though she's reclaimed her narrative, acting as an outlet to show her perspective.
"People have been co-opting and telling my part in this story for decades," she told Vanity Fair. "In fact, it wasn't until the past few years that I've been able to fully reclaim my narrative; almost 20 years later."
She went on to explain how today's society has made it possible for her to have a voice.
"I'm so grateful for the growth we've made as a society that allows people like me who have been historically silenced to finally reintroduce my voice to the conversation," she told the magazine.
"This isn't just a me problem. Powerful people, often men, take advantage of those subordinate to them in myriad ways all the time. Many people will see this as such a story and for that reason, this narrative is one that is, regretfully, evergreen."
Is Monica Lewinsky married and does she have kids?
No, Monica Lewinsky has not ever been married, nor does she have any children. After the scandal became public knowledge, Monica gained international celebrity status and is said to have struggled with life in the spotlight in both her personal and professional life.
Understandably, Monica is extremely private when it comes to her personal life and has only vaguely spoken about her dating life and the men she has previously dated.
In a 2014 essay for Vanity Fair Monica said, "With every man I date (yes, I date!), I go through some degree of 1998 whiplash. I need to be extremely circumspect about what it means to be 'public' with someone."
"I've become adept at figuring out when men are interested in me for the wrong reason. Thankfully, those have been few and far between," Monica continued.
"But every man that has been special to me over the past 16 years has helped me find another piece of myself—the self that was shattered in 1998. And so, no matter the heartbreak, tears, or disenchantment, I'll always be grateful to them."
How tall is Monica Lewinsky and Beanie Feldstein who plays her?
Beanie Feldstein is playing Monica Lewinsky in this television series. Beanie is known for her fabulous roles in Booksmart and Lady Bird, and has just been cast in a new adaptation of the broadway classic Funny Girl.
The petite actor is thought to be just 5ft 1, which is just 154cm. However, this makes the actress perfect to play Monica Lewinsky who is also on the shorter side and measures in at just 5ft 5, or 168 cm.
American Crime Story: Impeachment cast
The cast of American Crime Story season 3 features a cast of familiar and fresh faces such as...
Clive Owen as President Bill Clinton
Beanie Feldstein as Monica Lewinsky
Sarah Paulson as Linda Tripp
Annaleigh Ashford as Paula Jones
Edie Falco as Hillary Rodham Clinton
Cobie Smulders as Ann Coulter
Billy Eichner as Matt Drudge
Judith Light as Susan Carpenter-McMillan
Margo Martindale as Lucianne Goldberg
Blair Underwood as Vernon Jordan
Mira Sorvino as Marcia Lewis
Taran Killam as Steve Jones
What channel is FX and how to watch American Crime Story: Impeachment
The television channel FX is on will depend on your cable network. To determine what channel to watch the series on, check with your network provider. For those without cable, you can stream the show on Hulu (with a subscription) or on the FX app.
When does American Crime Story: Impeachment start on FX?
Originally, the show was slated to premiere in 2020, but due to production delays the start date was pushed off. The show premiered on FX September 7, 2021 at 10 p.m. ET/PT on FX.
The show will continue to air on Tuesday nights and the seventh episode titled "The Assassination of Monica Lewinsky" is scheduled to air on October 19, 2021.
Sign up to our free daily email for the latest royal and entertainment news, interesting opinion, expert advice on styling and beauty trends, and no-nonsense guides to the health and wellness questions you want answered.
Rylee is a U.S. news writer who previously worked for woman&home and My Imperfect Life covering lifestyle, celebrity, and fashion news. Before joining woman&home and My Imperfect Life, Rylee studied journalism at Hofstra University where she explored her interests in world politics and magazine writing. From there, she dabbled in freelance writing covering fashion and beauty e-commerce for outlets such as the TODAY show, American Spa Magazine, First for Women, and Woman's World.