How old was Monica Lewinsky when she worked for Clinton and why is her age so important to how we reframe her story?
Monica Lewinsky faces redemption in an age where women finally have a louder voice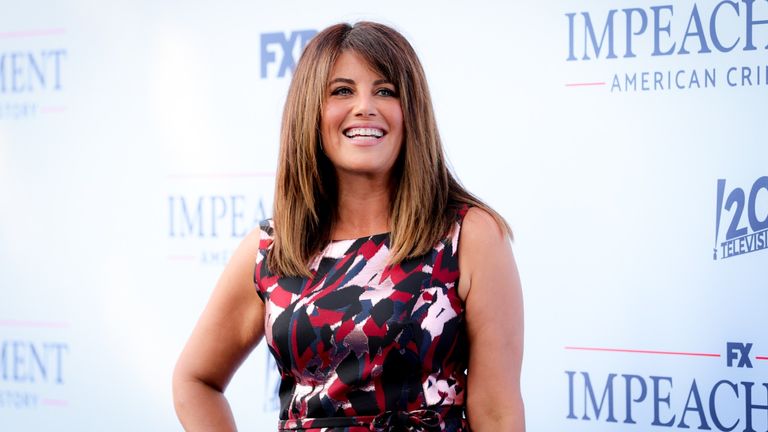 (Image credit: Rich Fury/WireImage)
Monica Lewinsky's side of President Bill Clinton's impeachment trial is finally being examined decades later. 
Her experience as a young intern, working in the White House is being bought to life in American Crime Story: Impeachment. The show documents how her bright future took a rapid downturn after news of her involvement with President Clinton was exposed making Monica the topic of public ridicule. Now, with the Me Too movement giving a voice to women who were once silenced, she is no longer being ridiculed, but is instead, a survivor.
Today, media outlets, authors, and journalists have begun publicly apologizing to Monica Lewinsky with many empathizing with the experience she endured as a young woman.
"You know how sometimes you read about people you don't know in the news and just feel invested in their happiness? I feel that way about @MonicaLewinsky. What a paragon of strength, grace, and intelligence. What an absolute queen," tweeted human rights and women empowerment reporter, Annalisa Merelli.
You know how sometimes you read about people you don't know in the news and just feel invested in their happiness? I feel that way about @MonicaLewinsky. What a paragon of strength, grace, and intelligence. What an absolute queen: https://t.co/xVPpC2LC9YSeptember 2, 2021
See more
---
American Crime Story season 3 on the famous trial, but with a focus on Monica's point-of-view. As a young intern, many have argued she was more vulnerable and susceptible to "grooming" by the President. With her point-of-view finally taking center stage, the controversial scandal gets reframed.
How old was Monica Lewinsky when she worked for Bill Clinton?
It was the summer of 1995 when Monica Lewinski became an unpaid intern for the White House. Working under Chief of Staff Leon Panetta, she was immersed in White House politics at just 21-years-old. It was only five months later when she began an affair with President Clinton, according to secret recordings by former civil servant Linda Tripp.
By December of 1995, Monica was moved into a paid intern position for the Office of Legislative Affairs. Her newfound role involved handling letters from Congress and often transporting mail to the Oval Office.
Why is Monica Lewinsky's age so important when we look back at how her story unfolded publicly?
As a young 21-year-old, Monica's career had just started. President Clinton was arguably the most powerful man in the world and at 49-years-old more than double her age.
When the trials were occurring, her age was not a huge topic of debate. As one 1998 article written by The Baltimore Sun stated, "There is surprisingly little fury about the age difference. Perhaps that is because there is so much else swirling about the mix—the politics, the tapes, the rumors, the breathless speed at which each new development overtakes the one from the minute before."
In fact, at the time, most believed Monica to be older than she actually was.
"With Clinton and Lewinsky, the age gap doesn't seem as great as it should because Clinton seems younger than his years, and she seems older than hers," the article continued.
The events that unfolded while Monica was so young still have an impact on her to this day. She revealed the mental health struggles she endures in a Vanity Fair article in 2018, including being diagnosed with PTSD.
"I was diagnosed several years ago with post-traumatic stress disorder, mainly from the ordeal of having been publicly outed and ostracized back then," she wrote. "My trauma expedition has been long, arduous, painful, and expensive. And it's not over."
How old is Monica Lewinsky today and what does she do now?
Over a decade later, Monica is now 48-years-old and using her platform to advocate and support anti-bullying measures. One of her latest projects include producing American Crime Story: Impeachment. Throughout the years she has attempted to reinvent herself and move away from the scandal that shook her life. Now, she seems to be using it as a way to help others in similar situations.
"I told her, 'Nobody should tell your story but you, and it's kind of gross if they do,'" Ryan told The Hollywood Reporter. "'If you want to produce it with me, I would love that; but you should be the producer and you should make all the goddamn money.'"
The now-producer is also a vocal advocate for anti-bullying and cyberbullying. In 2018, she hosted her own TED Talk where she reflected on her personal experiences and how they helped shape who she is today.
After decades of living one narrative of the Clinton impeachment scandal, today, Monica is taking control and rewriting her history. 
Rylee is a U.S. news writer for woman&home and My Imperfect Life who primarily covers lifestyle, celebrity, and fashion news. At times, she also reports on beauty, royals, entertainment, health, and travel. The latest fashion and beauty trends, along with any quirky travel destinations are her favorite topics to write about. 
Before coming to woman&home and My Imperfect Life, Rylee originally studied journalism at Hofstra University where she explored her interests in world politics and magazine writing. From there, she dabbled in freelance writing covering fashion and beauty e-commerce for outlets such as the TODAY show, American Spa Magazine, First for Women, and Woman's World.
When she's not writing articles, you can find her testing out one of the many restaurants New York City has to offer and planning her next travel destination. Her other hobbies also include hiking, ballet, yoga, and reading practically any book TikTok recommends.