Amanda Holden Reveals How She Stays In Shape, Her Top Skincare Tip And Her New Project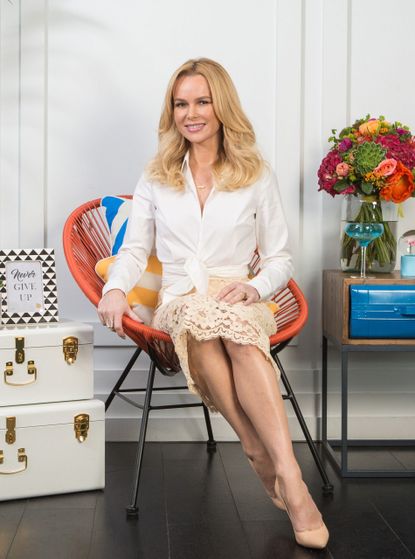 woman&home newsletter
Sign up to our free daily email for the latest royal and entertainment news, interesting opinion, expert advice on styling and beauty trends, and no-nonsense guides to the health and wellness questions you want answered.
Thank you for signing up to . You will receive a verification email shortly.
There was a problem. Please refresh the page and try again.
Amanda Holden is that woman on your TV screen you'd love to have a bit of a gossip with. Funny, laid-back, and ever the style icon, she's currently one of entertainment's leading ladies.
She rose to fame in film and theatre, but really hit our radar in Kiss Me Kate, The Grimleys and Cutting It, and now, of course, you're most likely to find her as a judge on everyone's favourite Saturday night show, Britain's Got Talent.
Nowadays, Amanda enjoys a happy family life with her husband Chris, whom she's been together with since 2002, and daughters Lexi, and Hollie. And she's even branched out into a brand new venture - homeware. She's teamed up with QVC todesign a range of homeware bits, Bundleberry (buy it here) (opens in new tab), - and we'll warn you now - you're going to want to buy all of it...!
W&H spoke to Amanda exclusively to find out about the collaboration, life and BGT...
Let's talk BGT. How do you get along as judges, after six years on the panel together?
We judges are very very different as people! But Simon, Alesha, David and I all share the same kind of integrity and honesty, and we all have a massive sense of humour. That's the main thing we have in common.
We're always encouraged behind the scenes on the show to be very honest about what we want. There's always been so much trust. That kind of atmosphere definitely breeds contentment.
And of course, you've all got children now...
They're everywhere now! They're always coming to the show. We had Simon's son Eric on the other week. I've got to get used to Eric, because he will probably be my boss in about three years!
How do you make sure to stay in shape?
I do yoga. I also have a trainer who I do the Viking Method with. But I don't see her as much as I want to because I've been doing my show Stepping Out in the West End!
And I go running too, mainly so I just have an hour on my own! Yoga's something I find important just for my head as well, if nothing else. But since October, in Stepping Out there are two big dance routines at the end, so to be honest, that's kept me fit.
Genetics definitely play a part too! My grandmother is still alive and healthy at 96. My family and I are quite naturally slim. There's no secret or anything, unfortunately!
Do you diet?
I don't believe in diets! I'm a vegetarian, so I think that helps me to be healthier by default. But I love drinking wine, having a big of crisps, all of those sorts of things. I just think a little bit of everything is fine. Like's too short to do fat-free, sugar-free, alcohol-free! I can't be doing with any of it. I dip into all of it when it suits me. I have a regime I know I can live with for the rest of my life. It's more realistic.
I'm also weirdly addicted to Jacob's crackers! Last night, I got in and made a peppermint tea, got a load of olives out of the fridge, some butter, and Jacobs crackers. I don't even put anything on them! I love them. I tend to have something light late on in the day. I'm not massively hungry when I finish the show.
How has your make-up look evolved over the years?
I've been very lucky because when you're in television you obviously have a team of people to help you look lovely. But obviously I do my own make-up at the theatre, or when I'm at home.
Make-up artists give me tips and make me up in a way I can emulate, so I suppose over the years I've just got better teams of people, and we've all moved with the times. Thicker eyebrows and contouring is how my look personally has changed the most since I was younger. It's the fashion now!
What are your go-to make-up products?
I use a lot of different make-up. I love Bobbi Brown, and Tarte make-up. Christian Dior products are always great too. They're as light as air, and that works for me, because I like my freckles showing through. My makeup artist recently gave me some Hour Glass products, which I absolutely love! But the first two are my go-to brands. But I change it up a lot - that's key.
And skincare?
I'm using Elemis and Liz Earle at the moment as my skincare, but in six months it'll probably have changed. A top facialist told me your skin gets used to products, so you should change your skincare routine regularly. And mine now responds much better to new products when I do mix it up.
I like to use natural things. I drink loads and loads of water, but don't really take vitamin supplements, which I probably should seeing as I'm a vegetarian. I truly believe that generally staying positive and happy, and having someone love you makes you feel good and look good.
How do you juggle everything in your busy life?
I drop the ball all the time! I know everyone probably thinks I lead this hugely glamorous life, but I feel guilty every morning when one of my children says, 'Mummy are you going to work today?', and I have to say yes.
I Facetime the children when I'm at work, but my parents and my husband are incredible - they help all the time. They came with me to Disneyland Paris a couple of weeks ago. And Chris is just the most incredible hands-on Dad.
If I'm honest, I enjoy working. I'm definitely a better person because of it. And I want to set a good example to both of my girls -the women in my family have always had a good work ethic. I've had a job since I was 13, so I want my girls to learn about working, earning money and what it can do for you. But I don't really think I juggle, I drop the ball all flipping day to be honest!
(Mugs in mint green and black in Amanda's Bundleberry collection)
How do you like to spend time with your kids when you can?
Me and my kids just hang out - I don't enjoy dollies, but we'll do baking, painting, walking the dogs. They know what I like, so bless their hearts, they always suggest what I'm going to say yes to! They love it when it rains because they know I'll suggest putting a movie on, which they love. And they don't get to watch that much telly. We're just like a normal family.
They both have iPads. Hollie is 5, and she knows how to Facetime my mum, so does that a lot which is so cute! She'll talk to my mum for over an hour!
Lexi has her own iPad, and Chris' old phone, which she's allowed to use but can't make calls or texts on. So we stay in touch through that on WhatsApp. She also has access to a child friendly version Google called Mobichip. It basically means she can't look up anything! They're still of an age where they're innocent and sweet and I can control it. Lexi is off to big school soon, so I'm expecting it to end. But we live in a digital age and we can't shield them from it - you have to go with them on it.
Who is your style inspiration?
I love Jennifer Aniston. I invariably love anything she wears - I think she looks incredible! Reese Witherspoon always looks really cute. Sharon Stone, who is 59, looks bloody amazing too. And Kylie always looks great.
How would you describe your style?
My style is classic. I am daring on BGT, I'll admit! But in life I'll wear things like a white shirt, denim jeans, boots, a blazer. If I have a work meeting to go to I come in in Nike shoes, ripped jeans - it's casual. But I definitely love the classic look. I like to wear clothes that I know I can use the following year too.
Do you like to shop on the high-street?
I buy loads from Zara - which I love, because it means someone else can by it. I love the high street - Topshop, Marks & Spencer. I love L.K Bennet - I do drive-by's there - grab whatever is in the window!
I'm a high street girl! Today I made a really naughty purchase from a posh shop, but I just mix and match. I know I'm going to put it with a Zara top. That's how I like to do it. I know I'll wear the more expensive bits for years to come.
Tell us about your brand new homeware range, BundleBerry...
Designing a homeware range is something I've always wanted to do but never thought I could. If I'm being honest, my passion is interior design and it absolutely always has been. Even as a small child I remember going to B&Q, helping my mum choose wallpaper or quilt covers for my bedroom.
My husband Chris and I are lucky enough to have a house in London and the Cotswolds, and I've just slaved over them. They've been massive projects, and I've chosen everything down to the colour of the plug sockets.
I'm a bit of a control freak. My husband and I have come to a lot of compromises - I've mostly always won! Even this past weekend, Chris took me away and he sat patiently in the lobby as I stayed for ages taking pictures of the hotel lobby. It was full of gorgeous vases and sofas I loved the material of.
Chris is brilliant at suggesting things. He's good at adding to what I've done - we're a perfect partnership.
(Red trunks from Amanda's Bundleberry range)
Shop the Bundleberry range here now. (opens in new tab)
The range is different but still easily accessible - there's nothing too frightening there! It's simple. retro, quirky and family friendly. In the future I hope we're going to be bringing more items out. My dream is that the range is much bigger in the future, as this is where I'm happiest.
Amy Hunt is an experienced digital journalist specialising in homes, interiors and hobbies. She began her career working as the features assistant at woman&home magazine, before moving over to the digital side of the brand where she eventually became the Lifestyle Editor up until January 2022. Amy won the Digital Journalist of the Year award at the AOP Awards in 2019 for her work on womanandhome.com.