79-year-old Miriam Margolyes stars in new Instagram comedy sketch about sex
A 79-year-old talking about sex on Instagram? We are here for it!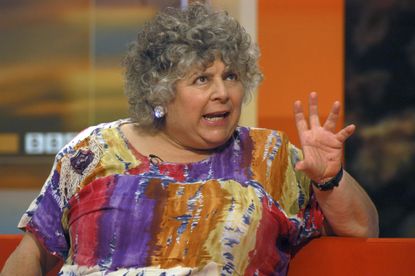 (Image credit: BBC News & Current Affairs via G)
Miriam Margolyes is the 79-year-old warm, hilarious and open-minded woman who we've all got to know very well in recent years with thanks to her candour on national TV about everything from sex and finding the best vibrator, to toilet troubles.
The BAFTA award-winning actress has become a national treasure for older ladies and is a refreshing force of nature.
Her latest venture, Sex Lives, is a new comedy sketch show based on lockdown sex lives of women. With 'Sex Education' actress Aimee Lou Wood, Margolyes and her are hoping to "claim the stage" for women.
Actress Joanna Scalan who co-created the show told The Guardian she was sick of women's sexuality conversation being on the sideline and she had been thinking for a long time about trying to get it into the open.Inspired by Wendy Jones' book, The Sex Lives of English Women, the online series was born.
Joanna's BBC Studios-backed company George & George and partner Baby Cow - Steve Coogan's production company - had some money which was used towards developing the show. During lockdown a website was set up appealing for anonymous female sexual experiences, characters were then formed around these and mini sketches have started appearing on Instagram, filmed via Zoom. They're now working on longer versions for television, which the BBC may be backing.
Joanna asked Miriam to take part as they were both in Cambridge University's dramatic club, but neither felt they fit into the "fusty structure." She said to The Guardian, "we're kind of claiming the stage in a way because we can grab the means of production in the way we couldn't do at … Cambridge University with all of the weight of patriarchy on our heads."
The filmed sequences feature two actors discussing their pandemic sex lives, with one character taking a naked photo each day.
As well as these, short experiences are being shared on the Instagram feed which has become a go-to place to feel empowered and not alone with how you've been feeling the last few weeks.
With everything from, "Lockdown and lack of sex have forced me to become really in tune with my cycle. I'm realising I'm only really horny 25% of the time"; to "After 23 years with the same man, sex can feel like one long conversation"; "My husband and I had an amazing sex life. I've used the word had… He's not interested in me in the slightest, so I've dusted off my impressive range of sex toys. I deserve this treat, I'm losing my business to Covid"; "After weeks of lockdown and feeling super horny I had a gardener come and quote for my back patio. He turned up looking so hot I struggled to string a sentence together"; and "I've never been able to orgasm and I always thought there was something wrong with me. Probably a combination of religious guilt and disappointing previous encounters."
Rachel is a freelance contributor to woman&home, covering news as well as books, lifestyle and travel. Her byline has also appeared in The Independent, The Financial Times, ELLE Magazine, VICE, Glamour Magazine and others. She loves nothing more than talking with people to share their stories. When she is not writing you will definitely find her nose in a book or magazine, or perhaps training for the next half marathon, practicing yoga or eating in London's best restaurants.