8 Amazing Things Amal Clooney Has Done (And None Of Them Are Marrying George Clooney)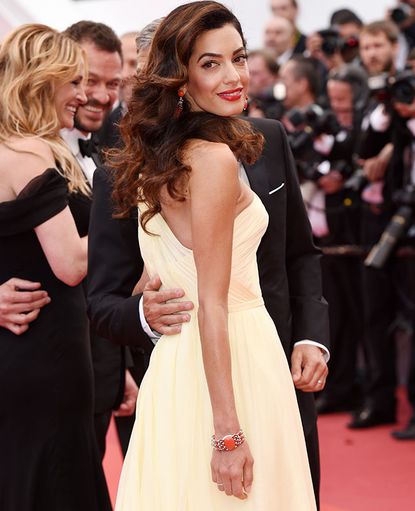 (Image credit: Rex)
woman&home newsletter
Sign up to our free daily email for the latest royal and entertainment news, interesting opinion, expert advice on styling and beauty trends, and no-nonsense guides to the health and wellness questions you want answered.
Thank you for signing up to . You will receive a verification email shortly.
There was a problem. Please refresh the page and try again.
There are many reasons why we love Amal Clooney - but marrying George Clooney is probably one of the last. As Amy Poehler and Tina Fey devastatingly joked at the 2015 Golden Globes:
"George Clooney married Amal Almuddin this year. Amal is a human rights lawyer who worked on the Enron case; was an adviser to Kofi Annan regarding Syria; and was selected for a three-person UN commission investigating rules of war violations in the Gaza Strip. So tonight … her husband is getting a lifetime achievement award."
It's funny because it's true. There are so many amazing reasons why Amal is an incredible woman. It goes without saying that marrying the dreamiest of Hollywood stars is a lovely development in her story, but it shouldn't be our focus.
Bearing this in mind, we've rounded up 8 amazing things that Amal Clooney has done to inspire us all...
1. Let's talk about her most notable cases
There's a reason why we bow down to the fact that Amal is a human rights lawyer: over her fifteen year career she's worked on many difficult, high-profile cases. For instance, in 2015 she began work on the recognition of the Armenian genocide representing Armenia in the case against Doğu Perinçek, whose 2007 conviction for genocide denial and racial discrimination was overturned in Perinçek v. Switzerland in 2013.
2. Which brings us on to one of her best Paparazzi replies...
Prior to the above hearing, outside the European Court of Human Rights (ECHR) in Strasbourg, Amal was actually asked what designer frock she'd be wearing by a journalist. Her reply? "Ede & Ravenscroft" – the tailors who make her court robes. Now that's style.
3. Fame hasn't changed her
Amal Clooney rarely gives interviews, but when she does, she always comes across as someone who is determined not to let her Hollywood marriage affect the important work she does. In fact, during an interview with NBC, she said (opens in new tab):
"I don't really see myself in the same way [as charitable celebrities like Angelina Jolie] because I'm still doing the same job that I used to do before,"she said. "So if there's more attention paid, for whatever reason, to that, then I think that's good."
4. She likes to teach others
In both 2015 and 2016, Amal was a visiting faculty member and a senior fellow with Columbia Law School's Human Rights Institute.
And she was also a co-professor for Cleveland's course on human rights, teaching a class on human rights litigation to students in the school's Human Rights Clinic.
5. She's not wowed by her husband's celebrity world
Two points to make here: Firstly, she makes the kind of faces on the red carpet that we'd make if we had an important, world-changing job to do. Secondly, we love the fact that she successfully dodged E!'s sexist mani-cam at the 2015 Golden Globes in the most diplomatic way possible. How? By wearing white gloves, of course.
6. She's not afraid to speak out
In 2016, Amal stood before the United Nations and told delegates she was "ashamed" to do so while they did nothing to help Yazidi women who had been attacked, abused and enslaved by Isis. Amal, who represents former trafficked sex slave Nadia Murad, delivered a powerful speech that - rightly - grabbed headlines around the world. In it, she said:
"This is the first time I have spoken in this chamber. I wish I could say I'm proud to be here but I am not. I am ashamed as a supporter of the United Nations that states are failing to prevent or even punish genocide because they find that their own interests get in the way."
7. Women's rights are human rights
Much like Hillary Clinton (who spoke these words in 1995), Amal Clooney is a strong advocate that women's rights are human rights - and a vocal one, too. Last year, she gave a keynote speech at the Texas Conference for Women in which she urged women to fight for women's rights in countries where women's voices are the most silenced.
"As women, we share a bond, a shared experience," she said. "The experiences and struggles that only women go through. The worst thing that we can do as women is not stand up for each other. And this is something that we can practice every day no matter where we are or what we do. Because if we are united, there is no limit to what we can do."
8. She brings the real world to the red carpet
Way before celebs were pinning Planned Parenthood onto their couture at the Oscars, Amal Clooney made a political statement at her first Golden Globes red carpet appearance in 2015 - pinning a 'je suis Charlie' button on her Dior handbag in support of France following the terrorist attack at their Paris office.