Lesley Sharp On Her Little Indulgences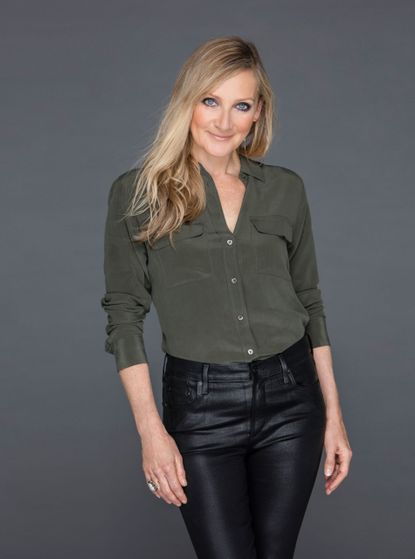 (Image credit: Trevor Leighton)
woman&home newsletter
Sign up to our free daily email for the latest royal and entertainment news, interesting opinion, expert advice on styling and beauty trends, and no-nonsense guides to the health and wellness questions you want answered.
Thank you for signing up to . You will receive a verification email shortly.
There was a problem. Please refresh the page and try again.
Lesley Sharp, 56, lives in London with her husband and their two grown-up children.
Ice cream, that's what indulgence means to me. I'm a sucker for salted caramel. But when I want to relax I watch The Real Housewives of Beverly Hills. I'm fascinated by their lives and enormous houses. It's pure escapism. The women appear to do nothing but totter about in high heels, drink rosé and get on private jets. But the truth is that I'd be at a complete loss living that life where everything is done for you because I really enjoy tidying cupboards and throwing stuff out. There's nothing I love more than a good sort out.
I've got friends made through work, but just as important are the friends I come home to. Not being around for them is something I find tough when I have to go away for four months to shoot a series. It takes really decent pals to put up with the fact that I disappear and then suddenly turn up again and go "Hi, fancy a dog walk?"
Friendships become more important as you get older. Being in your fifties can be an unsettling time watching the way you age. Your self-esteem goes up and down and it's important to be able to talk about that with other women.
My secret superpower is going into a room and knowing where the furniture should go. I'll rearrange furniture in a hotel room and straight away it looks and feels better. I couldn't tell you why but i just know it works.
You can't beat having your own bedding when you're living away from home. During the filming of Scott & Bailey Suranne Jones and I were staying in an apartment block in Manchester and both of us hauled up our own duvets, sheets and pillowcases. When you're getting up at 5am and not getting back until 8pm, it makes a big difference to get into a bed that feels like home.
There's a lot of happiness to be found in the everyday minutiae of life. For example, having a quick cup of tea with a friend - they're the truly wonderful moments. It's so true. But you don't realise it until they're taken away - when someone you love is ill, some terrible thing happens to a friend, or you lose a parent.
I love fashion. I love the idea of a life wearing Victoria Beckham or Stella McCartney. Unfortunately the life I live is a life which is about pulling on jeans and a jumper and walking the dogs - we've got two Border terriers. Actually the items I get most pleasure from haven't been designer but vintage. I've got a beautiful green 1920s robe that works over a dress or a swimsuit or as a dressing gown and it always feels right.
Making Scott & Bailey was brilliant. [The series about two female detectives ran for five series before finishing in April.] I loved working with Suranne [Jones, who played DC Rachel Bailey] and Amelia [Bullmore, who played their boss DCI Gill Murray]. A lot of the members of the crew became friends, not just colleagues. On days when the going was tough there was always someone to laugh with.
My happy place is by the water - a river, the sea or a beautiful swimming pool. I find swimming outdoors incredibly calming. In my mind the sun will be shining, I'll be swimming and there are a group of friends on the shore.
I don't know where I'd be without to-do lists. I make lists to cover lists! It used to be much easier when you just wrote things down in one place but now just meeting someone for coffee can require emails, texts and phone calls - it's all got more complicated.
I think many of us have lost the art of silence, reflection and listening. Often the people who talk the loudest and the most are regarded as the ones who are the most meaningful. And actually maybe we should be looking elsewhere. We should be looking for people who are discreet and calm and speak when they have something really important to say.
Life is like exercising - you're not getting anywhere unless it hurts a bit. In my latest drama Paranoid I play Lucy, a woman who witnesses a brutal murder. She has taken medication in the past, but is now trying to live a simpler life and understand her anxiety rather than try to medicate it away. It's OK not to be perfect and to have a messy life.
I was attracted to Lucy because she's really intriguing without being in every single scene. It's unusual to play characters that come in and out of something who are still able to be that interesting, especially for characters who are older women.
My sister is ten years older than meso growing up I did feel like an only child. But I was never lonely. I loved to dress up and put on shows with other children. I was the kid who forces the adults to watch a production when they'd much rather be doing something else.
Totally switching off to watch Great British Bake Off is a treat. My signature bake is banana loaf and I do a very good carrot cake too. I follow trusted old recipes torn out of magazines with bits of mixture stuck to them.
Paranoid is on ITV, Thursdays, 9pm