What are premium bonds? Everything you need to know about savings and prize draws
Are premium bonds a wise savings option and how much money could you actually win?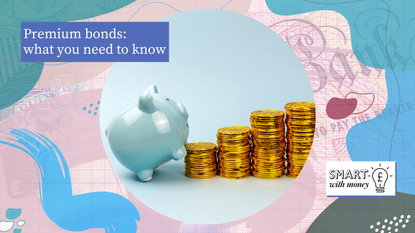 (Image credit: Getty)
woman&home newsletter
Sign up to our free daily email for the latest royal and entertainment news, interesting opinion, expert advice on styling and beauty trends, and no-nonsense guides to the health and wellness questions you want answered.
Thank you for signing up to Woman & Home. You will receive a verification email shortly.
There was a problem. Please refresh the page and try again.
Premium bonds are one of the UK's most popular savings products, with over 21 million people holding over £112 billion in them, but are they the right saving option for you?
Premium bonds are one of many products provided by the National Savings and Investments (NS&I), which is fully backed by the Government, meaning your money will always be 100% secure.
One of the biggest attractions of premium bonds is that they give you the opportunity to win tax-free cash prizes of between £25 and £1 million each month.
How do premium bonds work?
Premium Bonds cost £1 each, with each bond having a unique number. Each month, all the premium bond numbers are entered into a draw. ERNIE – which stands for Electronic Random Number Indicator Equipment – picks the winners.
Premium bonds work a bit like a lottery but the key difference is that you don't actually spend the money. With The National Lottery, you spend £2 on a ticket and if you don't win, the money is gone. But with premium bonds, each £1 bond is entered into every monthly draw until you decide to cash in your bonds.
What is the interest rate on premium bonds?
A major downside of premium bonds is that they don't pay any interest. So if you don't win any prizes, your money won't generate any return at all. Inflation means that if you leave your money invested in premium bonds, it will effectively lose value over time.
With interest rates continuing to be low, more savers are looking to put their money into premium bonds - where although you may not earn an interest, you could win a cash prize.
How do I buy premium bonds?
Smart With Money
Smart With Money is our dedicated money channel created to give you expert, easily digestible information to help you make the most out of your money.
You can use your debit card to buy premium bonds through the NS&I website or over the phone. Alternatively, you can make a postal application and send a cheque. If you already have a NS&I savings account, you can transfer money from it to buy premium bonds.
However you buy your premium bonds, each investment must be for at least £25—this will buy you 25 £1 bonds. You can set up a standing order to buy more premium bonds each month and this must be for at least £25.
The maximum amount you can hold in Premium Bonds is £50,000.
You need to be aged 16 or over to buy premium bonds. You can buy them for children under 16 but you'll need to nominate the child's parent or guardian to hold the bonds until the child's 16th birthday.
How much can I win with premium bonds?
There are 11 different amounts of money you can win with a single bond: £25, £50, £100, £500, £1,000, £5,000, £10,000, £25,000, £50,000, £100,000, and £1m.
How many individual prizes are in each category each month depends on how many bonds are entered into the draw. There's guaranteed to be at least one £1m jackpot handed out each month—but there are usually two.
The odds of winning depend on the total amount of cash up for grabs that month but, unfortunately, your chances aren't good. MoneySavingExpert calculated that in the September 2021 draw, each bond only had a one in more than 56 BILLION chance of winning the jackpot. The odds of each £1 bond number winning the lowest prize of £25 are about 34,500 to one.
How do I know if I have won with premium bonds?
If you win £1m, you'll get a visit from a representative from NS&I at your address to deliver the good news. This person is known as "Agent Million".
For smaller prizes, you'll be notified by email or text. You can also check if you've won using the NS&I Premium Bonds Prize Checker, the Prize Checker app, or you can ask Amazon Alexa if you enable the skill designed for this purpose.
How are premium bond prizes paid?
When you buy premium bonds, you can opt to have prizes paid directly into your bank account. Alternatively, you can choose for prize money to be automatically reinvested in premium bonds (assuming you hold less than the £50,000 maximum).
Another option is to elect for prizes to be paid by a paper "warrant" (similar to a cheque) in the post.
---
How do I cash in premium bonds?
You can cash in some, or all, of your premium bonds whenever you want. The amount you cash in must be in £1 denominations.
Your oldest bonds will normally be cashed in first and the money will be paid into your bank account in about three working days.
Unclaimed premium bonds prizes
NS&I contacts all premium bond winners but some people miss the message because they've moved house, the letter got lost in the post or they changed their email address. In this situation, NS&I will hold on to the prize until you get in touch.
A prize that remains uncashed for 18 months is classed as "unclaimed". Each year, NS&I publishes a list of the bond numbers of all unclaimed prizes, dating back to June 1957. As of October 2020, there were 1,852,676 prizes worth £68,266,025 that remained unclaimed.
Sign up to our free daily email for the latest royal and entertainment news, interesting opinion, expert advice on styling and beauty trends, and no-nonsense guides to the health and wellness questions you want answered.
Emma Lunn is an award-winning freelance journalist who specialises in personal finance. She has more than 17 years' experience writing for national newspapers, trade and consumer magazines, and specialist websites. She has a particular interest in writing about property and mortgages and enjoys explaining complex issues in an easy-to-understand way.