5 amazing feats Sheila Hancock has achieved in her eighties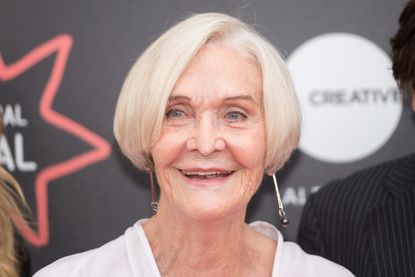 She's the award-winning actress who's looking absolutely fabulous in her eighties, and here we celebrate Sheila Hancock CBE in all her glory by listing just 5 reasons — it really was hard to whittle them down — why she continues to dazzle us.
1. She joined the cast of Celebrity Gogglebox
Sheila is currently gracing our screens each Friday night as a celebrity armchair critic, and looking ever so elegant doing it. While we normally collapse on the sofa with our comfiest PJs with a glass of wine in hand, this 86-year-old drapes delicately on the sofa in a stylish head-to-toe ensemble that wouldn't look out of place on the pages of Vogue. And as if that wasn't enough we love the dynamic and subtle innuendos that bounce back and forth between Sheila and her chum Gyles Brandeth who are able to give considered commentary on anything from Naked Attraction to Love Island —who knew?
2. She published her first fiction novel at the age of 81
Proving there's absolutely no age limit on achieving your dreams, Sheila's debut fiction (opens in new tab) novel Miss Carter's War — following the life of half French, half English, Marguerite Carter in the aftermath of the Second World War — was met with a positive reception, including a four-star review from The Telegraph and it was also nominated for Best Political novel of the year.
3. She trained with an ex an ex-RAF officer for her role in Edie
In 2017 film Edie, Sheila played a widow in her 80s who decides to climb the 2,398ft Suilven mountain in the Scottish Highlands. And in preparation for her role she spent a gruelling three months training with an ex-RAF officer including strength training in the gym, working out every other day in the park and a spot of Nordic walking.
Speaking about her impressive fitness regime (opens in new tab) at the time she said, "People say, 'I'm old now. I can't get out of chairs without a bit of help and I can't walk for miles'.
"In fact you can. I proved you can virtually rebuild your body in three months."
4. She became a vegan
Sheila joined a growing number of people opting for a vegan (opens in new tab) diet, ditching all animal products from her diet towards the end of 2018.
MORE:Everything you need to know about the woman&home Amazing Women Awards 2019 in partnership with Hotter (opens in new tab)
5. She's faced the potential consequences of old age head on
While above may seem a bit morbid, as a committed Quaker Sheila is, like other followers, encouraged to 'tie up loose ends and not leave trouble behind you'. And by the age of 85 she had done just this choosing a Quaker home in York — despite living in London — as the place she would like to reside if she is unable to care for herself or develops dementia (opens in new tab) and already earmarked a place for a stair lift in her Hammersmith home. All in an effort to relieve the burden from her two daughters, despite their protests.
"It's a marvellous Quaker place in York, state-of-the-art. Everything is immaculate," she told the Daily Mail.
And on her decision about the location, she added, "I don't want them to visit [her daughters], because I won't know if they're there and it's distressing for the people who visit."
Miriam worked for woman&home for over five years and previously worked on the women's lifestyle magazines Woman and Woman's Own.