11 tips for better conversations when caring for someone with dementia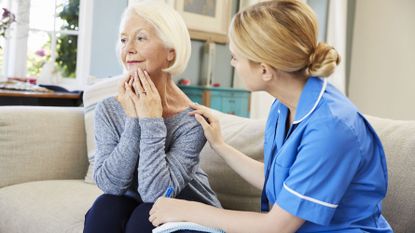 (Image credit: Shutterstock/Rex)
Despite the deterioration of mind and memory, the essence of someone's spirit and their best personality qualities often remain right until the end.
Alzheimer's is a disease that affects over 520,000 people in the UK.
It is a disease that affects the brain, most commonly in the over 65s age group. While there are plenty of ways that loved ones with it will retain their personality traits, when visiting people with Alzheimer's, it is important to bear some things in mind.
These tips will help you talk to someone with dementia so that you both get the most out of the conversation
✢ Make eye contact
It's vital they see you, so try to be at the same level as their head. Don't stand or hover over them.
✢ Speak slowly
Halve your normal speed, ideally, and take a breath between sentences so they can catch up.
ThisDementiaAction Week, it's time to start talking. Find out more atalzheimers.org.uk/DAW
✢ Avoid the R word (remember)
They may feel angry, insulted or embarrassed.
✢ Don't talk down or correct them
They're not children.
✢ Validate their feelings
Phrases like "I can see you're angry/sad/upset" may help them to feel less isolated.
✢ Take props
Photos or music may bring up happy memories.
✢ Allow them to repeat themselves
Let them tell the old stories on a loop. If they're asking the same question over and over again, be patient and answer as if for the first time because for them, it feels like that.
✢ Keep visiting
Even if they don't appear to know who you are, your contact may be vital to them.
✢ If they get agitated, change the activity or subject
Start afresh, there's nothing to lose.
✢ Use their name frequently
In a subtle and natural manner.
✢ Ask first before touching them
Check before taking their hand in case they think you're grabbing.
https://www.youtube.com/watch?v=YYnI_L3mH00&feature=youtu.be
For help and information, contact Alzheimer's Society at alzheimers.org.uk.
You'll find plenty more tips for helping you through this difficult time.
Lauren is the former Deputy Digital Editor at woman&home and became a journalist mainly because she enjoys being nosy. With a background in features journalism, Lauren worked on the woman&home brand for four years before going freelance. Before woman&home Lauren worked across a variety of women's lifestyle titles, including GoodTo, Woman's Own, and Woman magazine.