Ten of the best biographies and autobiographies of amazing women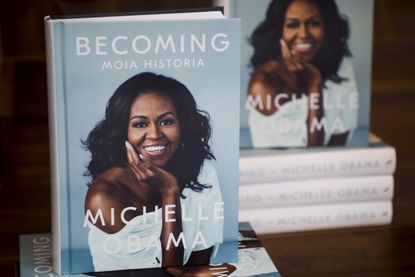 From warriors to queens, activists to scientists – over the last couple of millennia, amazing women have been proving that they can be all of these and more.
The stories of how these incredible women have changed – and continue to change – the world we live in serve as a timely reminder that if we are determined enough, we can do much more than we might think possible.
Dip into one of these inspirational biographies and autobiographies next time you need a little reminder that you can do amazing things too.
Unbowed (opens in new tab) by Wangari Maathai
Unbowed is Nobel Peace Prize winner Wangari Maathai's autobiography. Brought up in a rural Kenyan village, Wangari became the first woman to earn a doctorate in biology in East Africa. Delve into her work on environmental and women's issues if you're in need of a little uplift.
Geisha of Gion (opens in new tab): The True Story of Japan's Foremost Geisha by Mineko Iwasaki
Feel like you're stuck in a rut? Mineko describes the extraordinary true story of her life as a traditional Japanese geisha, tracing her experiences all the way from her earliest memories (moving into a geisha house at the age of four) to her ultimate decision to leave the 'gloriously rewarding' life she came to find 'too constricting to continue'.
I Am Malala (opens in new tab) by Malala Yousafzai and Christina Lamb
Yes, this is the story of the teenage girl who stood up for education and was shot by the Taliban. Don't believe one woman has the power to make a difference? Read this.
MORE:Everything you need to know about the woman&home Amazing Women Awards 2019 in partnership with Hotter
Becoming (opens in new tab) by Michelle Obama
Unerringly entertaining but also refreshingly candid, this insightful memoir traces the former First Lady's journey from the south side of Chicago to the White House. Her secret? 'Equal parts patience and rigour.' Noted.
Cleopatra: A Life (opens in new tab) by Stacy Schiff
Over the course of four (very) eventful decades, this infamous Egyptian ruler changed the world. But according to biographer Stacy Schiff, she's gone down in history for all the wrong reasons. It's time to sort the fact from the fiction.
Born a minor German noble, Catherine the Great became Empress of Russia thanks to 'sheer determination'. This is the exhilarating story of the woman described as one of the greatest rulers of all time.
MORE:Amazing shoes for amazing women: our fashion editor's pick of the summer's most stylish footwear
One of the most controversial women of the Middle Ages, Eleanor married Louis VII of France and Henry II of England, giving birth to Richard the Lionheart and King John. Historian Alison Weir retells the heartening tale of her triumphs over adversity.
This biographical novel tells the story of Ada Lovelace. You might not have heard of her, but if you couldn't live without your smartphone, in a way you have her to thank. The daughter of Lord Byron made enormous contributions to science and technology and has even been described as the world's first computer programmer.
This fascinating read charts the lives of a group of women who were employed as 'human computers' to work at the Harvard College Observatory during the 19th century, and the extraordinary, but largely unsung, contributions they made to the field of astronomy.
The first volume of Maya Angelou's collection of autobiographies is a classic for a reason. In this book, she stirringly describes the world of her childhood and her experiences of growing up with her grandmother in the American South during the 1930s. Need a bit of a metaphorical kick into action? This tale will give you heart – and guts.
Samantha Simmonds is a freelance journalist, content writer, copywriter, and editor based in London.
She graduated from Reading University with a First Class degree in Psychology, later achieving a Distinction in her Diploma in Fashion & Personal Styling from The London College of Style.
Samantha is currently creating digital editorial content for John Lewis, writing for The Edit's wellbeing channel. She also writes for publications including Women's Health, Top Santé, Refinery29, GoodtoKnow, Cosmopolitan, Healthy, Health & Wellbeing, woman&home, and Yahoo, and has created commercial content for brands including Berghaus, Amazon, and Regaine.