The top 10 seaside locations to buy a second home have been revealed
Can you guess which topped the list?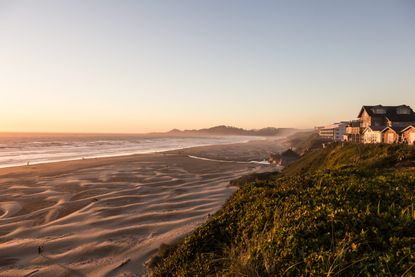 The best seaside towns to buy property have been revealed.
Perhaps you're thinking of buying a holiday home next year, or a property to invest in and rent out?
Well, a list of the UK's top ten coastal locations has some interesting findings which could help you decide on an area.
Comparethemarket.com is the company behind the list. It analysed more than 100 UK seaside towns on a variety of factors to determine which were the best to buy property in.
Southwold in Suffolk topped the list. With its quaint little streets and its bustling market atmosphere, it's hardly a surprise that the spot has long been celebrated by writers (opens in new tab) and artists.
Along with Whitstable, Southwold was one of the first seaside towns to gentrify in the 1990s.
While the average price of a property in Southwold might seem a bit pricey (£540,511) - the area has the highest annual rental revenue, at £115,689.
Another Suffolk location came in second place. Felixstowe was named the second best area to buy a coastal property. It also has the best summer heat, with the average July temperature coming in at 22.3ºC.
Teignmouth, Folkestone and Bournemouth came in third, fourth and fifth place, respectively.
The other seaside locations to make it into the top ten were Paignton, Southsea, Ramsgate, Southend-on-Sea and Saundersfoot.
Comparethemarket.com also highlighted areas that didn't make the overall list but did well for certain categories.
Newbiggin-by-the-Sea is home to the lowest average property price, at £93,749. Whereas Weymouth is a great option for those looking to avoid wet weather - it had the lowest average rainfall, at 35.9mm.
Mark Gordon, director of Money and Mortgages, told House Beautiful UK (opens in new tab), "If you are looking to escape the city and find yourself a second home by the sea, it appears the south of the UK would be your best bet, offering the great summer weather and higher revenue.
"However, although you may have to compromise a little on the sunshine, seaside homes in the North can be considerably cheaper yet still give a good return."
The top 10 locations to buy a second home by the sea are:
1. Southwold
2. Felixstowe
3. Teignmouth
4. Folkestone
5. Bournemouth
6. Paignton
7. Southsea
8. Ramsgate
9. Southend-on-Sea
10. Saundersfoot Tempted by any? Head over to our Facebook page and let us know!
Lizzie Thomson is a regular contributor to woman&home, and also contributes to Metro.co.uk, Ideal Home, Culture Trip, and Evening Standard, covering all things lifestyle.