The glamorous French fabric making a comeback: toile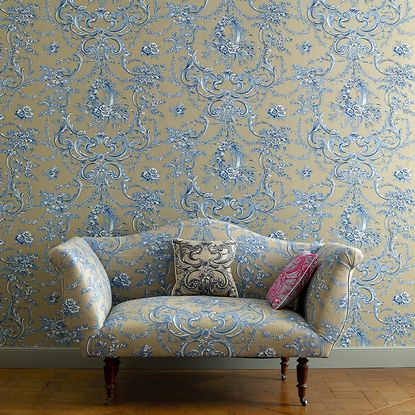 The ultimate in 18th-century glamour, toile de Jouy is enjoying an unprecedented revival. Find out how to bring it into your home
Toile conjures up images of elegant, sophisticated French chateaux, gilded furniture and bewigged ladies in extravagant, beautifully trimmed gowns. The fabric - with its elegant, iconic scenes, usually printed in monochrome - has become a synonym for lavish 18th-century French style, but it's now enjoying an unprecedented revival thanks to textile houses like Manuel Canovas, who have breathed new life into this classic (shown here, fabrics from Manuel Canovas at Colefax & Fowler (opens in new tab)'s toile collection 2014). Whether you go for traditional designs in bold colourways or for striking, contemporary reinterpretations of the fabric, toile is sure to add a touch of French glamour to your home.
A Fabric Fit for an Emperor
Few fabrics are more genuinely French than toile - yet its origins lie very far away from France. The roots of toile are in the Indian printed cottons, which became popular in Europe at the end of the 17th and throughout the 18th century. The French, worried about their textile industry, actually tried hard to ban these indiennes. Eventually, it was a German entrepreneur, Christophe-Philippe Oberkampf, who brought the concept into the city of Jouy-en-Josas, close to Paris, and launched a very successful manufacture. Being situated close to Versailles helped the new toile de Jouy become popular with the court, with the Oberkampf factory being appointed Royal Manufacturer in 1787. But even after the Revolution, the fabric remained highly sought-after. Napoleon himself was a fan - so much so that he awarded Oberkampf the Legion of Honour in 1806. Show here is a suitably royal canopy in Coromandel chintz against the backdrop of an 18th-century-inspired Continenti toile, both by Alessandra Branca for Schumacher. Through Turnell & Gigon (opens in new tab).
Go Classic With Toile Upholstery
Toile has a long history as an upholstery fabric. It works especially well with antique French bergeres and elegant chairs, as in this chic set up where a French House chair is upholstered in Manuel Canovas' Rochefort design. Manuel Canovas at Colefax & Fowler (opens in new tab).
Go Modern With Toile Upholstery
For a contemporary armchair, such as the one pictured here, choose a contemporary toile, like Schumacher's Shantung Silhouette Print, which reinterprets a traditional chinoiserie design in a modern key by removing detail to achieve a bold silhouette. Schumacher through Turnell & Gigon (opens in new tab).
Go Bold With Reverse Toile
Toile is traditionally printed in monochrome over a white or off-white fabric, but, to give it a contemporary spin, you can choose a reverse toile where the pattern is pale-hued against a bold base colour, as in this elegant design by Manuel Canovas at Colefax & Fowler (opens in new tab).
Choose Contemporary Toile Designs
Restful pastoral scene are chic and idyllic but if you are looking for something edgier, brands like Manuel Canovas are ready to oblige. The textile house's latest collection includes a striking 'Cabinet of Curiosities' design, featuring still-life like prints of vases, plants and collectibles superimposed over a traditional country scene. Available in three colour ways: taupe, prairie green and blue, Manuel Canovas at Colefax & Fowler (opens in new tab).
Put Toile On Your Walls
In the 18th-century, walls were often richly upholstered with toile de Jouy. Toile-style wallpaper creates a similar effect in a more practical, convenient way. This pastoral design by Cole & Son (opens in new tab) was inspired by the Chateau de Villadry in France, and comes in four colour ways: red, soft charcoal, cobalt blue and dove grey.
Add A Toile Accent: Cushions
Work the trend in a subtle way by scattering a few toile cushions across your living room or on a side cabinet. These chic, vibrant cushions are made with Sheila Coombes (opens in new tab) fabrics, Sheila Coombes at Brian Yates (opens in new tab).
Add A Toile Accent: Cushions
Go all toile in your sitting room by adding toile cushions in different designs or colourways to echo curtains and wallpaper. Here, the curtains and wallpaper in Manuel Canovas' 2010 Balata design are complemented by cushions in four different toile designs, Balata, La Musardiere, Balleroy and Bellegarde. Manuel Canovas at Colefax & Fowler (opens in new tab).
Add Some Flowers To The Mix
We tend to think of toile as idyllic country or mythological scenes printed in monochrome, but the original, 18th century fabrics also encompassed colourful floral designs that were closer in style to the Indian originals. So why not go back to toile's roots and combine it with another of this season's hot trends - florals? French company Nobilis (opens in new tab) have done just that with Flore, a beautifully embroidered fabric that's halfway between a toile and a classic India print. Perfect for curtains and cushions.
Put Toile On Your Bed
Although toile is more often associated with living areas, it also works beautifully in the bedroom. Turn your bed into a pastoral idyll with elegant toile bed linens such as these ones from Next (opens in new tab).
Frame It Up: Toile Artwork
An easy by sophisticated way to bring toile into your home is to frame it up and hang it on your walls. The idea, seen here in an example by Manuel Canovas, puts an understated, thoroughly modern twist on the 18th-century tradition of wall upholstery. Manuel Canovas at Colefax & Fowler (opens in new tab).
Visit The Toile Museum
Can't have enough of toile? The French have devoted an entire museum to it. With a vast collection showcasing more than 5,000 items, the Musee de Toile de Jouy, in Jouy-en-Josas, explorer the fabric's history, uses and design and manufacturing techniques. For more details, see the museum's website (opens in new tab). Image: Henry Salome
Carla Passino is a multimedia journalist with more than seventeen years' experience in national and international media.
Carla's primary areas of interest are political, economic and housing trends in global cities. Much of my time is spent writing about the world's prime property markets and the factors that affect it, covering fiscal, legal, political and financial issues linked to home ownership, and reporting on major shifts in British, European and international housing. Over the years, Carla has written about culture, education, interiors, farming, travel, food, wine and more.